Last updated: September 13th, 2023
If you are struggling to decide what the visit during 4 days in Switzerland then you have landed on the right post.
I will show you three different Switzerland 4-day itineraries so that you can decide what kind of Swiss Adventure you want!
Below are a range of 4-day options:
The Swiss Highlights
The Adventurer
The City Explorer
Swiss Highlights – 4 Days of Switzerland's Best
There are some things in Switzerland you just have to see, and this 4-day itinerary from Zurich will cover all the highlights. Taking you all the way from Zurich to the Alps and back, you will get a taste of all that Switzerland has to offer in one short trip.
This is ideally 4 days in Switzerland by train, instead of by car. After all, traveling by public transport in Switzerland is the easiest way to get around.
4 days in Switzerland by Train
Day 1: Explore Zurich
Day 2: Lucerne & Pilatus
Day 3: Interlaken, Grindelwald & First
Day 4: Lauterbrunnen & Jungfraujoch
Day 1: Explore Zurich
Zurich is often overlooked as just "the city you arrive in". However, it is actually one of my favorite places in Switzerland. There is so much to see and do in Zurich, and a lot of it is historically preserved, walkable and right on the lake. You can:
Day 2: Lucerne & Pilatus
Lucerne is less than an hour by train from Zurich, so you can get here the night before or in the morning. But give yourself plenty of time to explore the old town and soak up all the highlights like the Chapel Bridge, the Jesuit Church, the maze-like cobbled streets, the Musegg Wall, and lots more.
In the afternoon, I recommend doing the Golden Round Trip which takes you:
By boat from Lucerne to Alpnachstad
By funicular train from Alpnachstad to the top of Pilatus
By gondola down to Kriens
Then the bus back to Lucerne
This is one of the most stunning mountain trips you can do from Lucerne and includes a boat ride on the water too.
Day 3: Interlaken, Grindelwald & First
The train ride from Lucerne to Interlaken is another highlight, so enjoy the scenic 2-hour ride to Interlaken Ost.
There are so many options when you are Interlaken, you are spoiled for choice. I recommend heading to Grindelwald for the afternoon and catching the gondola up to First for a jaw-dropping walk along the First Cliff Walk. You can then go for a short hike to the Bachalpsee and admire the highest mountains in central Switzerland, including tomorrow's highlight – the Jungfraujoch.
For a little extra adventure you can either take the insane First Flyer or hire a "Trotti" scooter and roll all the way back down to Grindelwald.
Day 4: Lauterbrunnen & Jungfraujoch
To make the most of your time in Interlaken you have to head first to Lauterbrunnen, the valley of 72 waterfalls. Sure, you can't see all of them, but a few of them will blow you away when you arrive. You can walk behind one of them (Staubbach Falls) and head into a cave complex to see the other (Trummelbach Falls).
From Lauterbrunnen you catch the cogwheel train up to the Jungfraujoch via the famous ski town of Wengen and the lovely Alpine plateau of Kleine Scheidegg. From there the adventure gets even crazier as you catch the Jungfraujoch train right inside the Eiger mountain, past a big glacier, and finally arrive at the "Top of Europe" – the highest train station in Europe!
The Swiss Adventurer – 4 Days of Adrenaline Outdoors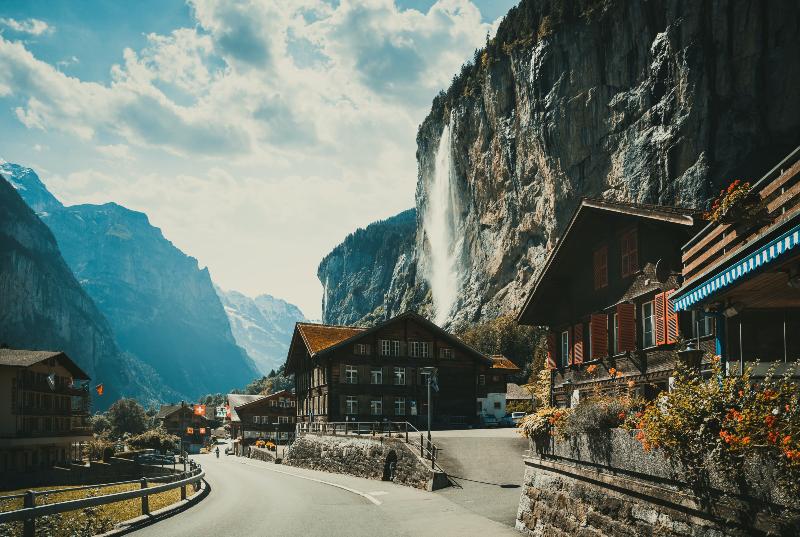 If you want to sample all that Switzerland has to offer, then one of the best ways is to dabble in all of the adventure sports on offer.
This itinerary will take you across the Swiss Alps and allow you to get the most adrenaline during your time in Switzerland.
Day 1: Interlaken
Interlaken is the adventure capital of Switzerland. And any adrenaline rush can be catered to here. Except for BASE jumping. That is something you will just have to watch from the valley floor in Lauterbrunnen.
You have a huge range of options in Interlaken, and you might even be able to do two in one day:
Paragliding
Canyoning
Sky Diving
Rafting
Day 2: Verbier
Now head to Verbier. A place where you can indulge in a serious day of mountain biking adventure right from the word go.
Verbier is one of the premier ski resorts in southern Switzerland and when people are not mountain biking at 2500m there, they are skiing or snowboarding. So, if you get here in winter, you know what to do!
Day 3: Zermatt
Zermatt is a town that is renowned for a number of things. Being "car-free". Home to the Matterhorn. And, one of the best places to hike and ski in Switzerland.
It's the perfect place to do all those things you have not done in Verbier or Interlaken yet. You can
Mountain bike up and down with an electric mountain bike (something I did last October).
Hire a guide to get you to your first 4000m peak
Jump in a helicopter for the ride of your life
And so much more. Of course, if you are here in Winter, then the action is just on snow and ice. But equally as exciting.
Day 4: Aletsch Glacier
Not too far up the Rhone Valley from the Zermatt Valley is the Aletsch Glacier. The longest glacier in Europe!
There are a range of great ways to experience the Aletsch Glacier to its fullest including:
Paragliding over it
Doing a glacier tour over it
Walking the Aletsch Panorama Trail along it
This glacier is a sight to behold at 23km long. And another interesting fact is that it actually starts at the Jungfraujoch, so you have come full circle!
The City Explorer – 4 Days of Culture, Museums & History
The major cities in Switzerland contain a slew of world-class museums, historical old towns and cultural events to die for.
I can't list all the highlights here for you, but let me give you a taste of what you can expect. Don't forget that you can slice and dice the above itineraries in amongst these cities if you want a mix of culture and adventure!
Day 1: Zurich
Yes, Zurich again. It's the biggest city in Switzerland and home to countless world-class museums, a historic old town and even Michelin Star Restaurants if you so desire!
I recommend seeing at least: the Swiss National Museum, Kunsthaus Zürich, Museum für Gestaltung, The Beyer Watch Museum and maybe the FIFA Museum if you like soccer/football.
All of that can be intertwined with a wander around the old town. along the Limmat River all the way to Lake Zurich with its stunning views of the Alps.
Day 2: Lucerne
Lucerne is the gem in the center of Switzerland. And although I am tempted to tell you to go to Basel, it is hard to pass up this Swiss highlight.
Not only is it perched on the shores of a stunning lake (Lake Lucerne) and surrounded by mountains, it is also home to a beautifully kept old town with a stunning covered wooden bridge and a medieval wall above to go with it.
On top of that it is home to
A stunning Jesuit Church
The insanely large Swiss Transport Museum
The Rosengart Collection
The Wagner Museum (where he lived)
The KKL (where endless concerts take place)
Day 3: Bern
Explore the historic UNESCO World Heritage site that is Bern's Old Town. This city is incredibly walkable and you could spend the whole day here mixing in museum visits with a stroll along the river. You can also soak up the incredible Alpine views behind the Parliament building and pop into see the bears at the bottom of the old town.
Don't forget that this was also Einstein's home for a number of years, so you can see where he lived and the clock (Zytglogge) that inspired his theory of relativity. The Bern Historical Museum is also home to a large floor of Einsein-specific exhibits.
Day 4: Geneva
I am ending this 4-day trip in Geneva. But, you could end in Basel instead if you have to head back North. There is just as much to see there too.
But I will go with Geneva if you can.
Also sitting right on the shores of its namesake Lake Geneva, this city is chock full of fantastic museums and a cute old town as well.
Places worth highlighting include:
The United Nations (which you can tour)
International Museum of the Red Cross and Red Crescent
Patek Philippe Museum (for watch lovers)
The Musée d'Art et d'Histoire (The largest art museum in Geneva)
Of course, just roaming the old town, and wandering along the lakeside promenade is a pleasure. As is the Jet d'eau, the English Garden, and the swimming pool that is in the lake.
You could make this a 4-day Switzerland itinerary from Geneva, and reverse the whole thing too.
I could write pages more of options for you, but I think these three 4-day itineraries in Switzerland are a great start for your next visit!