As the second largest city in Switzerland, Geneva attracts countless tourists who want to stay in a lakeside town with a rich history, fabulous nightlife, and countless museums. It's the city for everyone, whether you're into parties, fashion, food, history, culture, adventure sports, or science.
Beautiful views of Lake Geneva, some of Switzerland's best museums, luxury shopping, and an incredibly rich history are just some of the highlights of a trip to Geneva. Keep reading if you need help planning your trip to this wonderful city, because this detailed guide to top things to do in Geneva covers everything you might need to plan your stay!
Explore Lake Geneva
This fabulous Swiss city is best known for its namesake lake, so kick off your visit with a thorough exploration of all the best lakeside attractions. My favorite is by far Jardin Anglais with its stunning flower clock and fabulous Lake Geneva views.
The garden is best explored in spring and summer when the countless flowers are in full bloom, plus it also boasts sculptures and fountains. The next best attraction in the city is Jet d'Eau. The iconic fountain in the lake can be seen from most parts of the city that offer a view of the lake, and it's one of the most famous landmarks in Geneva. It's possible to walk along the pier all the way to the fountain, although I wouldn't want to get extremely close to the jet because of the spray.
If you're staying in the city in the summer and need a break from the heat, Bains des Pâquis is the place to be. The public bath is Geneva's most popular beach with loads of things to do in addition to swimming, including an artificial rock climbing course in the middle of the lake.
Finally, a casual stroll along the lake shore is perfect for glimpsing all the boats moored at Geneva's ports. Follow the lakeside promenade from Quai du Mont Blanc to Parc Mon Repos for an easy, 15-minute walk starring boats, sculptures, and fabulous lake and mountain views.
Old Town Geneva
A walking tour of a city's old town is usually one of the first things you should do whenever you arrive in a new city. You can do your own walking tour of Geneva, or book one of dozens of different guided tours that focus on different aspects of city attractions. You've got loads of options, and it should be pretty easy to find a tour that covers all the things that interest you the most.
Place du Bourg-de-Four is the oldest public square in Geneva, and it should be included in every proper tour of the city. There isn't that much to do here, but at the very least you'll make a stop at the square and learn a little bit about its history and importance for the city. If you're touring Geneva on your own, this is a great destination for a quick coffee break.
St. Pierre Cathedral is another important landmark in the city, which should be included in most tours. It is the adopted home of John Calvin, the leader of the Protestant Reformation, and probably the most famous church in the city. Admission to the cathedral is free, and it's absolutely worth it to go inside and see all the wonderful art.
While you're walking through the old town of Geneva and exploring all the different alleys, look for signs of secret passages and tunnels. The most famous one is Passage de Monetier (near the Museum of Protestant Reformation), but it's open to the public only during the Fête de l'Escalade.
Finally, don't miss out on Hotel de Ville. The 15th-century building used to house the Geneva City Hall, but today it "only" houses the cantonal government. The first Geneva Convention was signed at this very building, and it's absolutely astonishing to find yourself in such a historical place.
Parc de Bastions & The Reformation Wall
Parc de Bastions is a vast public park near the University of Geneva, and it's the perfect place for catching a break. If you're tired of walking around the city and need to rest for a little while, head to this gorgeous park and just lie down on the grass.
Once you're sufficiently rested, I suggest a quick walk through the park. Try to spot all the different sculptures, statues, and fountains – they're understated but worth the few minutes it takes to find them. You'll also find large public chess boards here; if you're a confident player challenge someone to a game, otherwise, you can just observe the local veteran players enjoying themselves.
Head to the park in the direction of the old town and you'll be able to see another iconic city landmark – The Reformation Wall. The stone monument is more than a hundred years old, and it was built in honor of John Calvin and the other founders of the Protestant Church.
Palace of Nations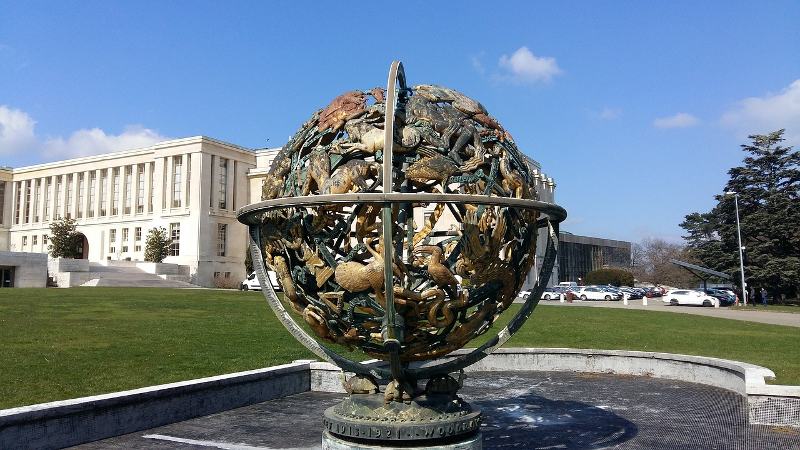 Situated in the northwestern part of Geneva, Palais des Nations is a complex worth visiting if it's your first time in the city. The headquarters of the United Nations office are here, along with a couple of amazing museums, stunning sculptures, fabulous views of Lake Geneva, a conservatory, and botanical garden.
There's plenty to see at this complex, especially if you want to visit both the Museum of the Red Cross and the Red Crescent and the Musée Ariana. I suggest heading here first thing in the morning – after breakfast, of course – and then roaming the grounds until you've explored as much as possible. There are a few cafes and restaurants on the complex grounds, so you don't have to worry about lunch.
Geneva Botanical Garden
Geneva Botanical Gardens are situated just below Parc de l'Ariana, so you can easily visit both attractions in a single day. The botanical garden complex is quite big and features a conservatory, a greenhouse, an animal park, and a zen garden.
You'll find all sorts of plants, trees, and flowers here, including many that wouldn't stand a chance of surviving in the rough Swiss climate. Palm, trees, cacti, and orchids are just some of the rare and beautiful plants you can expect to find here.
The animal park is part of the largest botanical gardens complex, and it features flamingos, goats, peacocks, and loads of other animals. The entire place is absolutely wonderful and a great destination for travelers who want a quick break from the city crowds, but don't necessarily want to travel too far outside Geneva.
Carouge
Carouge is a small hamlet just 15 minutes away from central Geneva by train, and it's the perfect place to go if you need a change of scenery for a couple of hours. The hamlet mostly attracts artisans and craftsmen, so it's got a surprising number of galleries, theaters, and boutiques for such a small place.
Artists, craftsmen, and art lovers should definitely try to fit a quick visit to Carouge in their itinerary. Or even better, you could stay here during your trip and save money on accommodation, while being no more than 15 minutes away from the heart of Geneva!
Museums to Visit
Geneva is home to so many museums that I had a very tough time narrowing the list of best ones to visit to just seven, most of which are included in the Geneva City Pass. By far the best one, in my opinion, is the Patek Philippe Museum, and that's because you can't see anything like this anywhere else. The museum spans three floors of exhibits and it covers nearly 500 years of watchmaking history with extravagant, unique timepieces.
The Art and History Museum Geneva (Musée d'Art et d'Histoire) is another must-visit. It's the largest museum in the city with exhibits that cover everything from prehistoric to modern times. Best of all, the museum is free to enter, and you can see most of its exhibits without spending a dime. And if you like this museum, stop by the Natural History Museum as well.
Maison Tavel is a local history museum in the historic center of Geneva, and it's the best place for travelers who are genuinely interested in the history of Geneva and the local culture and traditions. Spanning six floors, Maison Tavel offers insight into the lives of the locals over the centuries, with miniature models, period furnishings, and pieces of art.
The International Museum of the Reformation is right next to Tavel House, so since you're already in the area… It's a very interesting museum with exhibits on the Reformation, and it's situated in an 18th-century mansion. But it's not a museum for everyone because of the religious themes.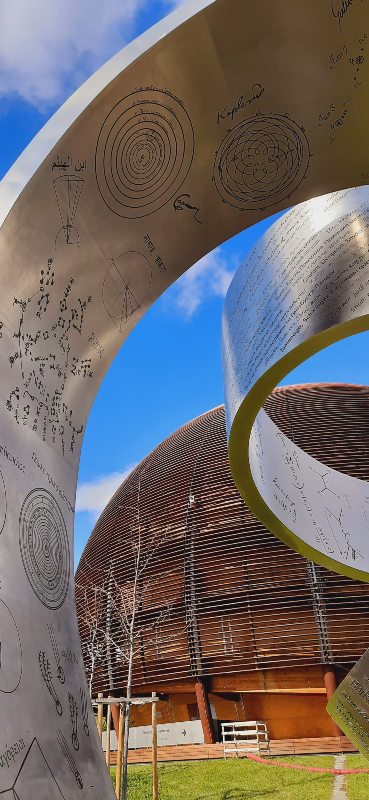 When you need a break from the crowds of central Geneva, head to Parc Ariana. There you will find two excellent museums – the Ariana Museum with exhibits on glass and ceramics, and the International Museum of the Red Cross and Red Crescent which details the history and importance of these two international organizations. The two museums are just minutes away from one another and can be toured in a single afternoon.
Finally, you can't travel all the way to Geneva and not visit CERN. Well, I couldn't, which is why I have to include it in this guide. It might not be an attraction for everyone, but if you're even remotely interested in engineering and physics, a guided tour of the research center is absolutely worth the time and effort it takes to get there.
Shopping
Geneva is a great destination for shopping, whether you're looking for bargains or prefer to spend your money at luxury shops. There's something for everyone in this city, and Rue de Rhone is where you will find most of the best shops in Geneva. The shopping street runs parallel to the lake shore and it houses dozens of boutiques, from Boucheron to Zara.
Granted, Rue de Rhone is mostly home to high-end and luxury boutiques, so not the best destination for shoppers without thousands to spend. Rue du Marche and Rue de la Croix-d'Or, both of which run parallel to Rue de Rhone, are both better for more affordable shopping opportunities with shops like Footlocker, H&M, Bershka, and countless others.
Finally, if you're on the prowl for the absolute best deals possible, head to the Plainpalais Flea Market. Here you'll find everything from antique furniture to military uniforms, and it's honestly the best place for cheap shopping in Geneva. Just make sure you have cash on hand because most vendors don't take cards. The flea market is open on Wednesdays and Saturdays and it's best to visit first thing in the morning.
Gastronomic Experiences
I really hope you're not lactose-intolerant because Switzerland is internationally famous for its cheeses and chocolates. No trip to a Swiss city is complete without at least one chocolate or fondue tour, so plan to spend at least an hour or two overdosing on delicious local treats.
Geneva is one of the best Swiss cities for chocolate tours because of its close proximity to several chocolate factories. If you're genuinely interested in seeing the workings of a true chocolate factory, plan to visit either the Farvager Chocolate Factory or the Maison Cailler. A walking tour of the best chocolate shops in the heart of Geneva is also a delicious option.
The city is very international, which can be observed in the variety of its restaurants. You'll find loads of different cuisines in Geneva, from Japanese to Italian, with an excellent selection of authentic Swiss restaurants for those who want to try the traditional local cuisine. Swiss fondue is on the menu at most Geneva restaurants, and it's one of the dishes you absolutely need to try.
Head to Restaurant Les Armures for possibly the best fondue in Geneva. Bayview at Hotel President offers an excellent fine dining experience, while Auberge de Savièse offers a much cozier atmosphere, reminiscent of a chalet somewhere in the Alps.
Nightlife & Entertainment
Geneva is up there with Zurich as one of the best Swiss cities for people who like to party. It has an excellent nightlife scene, with dozens of bars and clubs that stay open until the early hours of the morning.
On the other hand, Geneva also has quite a few lounges and cocktail clubs with a much more sophisticated atmosphere. Then there are all the theaters and event venues where you can watch a play or attend a concert virtually every night of the week. The Grand Théâtre de Genève is by far the best in the city for performance arts, but it's certainly not the only one.
My point here is, that whatever your idea of a fun night out might be, you'll find options in Geneva. Attend an opera, dance at a club until 3 AM, or watch a sports event at a local pub – it's all possible in this fabulous Swiss city.
Wellness & Relaxation
If at any point you need some rest and relaxation from all the sightseeing you've been doing, you can always head to a spa or a wellness center for a couple of hours. There's absolutely no shortage of these places in Geneva, and they range from wellness centers accessible to everyone to luxury establishments where you're treated to champagne in between treatments.
Bains des Pâquis is the best accessible option in Geneva. It's easy to reach by public transport and it's affordable. The wellness center of the public bath includes a hammam, sauna, and a Turkish bath, with optional massages and yoga classes.
Bain-Bleu Hammam & Spa is a bit farther away from the city center, but still easily accessible by public transport. It's one of the best spa centers in Geneva, with pools, a hammam, and a wellness area that offers loads of different treatments.
The Nescens Spa is very popular for wellness retreats and it's the perfect destination for travelers whose idea of vacation includes a lot of pampering. The luxury spa offers everything from vast pools to esthetical procedures, and it's one of the best establishments of its kind on the shore of Lake Geneva.
Festivals and Events
The Swiss really like their carnivals and festivals. Geneva celebrates a few different festivals every year, and being in a city where they are taking place is a wonderful experience.
Fête de l'Escalade is the largest and most important festival in Geneva. It takes place on December 12th (or the weekend closest to this date), and it celebrates the anniversary of the city's defense from the attempted conquer by the Catholic Duchy of Savoy. The festival includes concerts, costumes, parades, and lots of food.
Geneva Fête de la Musique is a musical festival that traditionally takes place in early summer. The city's largest musical festival attracts people from all over the world, thanks to the large variety of concerts that range from classical music to rock and roll.
Outdoor Activities
Travelers who prefer to explore off the beaten path will thoroughly enjoy their stay in Geneva. The city is very close to some of Switzerland's best natural attractions, with easy access to hiking trails, wine-tasting tours, and even ski resorts.
The Geneva Wine Trail is one of the best hikes in the region. It's the longest vineyard hike in the entire country, and it includes quite a few wine tastings along the way to spice things up. There are a few different iterations of this hike, and it can be completed in the span of four and a half to seven hours.
Cycling through the vineyards is also possible, in case you prefer to get around on wheels. Geneva is a good destination for mountain biking as well, with loads of trails in the city's vicinity.
On the other hand, if you prefer having fun on the water, you'll love staying so close to Lake Geneva. There are countless opportunities for kayaking and canoeing, but also rafting if you head closer to the river. Paragliding is also a popular activity in the region, especially in the summer months.
If you happen to visit Geneva in the winter, you'll be able to enjoy skiing and snowboarding in one of the numerous nearby resorts. There are thousands of kilometers of ski pistes less than an hour and a half outside the city, which include trails that are challenging even for the most experienced skiers.
Day Trips
One of the best things about Geneva is its proximity to other beautiful places in France and Switzerland. Chamonix, the ski resort at the foot of Mont Blanc, is only an hour away from Geneva, and a bus ticket will cost you just 10 CHF. It's possible to book guided visits to the area, and this is the best option for travelers who don't want to bother with research and ticket purchases.
Mont Saleve is easily accessible by cable car, and perhaps the best day trip to do from Geneva if you're into panoramic views. The mountain is in France, and it offers some of the best views of the city of Geneva. The cable car station is at the Le Pas de l'Échelle village, which is just a 40-minute bus ride from central Geneva.
A day trip to Montreux and Chillon castle is different because it includes no trip to mountains, but nonetheless an epic experience. Montreux is a gorgeous town on the shore of Lake Geneva, best known for being Freddie Mercury's home for a while. Chillon Castle is easily accessible from the town, and it boasts underground vaults, a museum, and stunning lake views. It's only a 60-minute train ride from Geneva to Montreux.
How to Get to Geneva
Geneva is connected to all the major cities in Switzerland by trains and buses, so traveling to the city should be very simple. If you're flying into Geneva airport, you can be in the heart of the city in just 10-15 minutes. There's a train that will take you from the airport to central Geneva, and it runs every 12 minutes. Best of all, anyone who flies to Geneva airport can get this train ticket for free.
You could also get a taxi from the airport, but I genuinely don't think it makes sense. Taking the train is quicker, especially during rush hour, not to mention that the train is free and the taxi is usually 35-45 CHF.
You can even take a direct train from Zurich to Geneva, and you'll arrive at the lakeside city in less than three hours. It will also take you around three hours to travel to Geneva (by train) from Basel, Interlaken, and Lucerne, but just two hours from Bern.
Traveling to the city from other places on the shore of Lake Geneva is much faster because you can also do it by boat. Montreux, Vevey, Lausanne, and Morges are all 30-60 minutes away from the city.
It's important to note that renting a car and driving to Geneva on your own almost always takes longer than train travel, and that's in perfect road conditions. Travel by bus is an option if you're just going to other towns along Lake Geneva or to places in France.
Getting Around The City
Geneva has a great network of public transport. The city center is easily walkable and you can get to most of the top attractions in the heart of Geneva by walking, but you will need to ride public transport to get to CERN, visit Carouge, or Parc Ariana.
Trains, buses, trams, and even boats are all options for getting around Geneva, and tourists can usually ride them for free. If you book a stay in accommodation that is registered with the Geneva Tourism & Congress board, they should be able to provide you with a Geneva Transport Card for free! It includes all the public transport in the city of Geneva, as well as a ride into town from the airport.
Where to Stay in Geneva
Geneva offers a wide variety of accommodation options, from campsites to five-star luxury hotels. On the upper end, the best hotels include the Four Seasons, the Mandarin Oriental, The Woodward, the Fairmont Grand Hotel Geneva, the Ritz Carlton, and the Beau-Rivage. A night at one of these hotels starts at 500 CHF and can cost more than 1,000 CHF.
Mid-range hotels are the most prevalent in Geneva and are usually 200-400 CHF per night. Hotel Bristol, The Ambassador, Hilton Geneva, Novotel Geneva, and Hôtel Longemalle Genève are all four-star hotels in and around Geneva's old town.
There are loads of budget hotels in the city as well, just keep in mind that a night in one of them will set you back 100-200 CHF. That's the price of a one-star hotel in one of the most expensive cities in Switzerland. The best budget hotels in Geneva are Hotel Ibis, Hotel Central, Hôtel St-Gervais, Nash Pratik Hotel, City Hostel Geneva, and Tor Hôtel Genève. It's worth noting that some of these are closer to the airport than the city center.
Also, consider staying outside central Geneva to save money. Even Carouge is a great option – it's just 15 minutes from Geneva by tram, and the accommodation options are about half the price of those in Geneva proper.
Frequently Asked Questions
How many days should I spend in Geneva?
You need at least three days in Geneva to properly explore the city attractions, and museums, and do one half-day trip. Ideally, you would stay in the city for 3-5 days, and any longer stays are great for day trips to other towns and cities. 
When is the best time to visit Geneva?
Summer is the best time to visit Geneva if you want to have fun on Lake Geneva, but winter is the better season to avoid crowds, go skiing, and see the Christmas Markets. 
What is Geneva famous for?
Geneva is famous for its international vibe, excellent nightlife, Lake Geneva, opulence, luxury, and John Calvin. 
Is it worth going to Geneva?
Yes, going to Geneva is absolutely worth it. It's a beautiful city with a wide variety of landmarks and interesting attractions that can appeal to virtually anyone.