Last updated: May 16th, 2023
Lind's Home of Chocolate blew me away. Sure, the museum here is amazing, but this stunning modern building is oh so much more!
The Lindt Home of Chocolate is a relatively new project from Lindt, located right next door to the main Lindt chocolate factory in Kilchberg, Zurich. The building houses the Lindt Chocolate Competence Foundation, a group within Lindt that aims to maintain Switzerland's expertise in chocolate.
The Foundation has used this stunning white building in many ways.
For example, there is a Chocolate Competence Center for training, a research facility, a Pilot production line for their new ideas and then there are the areas you will love:
a huge chocolate museum covering 1500m2
the largest Lindt chocolate shop in the world
a unique Chocolateria offering chocolate-making courses
the first Lindt Café in Switzerland
Yes indeed, Lindt has left no stone unturned in this masterpiece of a building that is all about chocolate lovers. Oh wait, there is one more thing…
Right in the center of the main hall is a 9-meter (28 ft) giant chocolate fountain oozing 1500 liters from Lindt's signature whisk high above you. It is quite a sight to behold. Just a pity you can't dip your finger in it. But you do get free chocolate samples on the museum tour. And lots of them. More on that later!
Details
Address
Schokoladenplatz 1, Seestrasse 204, 8802 Kilchberg, Switzerland
Museum Opening Times
Monday to Sunday: 10 am – 6 pm
Museum Prices
Adult: 15 CHF
Pensioner/Disabled/Student/Teens (over 15): 13 CHF
Children (8-15): 10 CHF
Children (0-7): Free
Groups: See here
Lindt Shop Opening Times
Monday to Friday: 10 am – 7 pm
Saturday & Sunday: 10 am – 6 pm
Directions for Public Transport
Bus: number 165 from Bürkliplatz (bus stop: Lindt & Sprüngli)
Train: S8 or S24 to Kilchberg station, then 10 minutes on foot
Boat: number 3731 from Bürkliplatz to Kilchberg, then 10 minutes on foot
Directions by car
Freeway exit Thalwil-Rüschlikon
Limited Parking at Seestrasse 204
Electric car charging: 6 spots
Accessibility
The Home of Chocolate is wheelchair accessible
Lockers & Coat Racks
Free lockers and coat racks on the ground floor
Book Lindt Museum Tickets Ahead
The Lindt Museum is one of the most popular museums in Switzerland. Hundreds of people visit every day (and sometimes every hour!). If you want to avoid the lines when you arrive, book your ticket ahead and walk right in!
One of the best ways to do that is using the Viator website where you can choose your date and go. You can always cancel if you don't want to go and you don't have to pay until the day. How cool is that?
Home Of Chocolate Museum Tour
The Home of Chocolate Museum is a marvel from beginning to end. There is so much to see, read, learn and do. And if you want an audio-guided interactive chocolate tour, you can also grab one as you enter and change the language via the flags on the wall.
Now, it's time to enter Lindt's interactive world of chocolate….
Cocoa Beans
You start at the beginning of the chocolate journey, with cocoa beans. Exploring where they come from, how they are processed and the people whose lives are all about cocoa.
Early History of Chocolate
Next up is some chocolate history. How it came from the new world via the Spanish explorers to Europe and gradually made its way into people's lives.
The different types of chocolate and hot chocolate and how they changed over time – from a luxury to something available to everyone. You also get to see some fun packaging from the era, many of which are very rare.
Swiss Chocolate Pioneers
Moving on to Swiss chocolate history, now it is time to learn all about Switzerland's role in the industry. The different chocolate companies and the techniques and machinery they invented helped bring chocolate to where it is today.
Of course, Lindt features here too, and his invention of the conch, the whisk you always see and how it revolutionized chocolate from a hard, brittle mass to the smooth-flowing bars we know and love today.
Moving on, there is now a really fun display of all the different chocolate packaging from the last hundred years or so. You can really see the evolution of the Swiss chocolate industry, with the changes in bars and wrappers, as well as the merging of various Swiss chocolate companies.
Chocolate Tasting & Chocolate Factory
Finally, it's time to do some chocolate tasting on your Lindt chocolate tour. From a range of chocolate fountains to a cool machine that automatically dispenses broken pieces of Lindt from big bars. Take as many as you want!
In between, Lindt has represented lots of parts of their factory in simple form so we can learn how chocolate is made today. Things like Bar Forming, Cooling, De-Molding, Bar Holding and more!
Interactive Maps
The second last room in the Lindt chocolate tour is filled with fun interactive maps showing everything from chocolate consumption to the evolution of the Swiss chocolate industry.
Lindor Balls Tasting & Selfie
After you are done here, it's time to get a selfie inside a Lindor ball and then…eat as many of them as you want! It's kinda mind-blowing that you can just grab these Lindor balls and eat them to your heart's content. Just don't get sick from it all! I certainly did.
And on the other wall are some cool seats built into Lindt balls where you can take a selfie as a memento of your visit.
Get Your Gift
Once you are done in the museum, you can head out to the upper floor area and on the opposite side, you should see people lining up for the Lindt gift. Just bring your museum ticket to get yours!
Movie Auditorium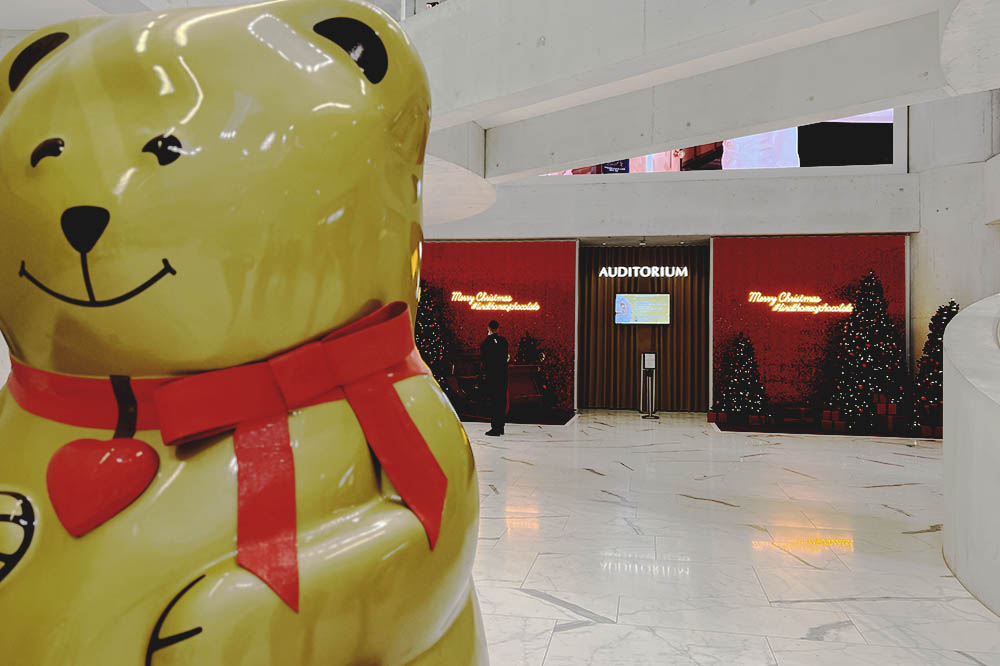 If you are still not sick and tired of chocolate there is also a short 20-minute movie on the history of Lindt or another one all about Switzerland. They alternate. Just walk straight past the chocolate fountain to the end of the corridor and you will find the auditorium there.
The World's Largest Lindt Chocolate Shop
I have ever seen every single form of Lindt chocolate all in one place. This is certainly the biggest Lindt chocolate shop in the world. So, get your credit card ready.
Everything from Lindt blocks and Lindor balls to hot chocolate, tasty pralines and everything in between. It's a great place to get some gifts to take home to your family and friends. You just might have trouble choosing which chocolate to buy!
I managed to get my hands on some flavors here that I have not seen on the shelves in Switzerland. The choice was mindblowing. I think they had every single product that Lindt has and does make. Of course, you can also pop around the back of the factory and visit the Lindt factory outlet store, but there is less choice and honestly, the discounts there are not that great. I think I saved 10% on some blocks.
CHOCOLATERIA: Create Your Own Chocolates
There is also a chocolate-making course you can do here in the Lindt Chocolateria. Lindt Master Chocolatiers will help you assemble your own personal chocolate creation. There are a surprising number of options for chocolate making courses here from Lindt bars, pralines, and Christmas bears to truffles. Just be sure to book your course ahead of time for you Lindt chocolate making class.
Lindt Cafe
Once it's time to put up your feet, you will find the Lindt Cafe right by the entrance on the left-hand side. Treat yourself to a cup of coffee, one of Lindt's legendary hot chocolates, or a savory snack to keep you going.
Frequently Asked Questions
Is The Home Of Chocolate Museum Worth It?
If you love chocolate, then the Lindt Home of Chocolate is a must-visit on any trip to Zurich or Switzerland. With a huge museum, the biggest Lindt shop, a Lindt cafe, an open production line and the chance to do some chocolate-making courses, what is not to love? It is also not very expensive for what you get.
Where is the Home of Lindt chocolate?
Lindt Home of Chocolate is located next to the Lindt & Sprüngli factory in Kilchberg along the lake of Zurich. It can easily be reached by train or bus from downtown Zurich in under 30 minutes.
How long is the Lindt Home of Chocolate tour?
Typical tours in the Lindt Home of Chocolate run for either an hour or 90 minutes. You can also do an audio tour at your own pace, which may take anything from an hour to two, depending on how fast you move through the museum.
Is Lindt Home of Chocolate included in Swiss Travel Pass?
Unfortunately, the Lindt Home of Chocolate museum and tour is not included on the Swiss Travel Pass. All transport to the Home of Chocolate are included if you are using the travel pass on that day though.
Where is Lindt based?
Lindt is based in the town of Kilchberg along the shores of Lake Zurich in Switzerland. Despite expanding its global footprint, they are still headquartered in Switzerland.