Last updated: August 16th, 2023
When you visit Switzerland, it is almost a crime to leave without tasting some of the best Swiss chocolate you can find and take some home with you. After all, the Swiss do make some of the best chocolate in the world.
So, what are the best Swiss chocolate brands that you should keep an eye out for while you are in Switzerland? That is what we are here to find out.
Below you will find details of the 12 best Switzerland chocolate brands, some of which you will know, and others might be new to you. Why not try all the best chocolate brands in Switzerland while you're there? You only live once after all!
Lindt
Lindt is one of the best Swiss chocolate brands in the world, if not THE best. It was founded by Rodolphe Lindt in 1845 and it was he who came up with "conching" to create the first-ever melt-in-your-mouth chocolate in the world.
Lindt's secret to making delicious Swiss chocolate comes from the quality of ingredients and their master chocolatiers. Everything from the cocoa to the milk, hazelnuts, vanilla and any other ingredient in their chocolate bars is nothing but the best.
Today, Lindt has multiple chocolate factories all over the world and is available to buy for chocolate lovers in more than 100 countries. One of the best places to see, sample and buy Lindt is in their home factory in Kilchberg, Zurich in Switzerland. Not only can you buy tonnes of the stuff, but you can also make your own, and visit their new museum.
Known for their Swiss chocolate bars with milk chocolate or dark chocolate, additions of ingredients like sea salt, and chili, as well as their truffles, and more, Lindt can make a chocolate lover out of anyone.
Vollenweider
Vollenweider is one of the lesser-known Swiss chocolate brands around the world, but it might just be the most innovative Swiss chocolate brand.
The Vollenweider's flagship chocolate shop is located in Zurich, right next to the Zurich Opera House, and its Swiss chocolates are named after operas. Try Romeo & Juliet or Carmen, the Swiss chocolate is made to match the mood of the opera.
Vollenweider also specializes in making unique-looking chocolates using their 3 generations of Swiss chocolate-making skills. You will find chocolates in the shape of space shuttles, high heels, and even handbags in the store.
It doesn't end there. Some of their Swiss chocolate bars come with 22-karat gold. Their macaroons are also to die for too.
If you want to try some chocolate from Switzerland with an innovative twist and a ton of creativity, Vollenweider is the place to do it.
Toblerone
Undoubtedly the most famous Swiss chocolate and best Swiss chocolate brands around the world is Toblerone. They have been making Swiss chocolate bars since 1876 and was one of the first Swiss chocolate brands to experiment with shapes.
We all know Toberland for its triangular milk chocolate bars stuffed with honey, almonds, and nougat that simply melts in your mouth and is delicious. The key to their deliciousness is similar to Lindt chocolate, they use some of the best quality ingredients to use an amazing taste.
It is said that Theodore Toblerone was inspired in 1908 to come up with the triangular shape by the Matterhorn, Switzerland's most iconic peak that does look like a piece of Toblerone.
Toblerone is owned by Mondelēz today who also owns Oreo and Cadbury cream eggs. Luckily for us, the quality of Toblerone chocolate hasn't changed since the takeover.
Laderach
Laderach is one of the best-selling Swiss chocolate brands in Switzerland, which is saying something. They might have only been a Swiss chocolate company since 1962 (over 100 years behind Lindt chocolate) but they make some of the most delicious chocolate in the world.
Founded by Rudolph Läderach, they are known best for their FrischSchoggi, aka fresh chocolate, but they also make white chocolate varieties, as well as yummy bonbons. If you ask me, they are one of the luxury Swiss chocolate brands.
With a company motto to make every piece of chocolate a masterpiece, it is no surprise that their chocolate is so good. Make sure you stop by a Laderach chocolate store while you are in Switzerland, you won't be disappointed. They are just about everywhere in Switzerland these days, especially in big cities and their suburbs. I have seen them all over Zurich, in Lucerne and at the Airport to name a few of their many locations.
You can also order custom boxes of chocolates online if you can't get to a shop. Their Chocolate Experience tour in Bilton is also worth experiencing as they take you on a journey on how their chocolate is made.
Sprüngli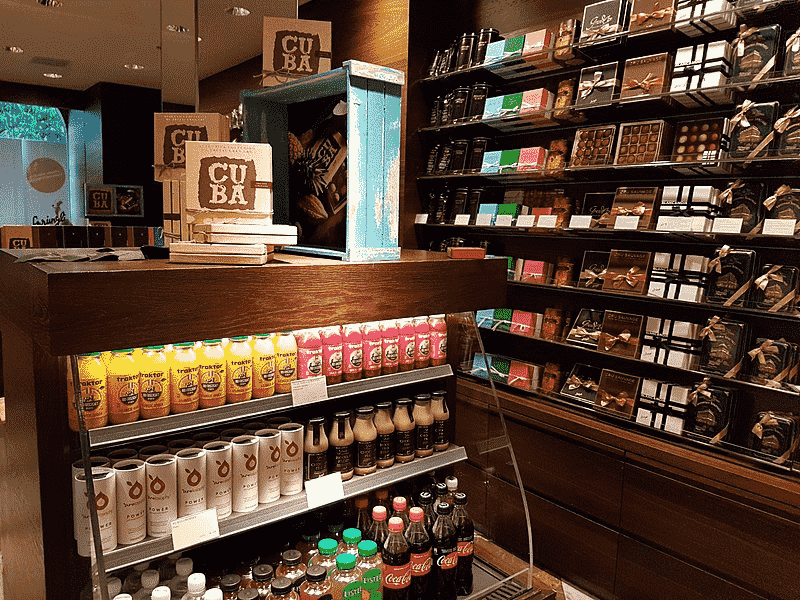 If you are in Zurich then do not walk by one of the city's best Swiss chocolate brands, Sprüngli. Sprüngli has been selling Swiss chocolate creations in Zurich from the same shop since 1859.
The key to their authentic Swiss chocolate treats is that they make them fresh every day with no preservatives and only use the best quality natural ingredients. Their shop is on Bahnhofstrasse so you will definitely go past it while exploring Zurich.
You will find a range of chocolate bars, pralines, truffles, and more in the shop. Make sure to try their macaroons too which are about as airy and light as macaroons can be. Their Truffes aux Amandes are also to die for.
You can also buy a selection of fresh chocolates to take home with you but don't buy them until just before you fly so they stay fresh for your arrival at home.
Cailler
Cailler is the oldest Swiss chocolate brand and has been making delicious chocolates for over 200 years.
Like most Swiss chocolate brands, they pride themselves on using the best sustainable cocoa, top quality Swiss milk, and the best other ingredients too. Add this to their chocolate-making talent and you have some delicious milk chocolate, dark chocolate, and other creations too.
One of their secrets is using lightly-condensed milk in their chocolates which creates a taste and texture that is unique and can't be done with milk powder.
Cailler ships out over 300,000 Swiss chocolates every day from their factory near Gruyeres. You can even do a self-guided tour of the factory to learn all about the history of Swiss chocolates, and there is an all-you-can-eat chocolate room at the end.
Learn more about the Maison Cailler.
Max Chocolatier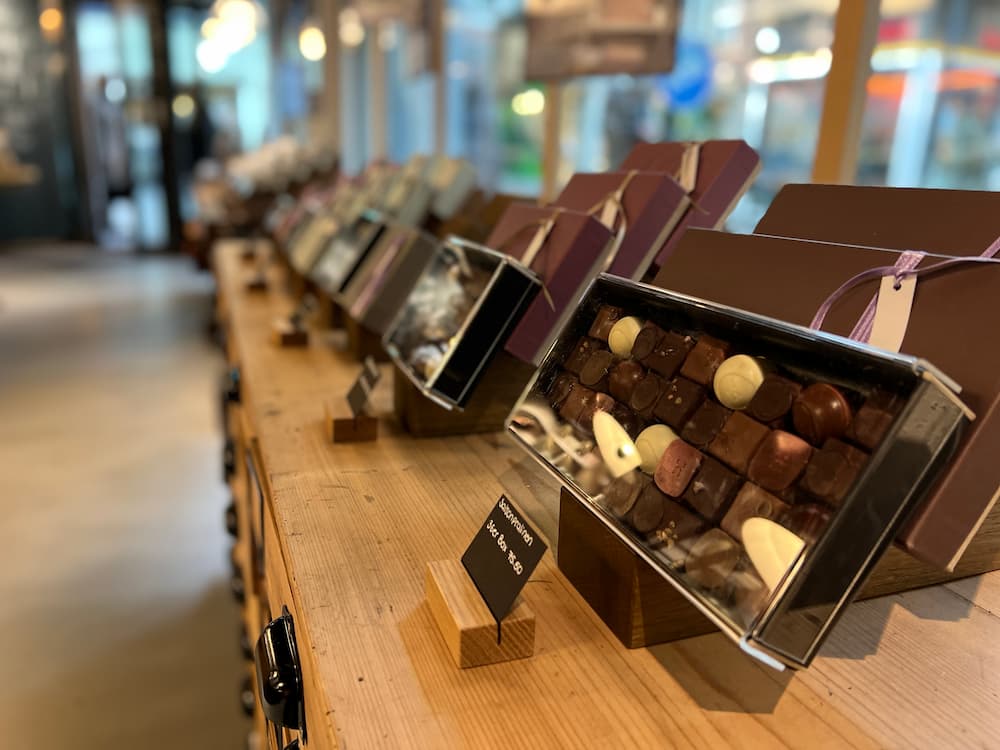 Max Chocolatier is a lesser-known Swiss chocolate brand that has a single location. You will find it in the beautiful city of Lucerne right near the city's most famous attraction, Chapel Bridge.
When visiting Lucerne, crossing the stunning Chapel Bridge is something you will do so why not pop into Max Chocolatier to sample some of their delicious treats?
Max was founded in 2009 and is a family-owned chocolate shop with some master chocolatiers behind the counter. It is not for their seasonal chocolates that change with the seasons and the local ingredients.
Think about berry-filled chocolates in summer, dried fruit and nuts in the fall and winter, and you get the idea. It is certainly worth picking up a box of their chocolates while you are in Lucerne.
You can also book a chocolate-making and tasting experience with them which is a load of fun and definitely worth doing. And, their store is a stunning dream filled with chocolate to visit. They have a sense of style I have rarely seen and they use it in all the stores, including the small Zurich store near St Peter's Church, and even in the Christmas Pop-up store in Jemoli.
They still make them by hand in their Lucerne factory, which is something very rare. Just keep in mind this also means their chocolates are very pricey. In fact, it is one of the most expensive chocolates I have seen in Switzerland
So, if you don't want to spend a fortune, consider Lindt or other supermarket brands.
Camille Bloch
Camille Bloch is a household name when it comes to chocolate in Switzerland. The Swiss love two of their chocolate bars in particular, the Ragusa and Torino chocolate bars, and you probably will too.
The Ragusa is filled with whole hazelnuts and comes in blond, milk chocolate, and dark chocolate varieties. The Torino is all milk chocolate surrounding a truffle. They are both to die for!
Camille Bloch also makes specialty chocolates and they are renowned for their liqueur varieties. You can also try some of their exclusive chocolates by visiting their museum located just across from their chocolate factory in Courtelary in the Canton of Bern.
While touring the museum you get to try making chocolate and can learn about the history of Cammille Block too.
Du Rhone
If you are in Geneva, do not miss the chance to experience one of the best chocolatiers in Switzerland, Du Rhone.
Based in Geneva since 1875, Du Rhone makes some of the most delicious chocolate in the world and their key to success is innovation, talent, and as you probably guessed, the best ingredients they can find.
At their shop in Geneva, you can find everything from fruit jellies to block bars, assorted boxes, and lots more. You name the chocolate, chances are they have put their own spin on it and have made it taste even better.
You can also book a workshop with Du Rhone where you learn about how they make chocolate and actually get to walk around their chocolate being made live. It is a pretty awesome experience and you get to do some tasting at the end too!
Durig
Durig is another master chocolate shop in Switzerland and is a Swiss chocolate brand known worldwide for its incredible quality and commitment to sustainability.
Durig only uses fair trade and organic ingredients, and all their chocolates are made in-house to ensure this and their exceptional quality. They make specialty chocolate along with praline, truffles, and chocolate bars.
This is another Swiss chocolatier that also offers a chocolate-making workshop. You will focus on how to set the chocolate properly and decorate it too!
Chocolat Frey
Another chocolatier making some of the best Swiss chocolates is Chocolat Frey. Chocolat Frey has been in the chocolate business since 1887 and is famous for the incredible variety of chocolates they produce with countless different fillings.
Famous in Switzerland for their Chocobloc chocolate bars and nut bars, they also make chocolate filled with ganache, cream, praline, and gianduja in lots of different shapes. It is certainly worth trying as many of them as you can.
Chocolat Frey also has a museum where you can learn about the chocolate-making process, taste a roasted cocoa bean, and of course, some chocolate too. You will find the museum in Aarau in northern Switzerland.
Nestle
We have all heard of Nestlé and you have to include them in a list of Swiss chocolate brands. Based in Vevey on the shores of Lake Geneva, they got into the business of making Swiss chocolate in the 1800s and have since expanded into a huge multinational company.
They make a huge range of chocolate bars and their most popular is the Kit Kat which was invented in the 1930s their Milky Bar is also popular too.
While they are not known for their high-end chocolates, they are responsible for putting Swiss chocolate all over the world.
Frequently Asked Questions
Why is Swiss chocolate so famous?
The reason Switzerland makes such famous chocolates is simply that they make some of the best chocolates in the world. Making the best chocolate doesn't come easy, so how did they do it?
Switzerland had mechanized chocolate factories in the 1800s, which gave space for a large number of chocolatiers to enter the market. Basically, they have been making chocolate longer than everywhere else.
Then they added milk to the chocolate, making it even more delicious. Rudolph Lindt then came up with the "conching" process in 1879 which created chocolate that melts in your mouth.
These were the building blocks, add in the quality ingredients the Swiss are renowned for using, an innovative culture, and a ton of chocolate lovers, and you have the makings for some of the best chocolate in the world.
Where can I buy cheap Swiss chocolates?
If you are in Switzerland then you can find cheap Swiss chocolates at the supermarkets. Migros and Coop are the best supermarkets to find affordable Swiss chocolates. Their house brands are one of the most affordable and they are still good chocolate.
Which is better: Swiss or Belgian chocolate?
Whether Belgian or Swiss chocolate is better comes down to your own personal preferences. Swiss chocolate is made with milk and is sweeter than Belgian chocolate, it also comes with a smoother texture. Whereas Belgian chocolate is generally darker with more cocoa, less milk, and less sugar. Belgian chocolate also uses praline a lot.