Fancy taking a ride on the steepest funicular railway in the world up to a beautiful car-free town in the Swiss alps? That is exactly what the Stoos Funicular railway offers.
The Stoos Funicular connects Hintere Schlattli, just outside of Schwyz with the stunning village and mountain resort of Stoos. Located on the mountains surrounding Lake Lucerne, you couldn't ask for more of a paradise setting.
The world's steepest funicular railway was finally completed in 2017 and cost a whopping CHF 52 million to build, but it grabbed the headlines all over the world and has put Stoos back on the map.
Join me as I run through everything you need to know about taking the Stoos Funicular from how to get there, what the ride will be like, and some great things to do when you arrive in the car-free mountain village of Stoos.
How to Get to Stoos Funicular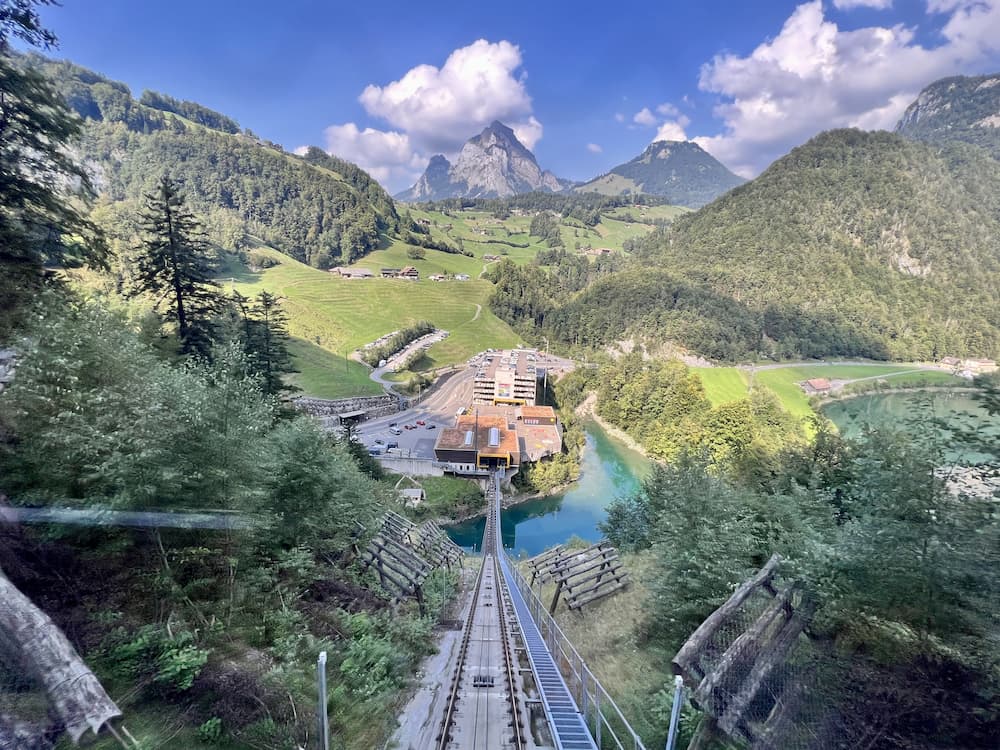 Getting to the Stoos funicular is quite easy from Zurich, Lucerne, and Bern. Simply take the train to Schwyz railway station and then it is a 20-minute bus ride to the Stoosbahn, where the Stoos Funicular departs from.
From Zurich
It takes just 1 hour and 20 minutes to get to Stoos Funicular via public transport. Take the train from Zurich HB, change at Arth-Goldau, and get the train to Schwyz. At Schwyz, grab the bus to Schwyz, Stoosbahn and it is a short walk to the funicular station.
Driving from Zurich takes just over an hour.
From Bern
Getting to the Stoos funicular to Bern via public transport takes about 2.5 hours. First, take the train to Zurich HB and then follow the same journey plan from Zurich mentioned above.
Driving from Bern to the Stoos funicular is a bit quicker than taking the train and takes about 2 hours.
From Lucerne
The journey from Lucerne to the Stoos funicular is super fast. Take a direct train to Arth-Goldau and get the bus to Schwyz, Stoosbahn.
The drive to the Stoos funicular is just 45 mins from Lucerne.
General Information
The Stoos Funicular is open every day of the year, come winter or summer. Its opening hours are the same regardless of the season.
Address
Opening Hours
Every 30 minutes
Sunday – Thursday: 7.10 am – 10.10 pm
Friday & Saturday: 7.10 am – 11:40 pm
Ticket Prices
Adults – CHF 29
Children (6-15) without Junior Card – 11 CHF
Children (6-15) with Junior Card – Free
Children under 6 – Free
Discounts
Free travel with a Swiss Travel Pass or GA Travelcard
50% with Half-fare
Parking
Parking at the funicular – Parkhaus Stoosbahn
Prices start at 13 CHF
Stoos Funicular Information
Your return ticket is valid for 30 days and you can buy them online here.
What to Expect When Taking the Stoos Funicular
Taking the Stoos Funicular is a fantastic experience that lasts between 4 and 7 minutes.
The Stoos Funicular is just 1.7 km (1.1 miles) long and climbs an impressive 774 meters (2,441 feet) over a short distance. You will pass over two bridges and through 3 tunnels while enjoying some impressive views across the mountains and lakes.
There will be times along the way when you will be going up at a gradient of 110%, which is super steep. If you were to be sitting in a normal cabin, you would be thrown off your seats.
The Stoos Funicular comes with cabins that actually rotate to account for the gradient and they do so perfectly. This means you can sit upright comfortably all the way instead of being tossed around like you were in a boat on the high seas.
What to do in Stoos Village
The mountain village of Stoos is a little slice of alpine heaven. Sitting at 1,300 meters (4,300 ft) above sea level with sweeping views across Lake Lucerne and the Swiss Alps, it is simply a magical place to spend some time.
There are no cars in Stoos, so it is one of Switzerland's peaceful car-free villages and with just 100 residents, is very relaxed too.
This car-free mountain village s a wonderful place to visit in both winter and summer, with some great activities which we'll discuss further in the next section.
Winter
Stoos gives you access to some wonderful skiing and snowshoeing in the winter. With a lot of ski slopes, snowshoe trails, cross-country ski trails, and winter hiking trails, there is plenty to keep you entertained.
The ski lifts are also right next to the top station of the Stoos Funicular so you can get off, put your skis on, and go straight up the slopes.
Other great winter activities include sledding, air boarding, and visiting Hölloch, one of the world's largest cave systems.
There are countless indoor activities on offer at the Swiss Holiday Park which is one of the resorts of its kind in Switzerland.
Other fun winter activities include tobogganing at night, going on a husky ride, and taking the cable car up to Fronalpstock for great views and lunch at the peak restaurant.
Summer
In the summer, a trip to Stoos is all about the Stoos Ridge Trail with spectacular views across Lake Lucerne and the surrounding alpine peaks.
The area is covered with beautiful flora and fauna, and you can discover a stunning marshland with special species too. You can also find a lot of great places to do some rock climbing around Stoos in the summer.
A trip to Fronalpstock to see the incredible views across Lake Lucerne and a spot of lunch at the peak restaurant is also great to do in summer.
Stoos Ridge Hike
There is also a spectacular hike from the top of the lift along the ridge, all the way along to the other end, and then down to Stoos. It can be made harder or easier by either hiking up from Stoos, and back down, or using the lifts either way (up/down) to shorten it.
You can find the hike here.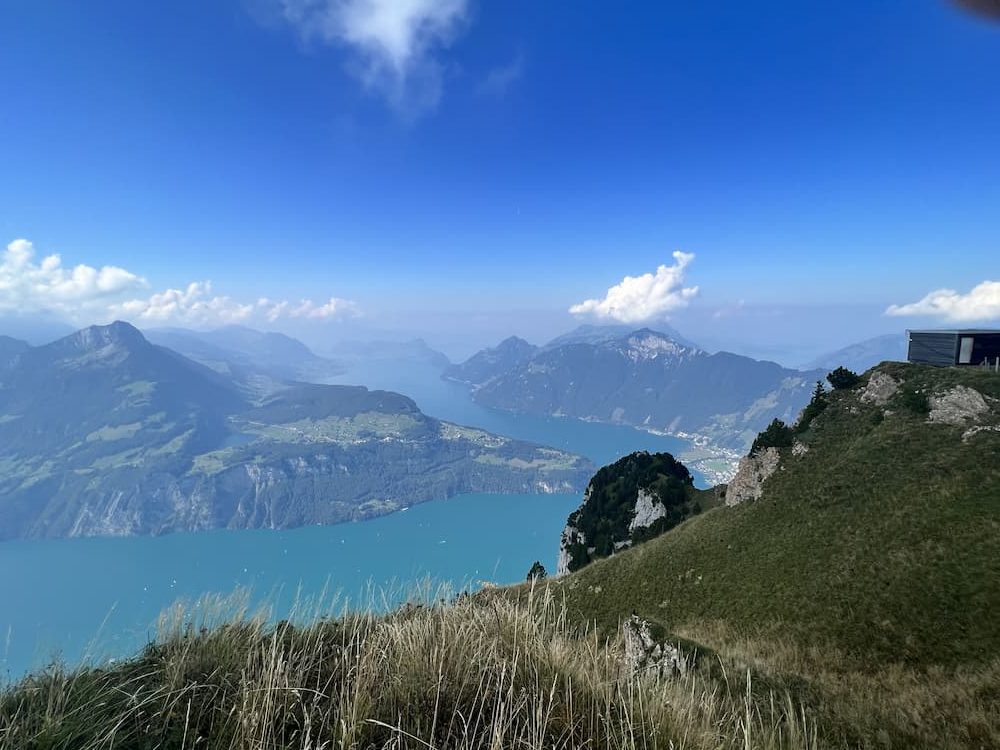 Exploring the huge caves of Hölloch is another fun summer activity. You should also spend some time around Little Stoos Lake while you are there. It is the perfect place to do some sunbathing, Alpine swimming, have a picnic, and more.