As if the city of Lucerne wasn't picturesque enough. Sitting on the shores of Lake Lucerne in Central Switzerland, it is also surrounded by jaw-dropping mountains.
Whenever you need to get out of the city for a day trip, there is a mountain near Lucerne that will give you just that. But, which of the mountains near Lucerne should you choose?
With over 10 to pick from, it isn't such an easy choice, but don't fret, I am here to help. Below, you will find details about the best mountains to visit near Lucerne so you can go to the one that is right for you.
Pilatus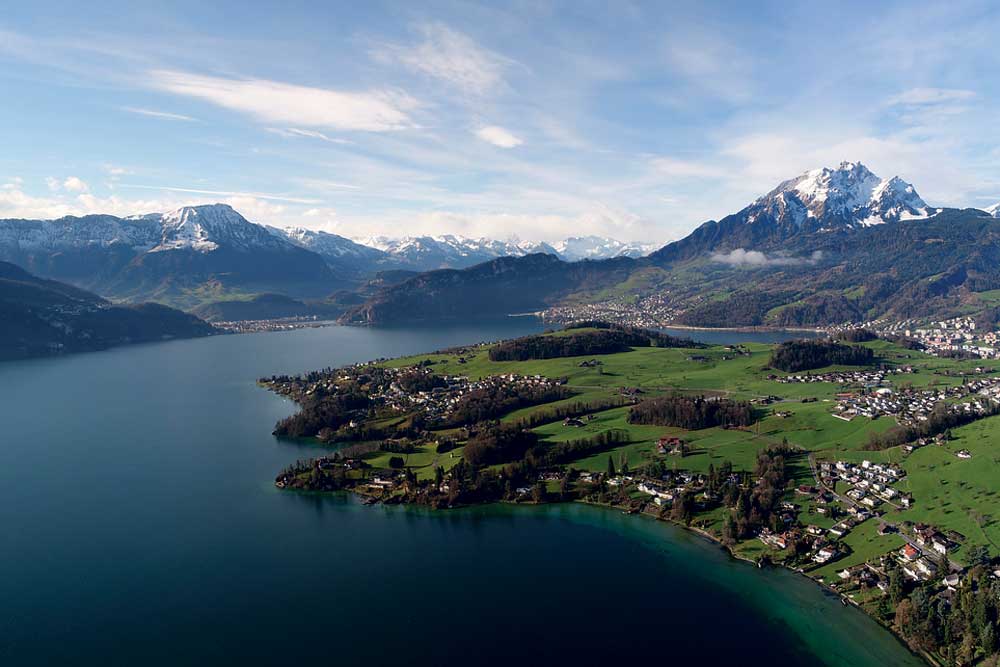 Mount Pilatus, also known as the jagged mountain due to its jagged mountain peaks, is the closest to Lucerne. It towers up to 2,073 meters above Lake Lucerne and offers incredible views of the surrounding mountain peaks, lake, and Lucerne.
There are several ways to get to the top of Pilatus Mountain. One uses the world's steepest cogwheel railway from the village of Alpnachstad on the Golden Round Trip.
This involves getting one of the steamboats from Lucerne and cruising across Lake Lucerne to Alpnachstad, where you board the world's steepest cogwheel railway to Mount Pilatus Kulm Station. To get back down, hop on the cable car to the village of Kriens and grab a bus back to Lucerne.
The journey is stunning and while at the top of Mount Pilatus, have lunch in the restaurant, access numerous hiking trails, take in the spectacular views of central Switzerland from the viewing platform, and even stay the night on Mount Pilatus at Hotel Pilatus Kulm.
On the way down, stop at Fräkmüntegg to get on the Lucerne mountain coaster, the longest alpine coaster in Switzerland, called Fräkigaudi Toboggan.
Recommended Tours
Taking a tour to Pilatus is the perfect way to enjoy your time in Lucerne:
Rigi
The next closest mountain to Lucerne is Mount Rigi, which sits just north of the city, also on the shores of Lake Lucerne.
Rigi Mountain might be the most famous mountain in central Switzerland. It gives you wonderful views of three different lakes, Lauerzersee, Zurgersee, and Lake Lucerne there are lots to do on Mount Rigi, every season.
There are two peaks on Mount Rigi, Rigi Kulm at 1,752 meters and Rigi Scheidegg at 1,643 meters, and both are easily accessible. Once at the top, you will have access to great hikes, snow trails, and restaurants, and you can even bathe in a mineral bath at Rigi Kaltbad. It's even an excellent place for skiing and sledding in winter.
There are many ways to get to Mt Rigi from Lucerne. One is to take the train to Weggis, get on the cable car directly to Rigi Kaltbad, and hop on a tram to Rigi Scheidegg or the train to Rigi Kulm.
Or, take one of the steamboats to Vitznau and grab the train to Rigi Kulm, which stops at Rigi Kaltbad. It takes about 1.5 hours no matter which way you go, so pick your favorite journey.
Recommended Tours
A tour up Mount Rigi via Lake Lucerne is a stunning day out:
Stanserhorn
Stanserhorn is a little further away from Lucerne but is faster to get to than Mount Rigi, thanks to a quick direct train.
Mount Stanserhorn sits at 1,849 meters above sea level and the beautiful views from the top will blow your mind, especially on a clear day.
You will be able to see the Black Forest in Germany and the Jura Mountains, and when you look west, you get a view of the endless mountain peaks of the Alps. You can also see more than 10 lakes from the peak of Mount Stanserhorn.
Aside from the stunning views of central Switzerland and beyond, there are also lots of hiking trails and a restaurant, and you should see some marmots there too.
Getting there is an adventure. Take the direct train to Stans from Lucerne which takes just 18 minutes and then hop on the cable car to Stanserhorn mountain station, changing at Kälti.
The cable car from Kälti even has an open upper deck you can ride up on with great views of mountains and lakes in all directions.
If you want to skip the lines and get your tickets in advance, you can grab them here. Or book a complete day-out tour as well.
Titlis
Sitting next to the village of Engelberg in the Obwalden Canton is Mount Titlis, one of the highest mountains in central Switzerland at 3,238 meters above sea level.
It takes about 1.5 hours to get from Lucerne to the peak. Take the train to Engelberg, hop on the cable cars from Titlis Valley station to Stand, and change onto another cable car to Mount Titlis.
At the top, a peak trail takes you along the Titlis Cliff Walk and to the Titlis Glacier Cave. You can also get different cable cars around the mountain to access trails between the peak and Stand.
Grabbing the Rotair cable car, which rotates, from Klein Titlis is an incredible experience as it takes you over the glacier. The views are amazing, and there are some great things to do in Engelberg, including visiting an ancient Benedictine Monastery.
Recommended Tours
Viator has great tour options if you want a fantastic day out on Mt Titlis. Check them out below and see what suits your itinerary or weekend plans!
Brienzer Rothorn
Brienzer Rothorn sits above Lake Brienzer, overlooking Interlaken and Lake Thun to the west and the Bernese Alps to the south. If you frequent Instagram, you might have seen it on those epic ridge walk shots often tagged with Switzerland!
Brienzer Rothorn is the highest mountain in Lucerne Canton at 2,350 meters above sea level but is also part of Bern and Obwalden Cantons, and their meeting point is marked near the peak.
The views from the peak are out of this world and once you arrive, the walk to the peak from the cable car or train station is just 62 meters and is safe for all to enjoy. There is also a lovely panorama restaurant where you can have lunch looking over one of the best views in the country.
You have two choices of how to get up to Brienzer Rothorn. Take the train from Lucerne to Schüpfheim, the bus to Sörenberg and then a cable car to Brienzer Rothorn.
Or, you can ride one of the two last steam trains in Switzerland through the UNESCO Entlebuch Biosphere to the top but this does add an hour to the journey.
Recommended Tours
One of the best ways to enjoy Brienzer Rothorn and Lake Brienz in general is with a tour such as a trip on the train and a day out kayaking or cruising on the lake. Viator has some great ideas for you I recommend checking out. What better way to have an epic day in the mountains than Lucerne or Interlaken?
Melchsee-Frutt
If you are looking for a family-friendly mountain escape and full of great activities, head to Melchsee-Frutt. It takes just 1.5 hours to get there from Lucerne via a train to Sarnen, a bus to Stöckalp, and a cable car up to Melchsee-Frutt.
Melchsee-Frutt is a car-free village on Lake Melch at 2,169 meters above sea level. The views across the lake are beautiful and you can fish and swim there in the summer too. There are also lakeside playgrounds for kids, fun-themed rails, rock climbing, and the famous four lakes hike.
The hike takes you past Lake Melch, Lake Tannen, Lake Engstlen, and Lake Trüb. The view along the way is magical. I did it with my brother-in-law many years ago, and he still talks about it.
In winter, Melchsee-Frutt is a ski resort that is great for beginners and cross-country skiing, sledding, and snowshoeing.
Grab yourself a Tell Pass ticket if you are in the Lucerne area for more than 2 days.

Pro TIP
Fronalpstock
Fronalpstock is located directly opposite Lucerne on the other end of Lake Lucerne, and it is another stunning mountain full of activities.
Getting there from Lucerne takes 2 to 3 hours, depending on your chosen route. The quickest option is 2 hours via a train to Brunne, a bus to Morschach, a cable car to Stoos, and another cable car to Fronalpstock.
The other route goes via Schwyz-Schlattli where you get on the steepest funicular railway in the world to Stoos, which reaches a 110% gradient on the way up.
At Fronalpstock, you have a view of more than ten lakes and look right up the valley into the Alps; it is gorgeous. There is a restaurant at the peak serving up delicious food with a great view, and you have access to lots of trails, too, including the stunning Stoos Ridge Hike.
The village of Stoos is car-free and a lovely place to hang out, and a great place to stay.
Bürgenstock
Sitting directly across Lake Lucerne from Lucerne is Mount Bürgenstock. It is very close to Lucerne and a delight to get to as it involves a boat ride, cable car, and hike.
Enjoy a stunning cruise across Lake Lucerne to Kehrsiten-Bürgenstock, hop on the cable car to Bürgenstock Resort, and then hike to the top along the old trail to the peak. You will be there in less than an hour from Lucerne.
Once at the top, 1,115 meters above sea level, you get an amazing view across Lake Lucerne of Lucerne with Mt Rigi to the right and Mt Pilatus to the left. It is nothing short of incredible.
You can also take the view to another level by getting on the Hammetschwand Elevator, which takes you up 153 meters. It is the fastest outdoor elevator in the world and the highest in Europe.
Recommended Tours
Taking a tour to the Bürgenstock is a great way to make the most of a day out in Lucerne:
Eggberge
Sitting right at the southern tip of Lake Lucerne is Eggberge Mountain at 1,447 meters above sea level.
This mountain is rather special as it looks over Lake Lucerne and right up the Schächen Valley into the peaks of the Alps. Plus, you can be there in 40 minutes by taking the ​​CAR Tellbus Uri from Lucerne train station to Flüelen and then a cable car to the peak.
What I love about Eggberge is that it isn't so well known, meaning you will have fewer people to deal with. Also, it gives you access to beautiful meadows, forests, and magical views. This is also a great place to go paragliding, as the winds are favorable.
Map of Mountains Around Lucerne
Frequently Asked Questions
What is the best mountain near Luzern?
One of the best mountains to visit near Lucerne is Mount Pilatus. It is the highest mountain close to Lucerne and offers incredible views over the city, Lake Lucerne and the nearby Alps. There is also a huge range of activities to do on the mountain, including the cogwheel railway up and the gondola down.
Which is better Mt Titlis or Mt Pilatus?
Whether Mt Titlis or Mt Pilatus is better depends on what you are looking for. The Golden Round Trip to Mt Pilatus is hard to beat and very close to Lucerne. While a visit to Mt Titlis is a long day out, it takes you higher in the Alps and includes a rotating gondola and the highest hanging bridge in Europe.
Which mountains to visit in Lucerne?
The best two mountains to visit in Lucerne are Mt Pilatus and Mt Rigi. They both offer great mountain experiences with cogwheel trains and gondola rides and stunning views with hikes and other activities you can enjoy on a day trip.