Last updated: June 19th, 2023
Since roughly 60 percent of Switzerland is covered by the mammoth peaks of the Alps, the country only has seven international airports. Therefore, traveling by train is the primary way to travel in the Alpine country. But unless you have a pre-bought pass, trains in Europe can be quite expensive.
The solution? Economy car hires in Switzerland start at just $26 a day with slightly higher prices in June and July, and if you book at least two months in advance, you can save up to $10 a day.
A car hire in Switzerland has other advantages. Driving in Switzerland by car will allow you to take awesome road trips, enjoy spectacular views, and explore small villages and large cities without being restricted to anyone's timetable. And since the Swiss often use trains to travel, this means less traffic for tourists even in the high season.
Have a look at the best car rental companies in Switzerland, a few tips, and the answers to some of the questions you may have about renting a car in Switzerland.
Sixt
One of the most trusted names in Switzerland, Sixt Rent a Car was founded in Munich in 1912. The company started out with a fleet of only three vehicles and now has over 100 years in the business. And Sixt was the first rental car company to have a website and offer mobile reservations for customers.
Globally, Sixt has around 2,200 locations spread across 105 countries. In Switzerland, Sixth has branches from Zurich to Geneva and many other towns and cities in between. They are conveniently located at airports, train stations, hotels, and cruise ports.
Sixt's fleet includes SUVs, sports cars, convertibles, electric cars, minivans, and passenger vans. The rental office is open from 6:00 am to 11:30 pm with 24-hour drop-off.
EuropCar
With 65 car rental locations and 82 stations across the country, planning your trip in Switzerland is easy with Europcar. Choose from a broad range of brand-new cars from economy to luxury models to explore the Alpine country in comfort and safety. Both short-term and long-options are available.
No matter what season your visit to Switzerland falls in, EuropCar offers rental deals that are kind to your wallet. And with more than 50 years of experience in the business, you can trust EuropeCar through every phase of the car rental process.
EuropeCar guarantees to offer the best rates with no hidden fees, and a Privilege Loyalty Program offers you even more ways to save. Plus they have a secure booking process.
Edel & Stark
Treat yourself to a luxury ride while traveling throughout Switzerland. Edel & Stark offers comprehensive services in cities and airports such as Zurich and Geneva, Lausanne, Bern, Basel, and many more. Their discreet services include doorstep delivery to homes and hotels. You can also request a car to be delivered to you at the airport. They also offer advice for your travels regarding routes, restaurants, and hotels.
Luxury brands to rent include Porche, Lamborghini, Rolls Royce, Maserati, and more. You can also opt for an exclusive sports car tour package that includes a luxury sports car, a preselected route, and first-class hotels and restaurants.
Edel & Stark's professional rental agents will expertly handle the business end of the rental so all you have to do is drive and enjoy.
Swiss Rent Car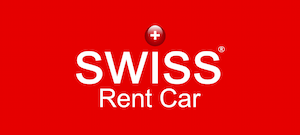 Find custom-made car rentals tailored to your needs at Swiss Rent Car. Their dedicated team will answer questions and help you organize your trip with ease. All of the cars are new, and you can choose from Fiats, Opels, Renaults, BMWs, Peugeots, and Mercedes.
Swiss Rent Car has convenient locations in Lausanne at the train stations and in Geneva at the airport and train stations. You get assistance 24/7 and can book, modify, or cancel your reservation for free online.
Swiss Rent Car also offers luxury cars with a driver and delivery to your doorstep, a popular service for weddings and other events.
AVIS
With over 50 years in the business now, AVIS car rentals know how to keep customers satisfied. They offer a huge variety of cars to take your vacation or business trip to the next level. Choose from small economical sedans to muscle cars, snazzy convertibles, and luxury cars in every size. Look for the AVIS Signature Series vehicles available at select locations. Choose a vehicle and click on the website for a list of locations that offer these elite vehicles.
AVIS offers attractive savings programs such as a coupon for a one-time, one-group upgrade on a mid to full-size four-door car and free upgrades on daily weekend, weekly, and monthly rates. They offer last-minute travel deals and a Grants & Wishes program for up to 35 percent off with a donation to the Make-a-Wish foundation.
Avis has around two dozen locations scattered around Switzerland from Aarau to Zurich.
Hertz
Hertz has been a trusted car rental company around the world for over a century and is here to serve your travel needs in Switzerland. The company was founded in 1918 in Chicago and was the first of its kind to offer drop-offs in a different location. Pick-up and drop-off locations are located all over the country from airports and train stations in cities like Zurich and Geneva and a long list of cities and towns in between.
Hertz offers high-quality and affordable rentals from family-friendly hatchbacks to sports and luxury models. Whatever your Swiss travel needs are from city business trips to long alpine drives, you'll find what you need at Hertz. Daily and weekend rates are available.
Hertz has several perks including unlimited milage, no amendment fees, and exclusive discounts. Insurance coverage is always included. They offer additional equipment such as booster, infant, and child seats, GPSs, and XM radios.
Elite Rent-A-Car
Rent a luxury car from Elite and make your trip to Switzerland unforgettable with prestigious brands such as Audi, Porche, Ferrari, Tesla, Mercedes, and more. Meet your needs with a sedan, SUV, van, convertible, or sports car.
The Elite Rent-A-Car agency in Zurich is near the airport in Kloten. The company has been around for 35 years and offers unparalleled service. And when you reserve a car through Elite, you are assured to get the exact car you booked.
Elite's customized delivery and collection options include having your rental vehicle delivered to your home, office, or hotel. They offer pick-up and delivery all around Central Europe to uncomplicate your travel plans. They also provide international networking and a limousine service.
Rentalcars.com
Renting a car through Rentalcars.com is a simple and pleasant experience. They work with car rental companies all over the world and arrange rentals for you as a broker under Booking.com Transport Limited registered in England and Wales. More than a price comparison site, they arrange deals and stay with you through the entire process.
The Rentals-com team uses reviews, customer feedback, and their own experience to provide you with options and extra help wherever and whenever you need it. They offer a wide variety of cars and deals that will make a difference in your travels around Switzerland.
Simply pick the car you want from their website or app and choose from extras such as infant seats, full coverage, and more with many pick-up and drop-off sites around Switzerland. They offer free cancelations on most bookings and 24/7 customer service in more than 40 languages.
Tips for Renting A Car in Switzerland
Be prepared to pay an additional fee if you are under 25 or over 70.
Use your travel plans to decide which city to rent a car in.
Check the rental agreement carefully before signing it.
You will need a credit card for the deposit.
Keep in mind that car insurance in Switzerland is mandatory.
Download a Switzerland map for times you won't have internet access in the mountains.
Look for a car that is powerful enough to climb mountains but small enough for narrow roads in Swiss villages.
Take extra precautions when driving on steep and winding roads.
Use low gears when climbing steep inclines.
Avoid the distraction of spectacular scenery by using parking spaces and vantage points.
Keep an eye out for wildlife, cows, pedestrians, and cyclists.
The Swiss police are strict so obey all rules of the road.
Frequently Asked Questions
Is it a good idea to rent a car in Switzerland?
Yes, renting a car in Switzerland will allow you to explore every corner of the country at your own pace. If you shop around and book ahead, you'll find great prices.
What is the price range for car rentals in Switzerland?
When renting a car in Switzerland, expect to pay around $32 per day for a compact car for 4 adults and $88 per day for a premium rental for 5 adults.
Are Swiss vignettes automatically included when renting a car?
When renting a car in Switzerland, expect to pay around $32 per day for a compact car for 4 adults and $88 per day for a premium rental for 5 adults.
Is an international driver's permit required for renting a car in Switzerland?
Yes, an international driver's permit (IDP) is required to rent a car and operate it in Switzerland. Authorities see the permit as confirmation that you are authorized to drive in your home country as well as the type of vehicle you're allowed to operate.
Can I rent a car in Switzerland and drive to Italy?
Yes, but you must inform the rental company in advance so they can provide you with an EU-registered car.