Last updated: September 14th, 2023
Located in the heart of Central Switzerland, the Stoos Ridge Hike is a panoramic trail stretching from Klingenstock to Fronalpstock. It provides you with some of the most picturesque panoramas in the country and is doable by almost anybody with reasonable fitness.
I first did this hike over 21 years ago when it was an unknown trail that was challenging in parts with chains and a little bit of climbing. Today, it has been widened with stairs throughout and is never really difficult or dangerous.
So, whether you're a seasoned hiker or just someone looking for a pleasant day out in nature, this trail will not disappoint.
Below I will give you all the details about the Stoos Panorama Trail including how to get there, what it costs, when to go, and more.
General Information
Distance: 4.5 km
Altitude Gain/Loss: 340m/360m
Difficulty: Moderate Fitness / A well-maintained trail
Start/End Points: Klingenstock / Fronalpstock
Ticket Prices
The following are the Peak Ticket prices which include the funicular and both chair lifts (Klingenstock and Fronalpstock)
Ticket
Price (CHF)
Adult (16 years and above)
52
Child (6-16 years)
20
Children under 6 or with Junior Card
Free
Discounted tickets
– Swiss Travel Pass, GA
– Half-Fare

31
42
Prices including
I have a more comprehensive post on Stoos and the Funicular here.
The Stoos Ridge Hike (Our Experience)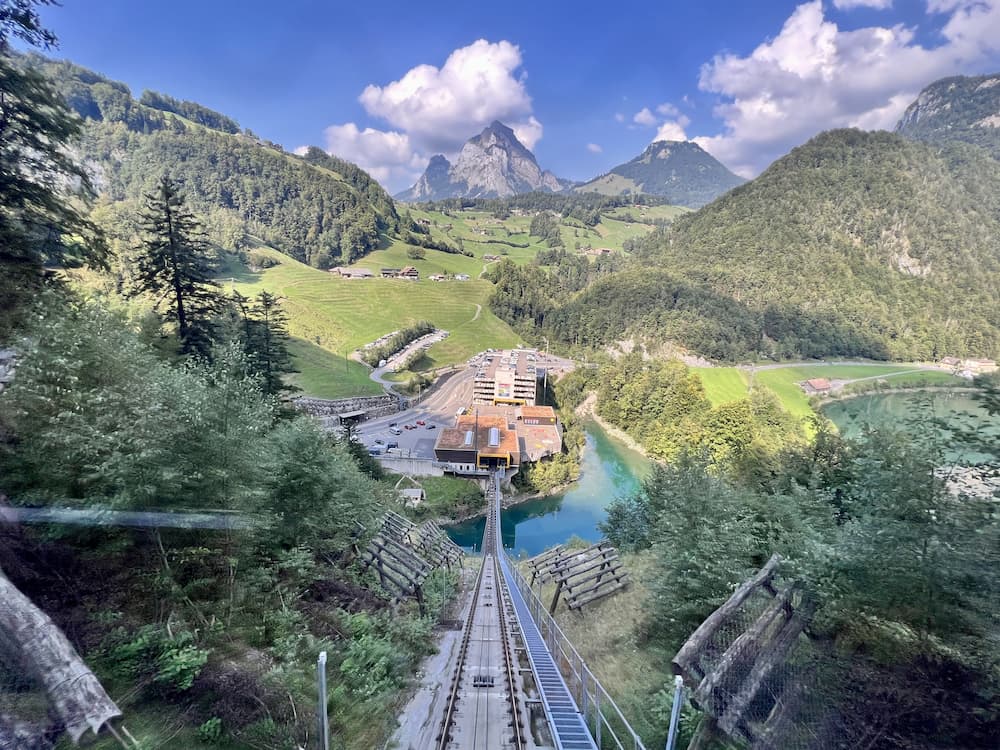 One of the most fun parts of the Stoos Ridge Hike is getting to Stoos. They have installed the steepest funicular in the world a few years ago. It takes you up at an angle of 47 degrees. An experience that is especially cool if you can get the front window on the way down!
The funicular cruises up through two tunnels, and delivers you in minutes to the village of Stoos at 1305 m.
The hike can start and end in the village if you wish to do the complete loop, but 95% of people just do the ridge trail from Klingenstock to Fronalpstock. Which, if you are not a fit hiker is the option I would choose.
Just the Ridge Hike is around 400m up and down, as well as 2-2.5 hours. So for most people, this is enough.
You have to walk a bit uphill to get to the Klingenstock chairlift anyway. And then in minutes, you are at the top.
The views from Klingenstock into the Muota Valley are quite stunning and a taster of the views you get along the way.
The Views
The Stoos Ridge Hike is quite unique because it gives you 360 views along the way. Starting with the views down into the Muota Valley at Klingenstock, you gradually get to see the Urner Lake, which is the furthest part of Lake Lucerne from the city. It is a stunning aqua blue!
The best view is from Fronalpstock where there are viewing platforms and spots to take great pics!
You can also see a whole range of mountains from the highest point where there are boards pointing out the amazing range of Swiss mountains you can see from the Eiger, Rigi, Pilatus to the Mythen over the other side and the lakes in the distance.
Rest Stops
We took it easy along the trail and did it in around 3 hours, stopping along the way for a quick lunch and various stops at the benches along the way.
There are lots of places to sit, and even if you can't get a seat, there are enough grassy patches to hang out on to just enjoy the views.
You can also wait until you get to Fronalpstock to eat and go to the restaurant. However, when we got there (early September) it was insanely busy and full and we had no chance of a seat, let alone getting food.
Is The Stoos Ridge Hike Difficult?
The trail is a wide gravel path that is well-maintained by the local hiking club (which takes donations via a QR code along the way if you want to help out – why Stoos does not fund it I don't know). It is one of the best trails I have ever seen in Switzerland. There are stairs when it goes up or down and lots of chains for protection when it gets exposed.
The only difficulty for most people is the steep ups and downs. So, just take it slowly and rest along the way and you should be fine. Also, don't forget to take water and snacks as it is quite a taxing walk for many people and we saw a lady who did it in full sun with no hat, no pack, no water and no food. She was not in a good state!
Is The Stoos Ridge Hike Worth It?
The Stoos Ridge Hike is worth it because of the stunning views and the steepest funicular ride to the top. It is within the reach of most moderately fit people too.
However, as I mentioned above, I have done this hike twice now. Once 21 years ago when I first came to Switzerland, and now. The experiences were polar opposites.
21 years ago it was peaceful and relaxing, even though the trail was far more challenging back then.
Today it is so full of people, even late in the season that I did not really enjoy the walk at all.
We prefer walks in the Alps that are quiet, peaceful, and seldom trodden. That might not be something you care about.
So, if you don't mind crazy numbers of people on your hikes – go for it. The hike is stunning.
Fronalpstock Panorama Trail
The last portion of the Stoos Ridge walk to Fronalpstock is actually another hike called the Fronalpstock Panorama Trail. You can just do this short walk from the top of the Fronalpstock chairlift. It is a very easy 1.5 km walk with a small up/downhill section along a very well maintained gravel trail.
To be honest, some of the best views are on this part of the trail, so if you are not into hiking, then just going up to do this walk is definitely worth your time. You can see Lucerne, Rigi, Burgenstock and the stunning blue Lake Lucerne below. You also get almost 360 views from the top of the 1922m high Fronalpstock, and if it is not too busy, you can have a drink or bite to eat at the restaurant.
Extending The Hike
The official hike is only along the ridge, however, you can extend it and make it a complete look from and to Stoos, or just walk one of the chair lift sections:
Up from Klingenstock
Down from Fronalpstock
Just be aware, that the hike up from Stoos to Klingenstock is quite steep and takes you around 600m uphill. It is not really a nice hike in my opinion. We did it in around 1.5 hours. Some people were faster and fit. Others suffered a lot.
Personally, although I normally only walk uphill when possible (because of my knees) in this case I would do the downhill part from Fronalpstock instead. It was a lot more pleasant and not as steep.
Stoos Ridge Walk Photos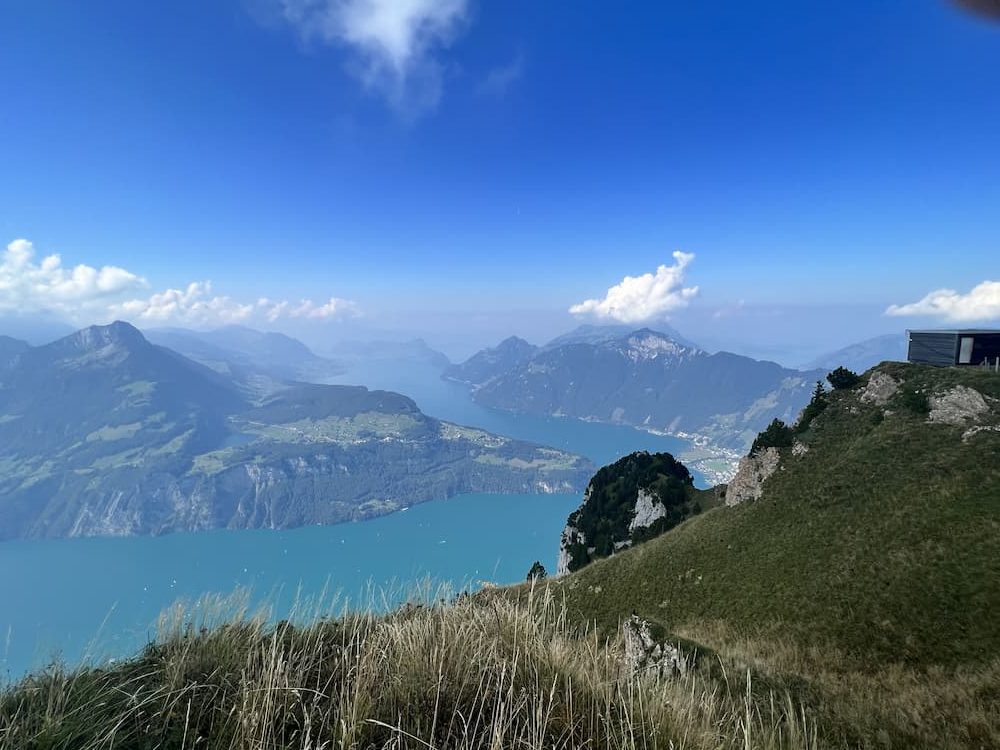 Other Hikes
If you're looking to extend your adventure or experience different views, consider these other hikes:
Stoos to Lake Morschach: A serene path that leads you to the stunning Lake Morschach. Adds an extra 2 hours to your hike.
Fronalpstock Panoramic Loop: This is a short loop around the peak of Fronalpstock, offering 360-degree views of the surrounding area. Adds an extra 1 hour.
Klingenstock to Holzegg: A descent from Klingenstock to the valley below, leading you to the quaint village of Holzegg. Adds an extra 3 hours.
Best Time to Visit
You can hike the Stoos Ridge Hike from spring until autumn. However, the earlier or later you go in these seasons, the more likely it is that there is snow on the trail.
This does not stop you from doing the hike with good equipment and experience, however, for most people, I would stick with summer (July-August-September) and possibly October to be sure of good conditions.