Last updated: June 5th, 2023
Lake Lucerne is one of the largest lakes in the country and a very popular tourist destination in central Switzerland. The city of Luzern has so many things to do and is easily accessible by various mountain railways, including the panoramic trains that are so popular among first-time visitors to Switzerland.
A cruise on Lake Lucerne is even included in the Gotthard Panorama Express experience, and it's one of the highlights of the entire trip. But you can explore the lake without riding any trains first and this detailed guide to cruises on Lake Lucerne will tell you all you need to know to plan that adventure!
Lake Lucerne Tour Suggestions
If you just want to jump on a cruise and enjoy a short trip or a full day out on the lake, then the following three options might be just the ticket for you.
The first one is a Lake Lucerne Panoramic Sightseeing cruise which you can take at whichever time you like (as long as there is a boat of course). It is a one-hour affair that shows you all the highlights along with an audio explanation in your choice of language.
The second option is a great combination of a small group Lucerne Tour, which covers all the highlights and ends with a one-hour lake cruise.
The third option is one of my favorite trips in Switzerland. A boat trip on Lake Lucerne to the lovely lakeside town of Vitznau followed by ride up Mt Rigi on the stunning cogwheel railway.
Or, you can book a full day on the lake with all your friends on your own private boat including stops at all the best spots, lunch at an amazing restaurant and time to just jump in the lake and swim. Oh, and you can drive the boat yourself, if you are up for it!
If you would prefer to organise your own trip around on the Lake Lucerne ferries, then keep reading below.
Cruising on Lake Lucerne: Overview
The key thing you need to know before you book a boat ride on Lake Lucerne is that there are two main types of lake cruises – culinary and panoramic. Panoramic boat tours just take passengers on a ride across the lake, allowing them to discover pretty views.
Culinary cruises, on the other hand, are usually themed – think fondue cruises, fajita cruises, etc. You're seated at a dining table and you get to enjoy a delicious meal while views of the lake and surrounding mountains flash in the background.
Panoramic boat rides are affordable and they're usually free or discounted with the various travel passes. Culinary boat rides are more expensive because they include a meal and drinks, and you can't really get a huge discount on them.
Choose a sunset cruise if money isn't an object. Lake views are more magical when contrasted against the colors of a sunset, and dinner is much more delicious when paired with such stunning views.
Also, it is possible to choose from almost 20 different boats. The fleet includes five paddle steamers and 14 motor vessels, so feel free to board the boat that you like the most.
How to Get to the Pier in Lucerne
Although there are piers in many towns along the lake shore, your best bet for a cruise is to head to the city of Lucerne. There are seven piers in the city alone, and it's where you'll have the most options when it comes to Lake Lucerne boat trips. Piers 1, 2, and 3 operate boat trips to all the bigger towns on the lake shore.
There's another reason why Lucerne city is the best starting point for lake cruises, and that is easy public transport access. It's the biggest city on the shore of the lake, and it has the best train connections to other cities in Switzerland. So, if you're relying just on public transport, you'll be glad to know that you can easily travel to Lucerne by train from most other towns and cities in Switzerland.
The main train station in Lucerne is directly adjacent to piers 1, 2, and 3. It's impossible to miss – just look for the large steamboats and head in their direction.
Timetable
Boats operate on Lake Lucerne year-round, so you can go on a lake cruise whenever you want. The main difference between summer and winter timetables is that the boats are more frequent in the summer. Also, some cruise routes are seasonal, so you won't be able to do all the routes if you're visiting in the off-season.
Here's a timetable for Lake Lucerne cruises this winter season:
You can check it out in more detail at this link, and see what all the different annotations mean.
Here's another link for the Spring 2023 timetable, which you can see includes additional routes. I'll add the summer 2023 timetable to this guide the minute they post it online!
Generally speaking, it is best to do a cruise on the lake in the summer. It's a much more enjoyable experience when it's warm and sunny, plus you have a lot more options when it comes to cruise routes. Winter cruises can be just as magical, especially when the boats are adorned with lovely Christmas decorations, but it can be extremely cold on the open decks.
Ticket Prices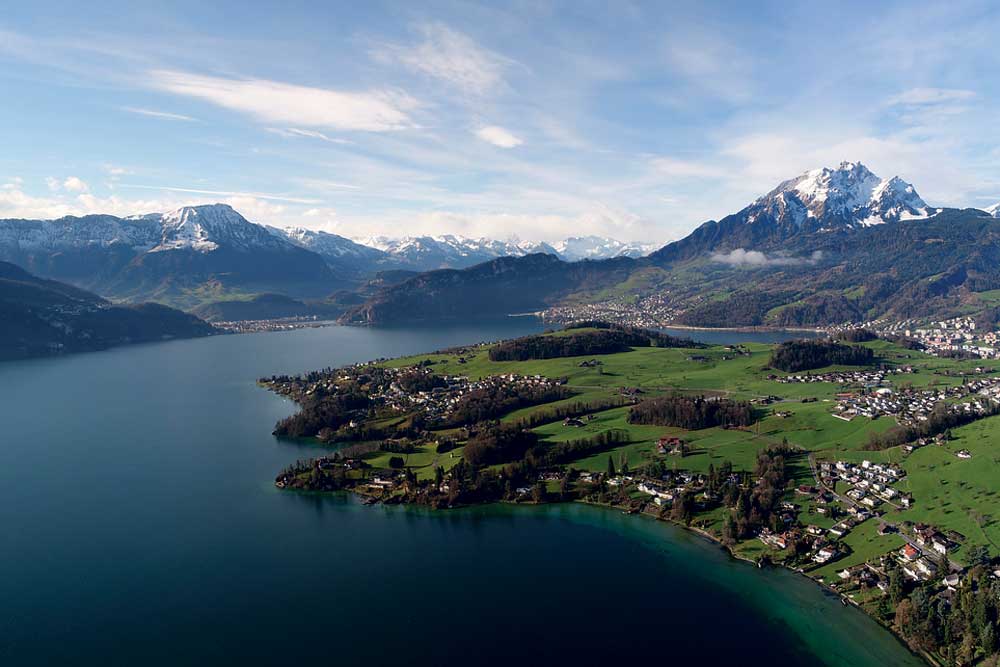 Ticket prices depend on several factors and they can range from 10 CHF to more than 100 CHF. You can get a day pass for the lake that lets you ride multiple boats, or you can purchase point-to-point tickets if you just want to hop from one town to the next.
The prices also depend on the season, but the average number I can give you is between 40 CHF and 70 CHF for return tickets. Keep in mind that you can get all sorts of discounts as well, so don't forget to check out what options you have.
The cheapest option is a one-hour catamaran cruise that doesn't include any breaks or meals. Tickets start at some 25 CHF for second-class seats, and that's without a discount.
In any case, you can use this link to estimate just how much your journey on Lake Lucerne would cost.
Opening Hours
The operating hours for cruises on Lake Lucerne depend on the season and you can check the current schedule right here.
Cruises take place every day, even in the winter season, but the operating hours are shorter during the colder months. Also, keep in mind that these opening hours are for the various ticket offices along the shore of Lake Lucerne – the boat cruise timetable is an entirely different thing, and it also depends on the season and weather conditions.
There are usually two daily departures in the winter season for the Lucerne-Fluelen cruise, but more departures for the shorter routes on the lake. Click here for the current timetable of all cruises and ferries on Lake Lucerne.
Lake Lucerne Route Suggestions
One of the best cruise routes on Lake Lucerne is from Flüelen to Lucerne. This is the trip that's included in the Grand Train Tour of Switzerland, so in case you're doing that and you're going to ride the Gotthard Panorama Express Train, this is definitely the route you should do. This cruise covers almost the entire lake, and it is truly a wonderful experience.
Luzern – Hergiswil – Alpnachstad is another popular route, especially with hikers who want to ascend Mount Pilatus, the closest mountain to Lucerne. Trips to Küssnacht and Ennetbürgen are also pretty popular, especially among travelers who want to explore as many destinations on the lake as they can.
Frequently Asked Questions
Is the Swiss Travel Pass valid on the Lake Lucerne cruise?
Yes, the Swiss Travel Pass is valid for cruises on Lake Lucerne and it gets you a free ride on any one of the passenger ships. You can't get a free culinary cruise, but depending on the exact boat, you might be eligible for a discount so ask around.
If you have the local Tell Pass, that also includes free travel on ferries on Lake Lucerne.
Additionally, I have to point out that a Lake Lucerne cruise is included in the Grand Train Tour of Switzerland itinerary. When traveling from Lugano to Lucerne on the Gotthard Panorama Express train, passengers are supposed to get out at Flüelen for a panoramic boat trip that takes them across the entire lake.
Where can tickets be bought for the Lake Lucerne cruise?
Individual tickets for Lake Lucerne boat trips can be purchased once you've boarded a boat. There's no surcharge for purchasing the ticket once you're on the boat.
In addition to that, you can also buy tickets at the year-round offices in Weggis and Lucerne. Ticket offices in other towns are open only seasonally. It's also possible to get tickets from most railway operators, and you can even buy them online.
Can I reserve some seats for the Lake Lucerne cruise?
You can reserve seats only in the dining and lounge areas of the boats. You can't reserve seats for the upper deck and they're assigned on a first-come first served basis.
Also, groups of ten or more people must make a group reservation, but keep in mind that this doesn't include a fixed seat reservation.
Plan Your Trip to Switzerland