Last updated: September 18th, 2023
Are you planning a trip from Bern to Geneva and looking for the best travel options?
This post will provide you with a guide to help you navigate the journey efficiently, whether by train, bus, or car.
Read on to discover the most convenient and cost-effective ways to get from the Swiss capital to the picturesque city of Geneva.
Key Takeaways
By Train: Approximately 1.5 to 2.5 hours, one way is CHF 19.40
By Car: 1 hour and 40 minutes
Bern to Geneva by Train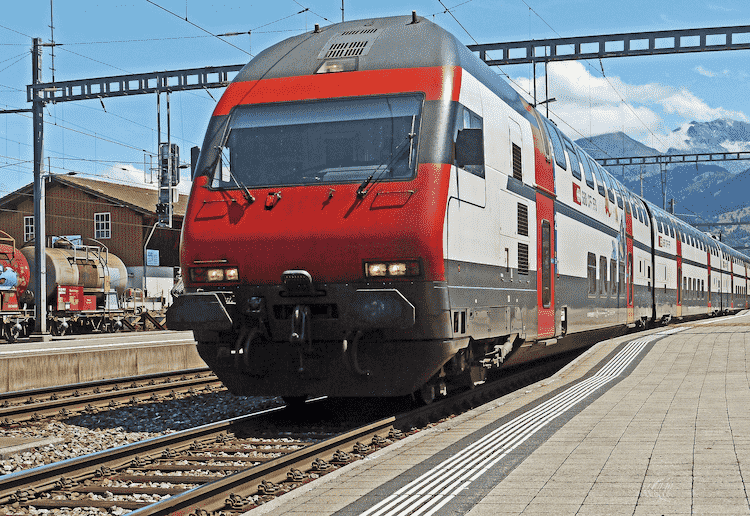 Journey Time: 1.5 to 2.5 hours
Departure Intervals: Multiple departures per hour
Cost: CHF 19.40 and upwards (check the table below)
Switzerland has an extensive and efficient train network, and taking a train is a popular choice for traveling between Bern and Geneva. This travel option offers stunning views of Switzerland's picturesque landscapes, including the Swiss Alps and Lake Geneva. Be sure to have your camera ready!
The journey typically takes approximately 1.5 to 2.5 hours, depending on the connections you choose. Direct trains are not any faster, but are more convenient.
The direct trains leave at 4, and 34 minutes past every hour. There is also a train at 53 past which connects in Neuchatel.
The Swiss Federal Railways (SBB) operates these trains. You can check schedules and purchase tickets on their website or at the train station.
Departure stations are as follows:
Bern: Trains typically depart from Bern's main train station, known as Bern Hauptbahnhof (HB).
Geneva: In Geneva, the trains arrive at Geneva Cornavin station.
Train Ticket Prices
Ticket prices vary depending on factors like the type of train (e.g., regular or scenic trains) and class of service (e.g., first class or second class). It's advisable to check the SBB website or visit the train station for up-to-date ticket prices.
| | |
| --- | --- |
| | Ticket Prices (CHF) |
| 2nd Class One Way | 19.40 |
| 1st Class One Way | 30.20 |
| 2nd Class Return | 44.90 |
| 1st Class Return | 75.20 |
Train ticket prices from Bern to Geneva
Bern to Geneva by Bus
Journey Time: 2.5 to 3.5 hours
Cost: CHF 7 – 21
The bus journey from Bern to Geneva takes approximately 2.5 to 3.5 hours, depending on traffic conditions and the specific bus route. The travel time can vary slightly between different bus operators.
Check the schedules and book tickets at the bus station or online for each of these bus companies:
Buses are equipped with standard amenities, including restrooms and, on longer routes, limited catering services. It's a good idea to bring snacks and drinks with you. Buses between Bern and Geneva operate regularly throughout the day, with multiple departures to choose from.
Departure and arrival points:
Bern: Buses from Bern to Geneva typically depart from Bern's main bus terminal, known as the Bern Busbahnhof or Bern Bus Station.
Geneva: Buses usually arrive at Geneva's central bus terminal, Gare Routière Genève.
Bern to Geneva by Private Transfer
Journey Time: 1.5 to 2.5 hours
Cost: Starts at CHF 300
Traveling from Bern to Geneva by private transfer is a convenient and flexible option, especially if you value privacy and comfort. Several private transfer companies operate in Switzerland, offering a range of options, from standard sedans to luxury vehicles and even minivans for larger groups.
Depending on the provider and vehicle type, you may have access to amenities like Wi-Fi, air conditioning, and professional, English-speaking drivers.
Private transfer offers a seamless and comfortable experience, allowing you to have a personalized journey without the hassle of public transportation. Be sure to book in advance, communicate your preferences, and enjoy the convenience of door-to-door service.
Bern to Geneva by Car
Journey Time: 1 hour and 40 minutes
Distance: Approximately 125 to 150 kilometers (about 78 to 93 miles)
Driving to Geneva from Bern provides you with flexibility and the opportunity to explore Switzerland at your own pace.
There are multiple routes you can take,
the A1 motorway is the most direct and fastest
the A12 via Fribourg takes around the same time.
Other scenic routes like the A5 around Lake Neuchatel are a great alternative if you have more time. It take you through the picturesque Jura Mountains.
Keep in mind that Switzerland requires you to have a motorway vignette on your car. This can be bought either digitally or via a toll sticker that allows you to use the highways. You can purchase this vignette at border crossings, gas stations, or online. It's valid for one year.
Renting A Car
Some car rental companies you may want to check out:
Choosing this travel option allows you to explore the Swiss countryside and make detours to visit charming villages or scenic viewpoints along the way. Just ensure you're well-prepared, have a valid driver's license, and respect Swiss traffic laws for a safe and enjoyable road trip from Bern to Geneva.