Last updated: September 22nd, 2023
Visiting Lucerne and want to enjoy some fondue while you're there?
This guide to the best fondue in Lucerne covers the city's top spots with buckets of melted cheese!
Fondue is the most famous of Swiss national dishes and one of the things you should definitely try while you are in the country. It can be prepared with different kinds of cheese and it is usually served with small pieces of bread that you're supposed to dip in the cheesy goodness. The best Lucerne restaurants have their own take on the iconic dish, so here's where you should go for the absolute best fondue in Lucerne!
Zunfthausrestaurant Pfistern
Zunfthausrestaurant Pfistern is a popular local restaurant in Lucerne. It's situated on the bank of the river Reuss, so you can enjoy all the local delicacies with a side of a spectacularly scenic view.
The restaurant serves traditional Swiss dishes and fondue is only one of the many local delicacies you can taste here. The fondue at this Swiss restaurant is made from tangy Alpine cheese and served with potatoes and bread. It is absolutely delicious and without a doubt one of the best cheese fondues you can try in Lucerne!
In addition to this staple delicacy, you can try a variety of other popular Swiss dishes at Zunfthausrestaurant Pfistern including raclette, rosti, and others. It's also worth noting that this restaurant operates a fondue carriage from November 1st until January 31st, so you can enjoy their delicious fondue while riding around in a horse-drawn carriage through Lucerne!
Fondue House Du Pont
Fondue House Du Pont is easily the best restaurant in Lucerne for all things fondue-related. They only serve fondue, and customers can choose from a variety of different options. They're best known for their Swiss meat fondue, but they also offer more unique and experimental options that you're unlikely to find anywhere else.
This includes their Chinese meat fondue, which is served with small slices of chicken and beef tenderloin that were cooked in an Asian-style soup with soy sauce. The flavors are absolutely amazing, and definitely worth trying if you want to taste a fondue that's a bit more than just melted cheese with small pieces of bread.
It is also possible to choose what kind of cheese you want the fondue to be made with, and you can even get a fondue without the cheese. This restaurant is famous for its chocolate fondue, which is served with cut-up pieces of fruit.
Stadtkeller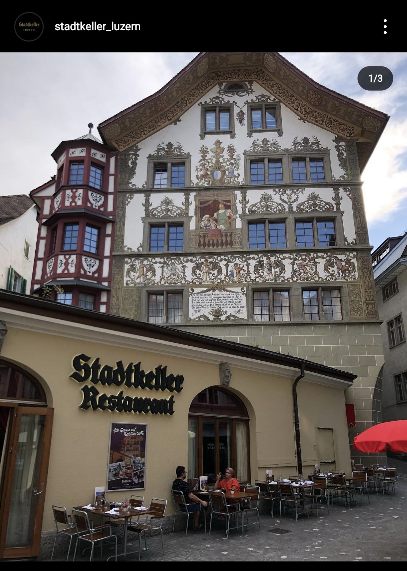 Stadtkeller is the best place in Lucerne for travelers who want to try the local delicacies but also have an incredibly fun-filled evening. Fondue won't be the focal point of your evening out at this restaurant – instead, it will be something to snack on, while you enjoy the live entertainment provided by the restaurant.
Live music and folklore shows often take place at the Stadtkeller restaurant, which is tucked away in the old town on the northern bank of river Reuss. There's live entertainment at the restaurant almost every single night, and it ranges from live music performances to stand-up comedy shows. It's best to plan your visit to Stadtkeller ahead and book a table on the night that seems like the most fun for you.
They don't have the most options when it comes to kinds of fondue, but whatever you order will be absolutely delicious. It's also worth mentioning that this restaurant is moderately priced, so a great option for travelers who don't want to spend a fortune on a bucket of cheese.
Restaurant Fritschi
Situated just across the street from Stadtkeller, Restaurant Fritschi also has its hat in the competition for the prestigious title of Lucerne's best fondue. This Swiss tavern is a great place to visit if you want to enjoy fondue in a more traditional Swiss setting.
Restaurant Fritschi is situated in the heart of the old town, and if you manage to grab one of their outdoor tables, you can enjoy some truly wonderful views while devouring the fondue. They offer several kinds of fondue, which differ in the type of cheese used, as well as the side dishes you get to dip in the fondue.
Travelers who really want to get a sense of Swiss cuisine should go for the Swiss Menu at this restaurant. It includes a cheese fondue and bratwurst with rösti and onion sauce, all served at the same time. It's a lot of food so don't order this if you're not very hungry, but it's also a great way of trying all the best-known Swiss dishes during one meal.
Restaurant Des Alpes
Restaurant Des Alpes is a popular restaurant and hotel on Rathausquai, on the northern shore of Lake Luzerne. The restaurant overlooks the water, so you can enjoy beautiful views of the lake and Chapel Bridge alongside some amazing Swiss delicacies.
It's worth noting that you won't find fondue on the restaurant's main menu and if you want to try it at Des Alpes, you will need to ask specifically for the fondue menu. The restaurant serves a few different types of fondue, and it's worth noting that the dish is fairly priced. Des Alpes actually has one of the most affordable cheese fondues in Luzerne, so it's a great option for travelers on a tighter budget.
Another thing to note is that their website says that fondue is exclusively served on their terrace, so we recommend booking a table there and not inside the restaurant if you want to be entirely sure you'll be able to order fondue. The views are also a lot better from the terrace, so there's more than one reason to book a terrace table!
Schiffrestaurant Wilhelm Tell
Schiffrestaurant Wilhelm Tell is a chic restaurant situated on a boat near the northern shore of Lake Luzerne. Dining at this establishment is truly a one-of-a-kind experience, so we definitely recommend booking a table here if you want to have an unforgettable night in Lucerne.
The house fondue is one of their best-selling dishes, and it's absolutely delicious. The servers prepare fondue right at your table, so you can see exactly how it's made and what goes inside the pot.
However, it's worth noting that the floating restaurant doesn't serve fondue year-round. It's a seasonal dish that they only serve between October and March, so you won't be able to have fondue here if you visit in the summer. But don't worry – there are plenty of other restaurants in Lucerne that serve fondue even in the summer, so book a table at Wilhelm Tell only if you're visiting during the colder period.
Map of Fondue Restaurants in Lucerne
Plan Your Trip to Switzerland