Situated in southern Switzerland, the Ticino canton boasts a relatively mild climate and some spectacular scenic landscapes. Lakes, valleys, mountains, and waterfalls are just some of the natural attractions you can discover by exploring the countless hiking trails of the region.
From easy walks past waterfalls to challenging mountain ridge trails, this guide will tell you everything about the best hikes Ticino has to offer. No matter which hiking trail you decide to explore, this wonderful canton promises to deliver views of the Swiss Alps as well as glimpses of palm trees, often at the same time!
Valle Verzasca
Valle Verzasca is best known for the Verzasca Dam, where the iconic bungee jump took place in the Goldeneye (James Bond) movie. Although most hiking trails in the area are north of the dam and the lake, it's possible to visit the Verzasca dam and even perform the same James Bond-style bungee jump!
The most popular hiking trail in Valle Verzasca is an out-and-back trail from Ponte dei Salti to Ganne, which follows the Verzasca River. There are parking lots near both ends of the trail, so it's possible to do the hike in either direction. It's also worth noting that there is a bus stop in Ganne if you decide you don't want to hike all the way back to the trailhead.
This trail is moderately challenging, with an elevation gain of approximately 375 meters over the 8.7 kilometers of the hike. It takes approximately three hours to complete, but there are plenty of spots along the way where you can stop for breaks. The trail is popular for hiking, mountain biking, and birdwatching, with multiple viewpoints along the way and absolutely gorgeous nature!
8.7 kilometers
377 meters
Approximately three hours
Moderately difficult
Ponte dei Salti
Lago di Robiei
Lago di Robiei is one of Ticino's prettiest Alpine lakes, and it's definitely a worthy hiking destination if you enjoy scenic landscape views. One of the most popular Ticino hiking trails here is a long loop walk that starts near Lago di Robiei and then takes you on an exciting walk around Lake Zott.
The trailhead is at the Robiei gondola lift station, where you can enjoy a panoramic view of the lake. You can just take in the views from the station or descend down to the lake shore and spend some time there, before embarking upon this panorama trail.
The actual hiking trail heads west of the lake, climbing the paths southeast of Lake Zott. The elevation gain is more than 600 meters, and most of that is within the first hour or so of the hike, so it's not exactly an easy scent. This trail is popular for hiking, running, birding, and even views of the Besodino Glacier. It takes approximately three hours and 30 minutes to complete, and it's best suited for experienced hikers because it is physically challenging.
8.2 kilometers
616 meters
3 hours 40 minutes
Hard
Foroglio Waterfall
Foroglio Waterfall is one of the shorter hikes in the Ticino region and a great option if you're looking for easy hikes that don't take more than two hours. It usually takes about an hour and a half to complete this out-and-back hike, and the trail is approximately 2.9 kilometers long.
The trail is considered moderately challenging because of the steep climb, but that section is quite short and honestly, if you've got sturdy hiking shoes and you're aware of your surroundings, you can easily complete this hike even if you haven't got tonnes of experience.
The trailhead is at the village of Foroglio, which is accessible by both bus and personal vehicle. There's a parking lot right next to the bus stop, so it's completely up to you to choose how to travel to the trailhead.
The trail takes you to the Foroglio Waterfall, Cascata del Salto, and continues a bit further into the forest. The Foroglio waterfall is certainly the highlight of this hike, and reason enough to make this one of the best hiking trails in the entire Ticino canton!
2.9 kilometers
250 meters
1 hour 30 minutes
Moderately challenging
Monte San Salvatore
Monte San Salvatore is a peak that towers over Lake Lugano, and it's one of the most popular hiking destinations for anyone staying in this region. It's worth noting that the San Salvatore summit is accessible by a funicular, so expect crowds at the top, even if you don't encounter too many other hikers.
You've got loads of options for hiking in the region. You can ride the funicular to the summit and explore the trails at the top, or you can even start hiking at the foot of the mountain and make it all the way up. One of the most popular trails in this area starts in the village of Paradiso and continues all the way up to the mountain summit and then goes back to the village.
The trail winds up and down steep mountain paths, offering incredible views of Lake Lugano and its surroundings. On clear days, you can even see the snow-capped Alps in the distance. It's worth noting that you can only do half of this hike if you want, and then head back via the funicular. But the descent is always the easier part, so if you're not looking for a challenge, I would recommend riding the funicular to the summit and then hiking back to Paradiso.
6.6 kilometers
578 meters
3 hours
Hard
Lago Ritom
Lago Ritom is one of Ticino's most impressive mountain lakes. If you're looking for easy hikes in the region that will reward you with spectacular landscape views, head to this lovely lake. The most popular trail in the area is an easy loop hike around the lake, which takes less than two hours to complete.
The entire trail is only around 6.8 kilometers long and it features an elevation gain of 132 meters. Most people can complete the hike in an hour and 40 minutes, and you can probably even do it quicker if you don't get distracted by the pretty views.
It's worth noting that there are several other hiking trails in this area if you're in the mood for something a little more challenging. Some other trails in the area will take you on longer adventures, past several other mountain lakes. They offer more stunning landscape views but are significantly more challenging than the easy Lago Ritom loop.
6.8 kilometers
132 meters
1 hour 40 minutes
Easy
Monte San Giorgio
Situated on the southern shore of Lake Lugano, Monte San Giorgio is another popular destination in southern Switzerland for scenic mountain views. The trailhead for this hike is at Riva san Vitale, a small town that lies at the foot of this mountain.
The hike is long and physically challenging, so it's best suited for experienced hikers. The trail is 8.9 kilometers long and features an elevation gain of more than 800 meters, all of which you'll have to climb during the first half of the hike.
Monte San Giorgio sits on an elevation of 1,097 meters above sea level, and it offers beautiful landscape views front the top. Reaching the summit will make the more challenging half of the hike absolutely worth it, and when it's time to head back to Riva san Vitale, you follow a different path down the mountain.
8.9 kilometers
815 meters
4 hours 30 minutes
Hard
Monte Tamaro to Mount Lema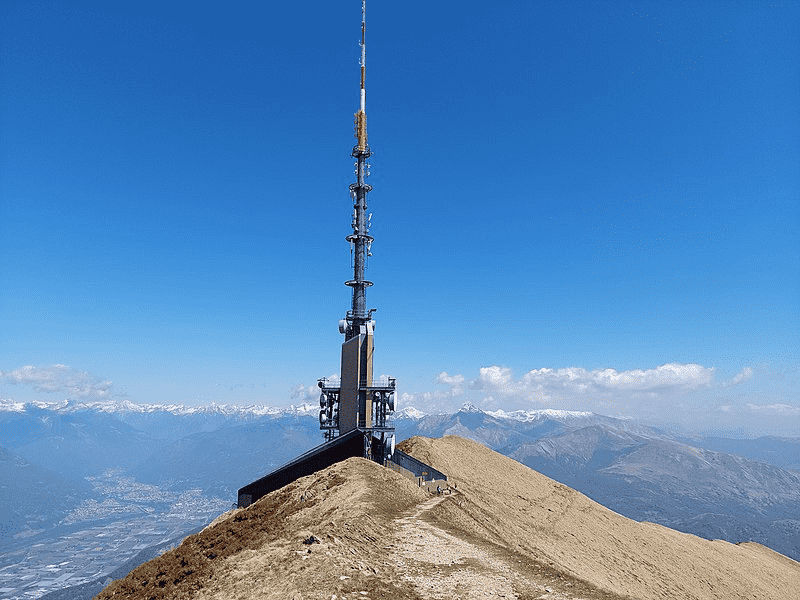 Monte Tamaro to Monte Lema is a challenging ridge hike in the mountains between Lake Lugano and Lago Maggiore. The starting point of the hike is Alpe Froppa and Monte Tamaro is the first significant summit you will reach on the trail.
Alpe Froppa is accessible by cable car from Rivera, which is why it's the best point to start the hike. There's a restaurant at the top station where you can get something to eat and do some final preparations before you set out on this journey of more than 13 kilometers.
It's worth noting that you'll stumble across a mountain hut or two along the way, and they're always a good place to stop if you need a break. The hike from Alpe Froppa via Monte Tamaro to Mount Lema is 13.2 kilometers long and features an elevation change of more than 1,000 meters. It's suitable only for experienced hikers in excellent physical conditions and it will reward you with some of the best views you could imagine.
13.2 kilometers
1,001 meters
6 hours
Hard
Tibetan Bridge Carasc
Carasc Tibetan Bridge is a suspension bridge hanging over a gorge in Monte Carasso. This hike is suitable only for people who have no fear of heights because it won't be pleasant to stand on this hanging wooden bridge if you're afraid to look down.
Other than that, the hike to the Carasc Bridge should be fairly simple. It's possible to take multiple trails to the bridge; some are easier than others and range from a 2-kilometer walk to a 9-kilometers loop hike.
The best hiking trail that leads to this bridge starts at a parking lot in Sementina. It doesn't include any cable cars, so it's one of the more difficult paths up to the suspension bridge. The trail is approximately 8.5 kilometers long and features a gradual ascent until you reach the bridge. Once you've crossed the bridge, the path continues mostly downhill back to Sementina.
8.4 kilometers
630 meters
4 hours
Moderately challenging
Monte Generoso
Monte Generoso is an easily accessible summit in the mountains between Lake Lugano and Lake Como. The hiking area is right on the border of Switzerland and Italy, so it's special because you can walk around in two countries in one afternoon.
To reach the trailhead for this hike you need to take a mountain train to Generoso Vetta. From there, you can follow the Pathway of the Planets to explore the summit. This is an educational walking trail atop Monte Generoso that focuses on the solar system and the planets that make it up.
You need less than an hour to walk the Pathway of the Planets and get back to the train station. The walk is super easy and it can be done by anyone; this path is particularly popular with families precisely because it offers an opportunity to learn.
2 kilometers
50 minutes
150 meters
Easy
Sentiero delle Meraviglie
Sentiero delle Meraviglie is a moderately challenging trail in the Malcantone region. The trail is situated in the hills between Lake Maggiore and Lake Lugano and is most easily accessible from the western shore of the lake (Lugano).
This hiking trail is also known as the Path of Wonders. The trailhead is in Novaggio, and the hike will take you to grain mills, castles, ore mines, and other fabulous landmarks. It's worth noting that this is a thematic trail, so it's absolutely amazing if you want to experience something different, and not just panoramic views of the Alps.
This is a moderately challenging hike that can be done by most people who are capable of hiking for two hours and are in good physical condition. The elevation gain is moderate and there aren't any extremely steep sections, but it's not so easy that anyone can do it. Miglieglia Castle, La Monda mine, and the Aranno hammer mill are just some highlights of this loop hike.
6 kilometers
2 hours
360 meters
Moderately challenging