Last updated: July 1st, 2023
The number of fantastic thermal baths Switzerland has to offer is quite astounding. Imagine sitting in the warm mineral-rich waters of a thermal spa overlooking the Swiss Alps. Sounds about as rejuvenating as taking a bath can get right?
There are lots of fantastic thermal baths in Switzerland known for their healing properties thanks to the natural mineral water that comes flowing out of the Swiss Alps. But which are the best hot springs in Switzerland? That is what I am here to show you!
Join me as I run through the top thermal spas in the country in the best locations with more special treatments that you can shake a stick at. If you are looking for some alpine rejuvenation, you will find it below!
Mineralbad & Spa, Rigi Kaltbad
The Mineralbad & Spa is perched upon the top of Mount Rigi on the shores of Lake Lucerne. You couldn't find a better spot for a thermal bath experience as the views reach over Lake Lucerne, into the Alps, and to the city of Lucerne too.
The spa has indoor and outdoor pools that you can swim in. Some of them even have massage jets, whirlpools, and neck massages. There is also the option of taking a dip in a herbal steam bath and you can also hang out on the sun deck for some tanning time in the summer.
The Mineralbad & Spa also has a herbal spa with mineral baths, a separate relaxation zone, and their famous crystal spa. The crystal spa is quite special as it is a flooded room with skylights, a very romantic place to be with one's partner.
You can also choose from cool packages with spa treatments such as the Candlelight Night Bathing package. This comes with a herbal infusion, salt scrub, steam bath, and prosecco too!
Address: 4 Rigi Kaltbad, Zentrum 1, 6356 Rigi Kaltbad (Google Maps)
Price: Adults 38 CHF, Children (7 – 15) 18 CHF, Children (4 – 6) 10 CHF, Children under 4 are free
Leukerbad-Therme, Leukerbad
Sitting high in the alps of the Valais region is the Leukerbad-Therme Spa with reaching views down the valley to the Rhone and across the alpine peaks.
The Leukerbad-Therme spa is one of the biggest of its kind in the alps. What makes the thermal baths at this spa so amazing is that the spa uses its own private springs which pump out some 3.9 million liters of hot, mineral-rich water daily.
There are 10 thermal baths at this spa each with its own temperature ranging from 28 to 42 degrees Celsius. There is also a cold water pool, a Japanese bath, and whirlpools that you can use too!
You will find plenty of hotels and others spas around Leukerbad-Therme if you would like to spend the night. The spa is also very affordable and costs just CHF 28 per adult for 3 hours. Kids are very welcome also.
Address: Rathausstrasse 32, 3954 Leukerbad, Switzerland (Google Maps)
Tamina Thermal Spa, Bad Ragaz
Nestled in a valley in the eastern alps close to the banks of the Rhine River is the rather famous Tamina Thermal Spa. The spa uses one of the most well-known thermal springs in Switzerland and is therefore very popular.
These hot springs boasts two areas, the thermal spa and a sauna village with a wellness center. The spa side has one large pool with mineral water set to 36.5 degrees Celsius.
The sauna village on the other hand is home to steam baths and saunas, and you enjoy massages and beauty treatments by booking through the wellness center.
To top it all off, you can also chill at the cafe or eat food specially designed to support your body at the Bistro Lounge Hermitage.
Entrance on weekdays for 2 hours costs CHF 32 and 39 on the weekend. You can also buy a day ticket which gives you access to the whole area for CHF 64 which is worth it in our eyes!
Address: Hans Albrecht-Strasse, 7310 Bad Ragaz, Switzerland (Google Maps)
Price: CHF 32 (for 2 hrs. on weekdays), CHF 39 (for 2 hrs. on weekends), CHF 64 (whole day access). Admission prices can be checked here.
Bogn Engiadina, Scuol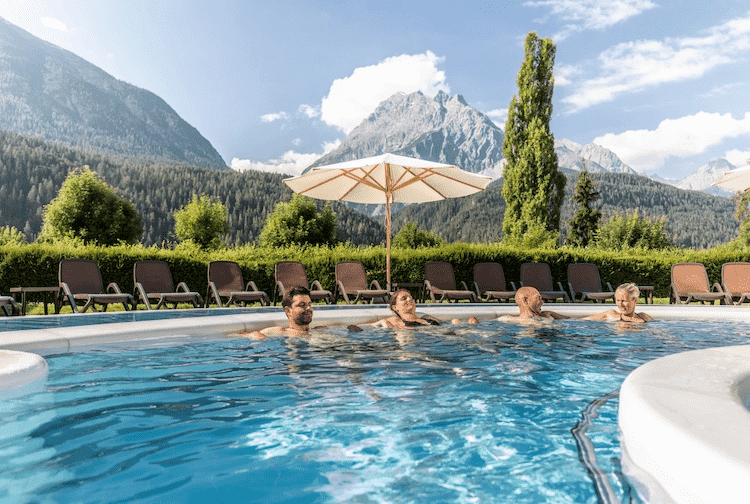 The Bogn Engiadina Spa is located at the end of the Edagine Valley close to the Austrian border with Switzerland. It offers some of the more unique and high-end thermal baths in Switzerland and takes this further with wellness consultations, outpatient rehab, and more.
The spa features multiple indoor and outdoor pools. There are 6 indoor thermal pools and two outdoor pools along with a brine pool, spa relaxation rooms, steam baths, and three saunas, one of which is for women only.
You can also use the foot baths, the shower grotto, bath in spring water, and take a dip in the Roman-Irish bath. The Roman-Irish bath is a special naked ritual that rejuvenates the whole body, mind, and immune system.
There is also a fantastic wellness center at the Bogn Engiadina spa with consultations and where you can book special treatments.
Address: Via dals Bogns 323, 7550 Scuol, Switzerland (Google Maps)
Price: Adults CHF 34, Adolescents 12 – 17 CHF 20, Children 6 – 11 CHF 13, Children under 6 are free
Forty Seven Wellness Therme, Baden
Forty Seven Wellness Therme, Baden is located just a short drive or train from Zurich and should be named the thermal bath capital of Europe.
The thermal springs in Baden were first discovered and used by the Romans making it the oldest spa town in Europe. The Romans discovered 18 mineral springs here and after bathing in them, discovered their healing qualities too.
The "liquid gold" contains sulfur, the mineral which gives the thermal water its distinctive odor. Quantities of methane, fluorine, zinc and magnesium can also be found in the water. Magnesium is essential for maintaining muscle function and stimulating bone formation in the human body.

baden.ch
This is how the town of Baden became a spa and wellness center. You will find numerous spas and wellness centers here that utilize the 18 sulfur-rich springs. The options include spa resorts or day spas so you can choose your pick.
Most of them offer similar treatments along with steam rooms, saunas, indoor and outdoor pools, and more. Some will go beyond that and offer more than others, so be sure to do your research before picking what spa to spend your day at in the Forty Seven Wellness Therme, Baden.
Website: Forty Seven Wellness Therme, Baden
Address: Grosse Bäder 1, 5400 Baden, Switzerland (Google Maps)
Price: Weekdays CHF 39, Weekends and Holidays CHF 45
Walliser Alpentherme & Spa, Leukerbad
The Walliser Alpentherme & Spa is located in the charming alpine town of Leukerbad in the Valais region of the alps. The setting is magnificent with fabulous mountain views and the area offers great access to skiing in the winter and hiking in the summer.
The Walliser Alpentherme & Spa is one of the biggest spas in Switzerland indoor and outdoor pools are filled with 100% thermal water from the local springs. The views from the outdoor pool are nothing short of spectacular.
If you can time your trip right, the Walliser Alpentherme & Spa allows people to relax in the baths under the moonlight just once a month. Enquire about when this is available so don't miss it!
You will also find a Sauna Village at the spa with numerous wooden saunas and steam rooms for you to relax in. You can also book a massage, hang out in the outdoor relaxation area, and use different treatments to detox yourself such as hot stones, scrubs, and more.
Address: Dorfpl. 3, 3954 Leukerbad, Switzerland (Google Maps)
Price: Adults CHF 33, Children 8 y/o and up CHF 26.40, Additional payment of CHF 7 for every 30 minutes
Saillon Thermal Baths
The Saillon Thermal Baths are also located in the Valais region of the alps, and guess what, also have the amazing views and activities we all love the Swiss Alps for. You'll experience everything from mountain peaks to vineyards here.
The Saillon Thermal Baths feature a thermal river that connects four thermal pools heated to between temperatures of 28 and 34 degrees Celsius. Relaxing in these is an absolute delight and kids are welcome too as there is a paddling pool and slide for them to use.
There is also a spa and wellness center on-site called 'Carpe Diem'. You will find saunas and steam baths to relax in and you can book a range of treatments and massages from the wellness center too.
You will also find a large outdoor pool at the Saillon Thermal Baths which is perfect for swimmers who like to get some solid lengths in as their daily exercise.
Address: Rte du Centre Thermal 16, 1913 Saillon, Switzerland (Google Maps)
Price: Adults CHF 26 – 30, Children CHF 23
Termali Salini & Spa, Locarno
The Termali Salini & Spa sits on the shores of Lake Maggiore in the Ticino Canton of Southern Switzerland, close to the Italian border. The location is rather magical as you get reaching views across the lake and into the alps from the spa.
The spa offers access to indoor and outdoor saltwater pools of varying temperatures and Turkish baths from which you can relax and stare across the lake.
You can also book private treatment rooms for massages and other treatments as couples or as a solo person. The rooms are more like suites and come with a swimming pool and a private balcony overlooking the lake.
There are also saunas and steam rooms available, and the underground saunas are for nude saunaing only.
You can't stay overnight at this spa but there are plenty of options in town to choose from. Day passes to the spa cost just CHF 35 but the private suites cost a bit more.
Address: Via Gioacchino Respini 7, 6600 Locarno, Switzerland (Google Maps)
Grand Hotel et Centre Thermal, Yverdon-les-Bains
If you are looking for a luxury spa resort then the Grand Hotel et Centre Thermal might be just what you have been waiting for. Grand Hotel et Centre Thermal is located in the beautiful town of Yverdon-les-Bains, on the shores of Lake Neuchatel with magical views, as I'm sure you guessed by now.
The hotel features restaurants, bars, and over 100 rooms for spa guests to enjoy. It is beautifully decorated with magnificent interior design around the hotel and rooms. The hotel gardens are spectacular too, this is truly Swiss luxury!
You will find a fitness center, outdoor pool, wellness center, beauty salon, and several thermal pools at this hotel which are all included in your stay.
The Spa is home to a Japanese bath, Jacuzzi, saunas, a tropical shower, and Hammans. You can also rent a private spa for yourself or you and your partner. Treatments are also available on request.
Address: Av. des Bains 22, 1401 Yverdon-les-Bains, Switzerland (Google Maps)
Hammam and Spa Oktogon, Bern
The Hammam and Spa Oktogon is located in the capital city of Bern and provides a more oriental approach to Spa-ing than your usual Swiss Spa.
At the Hammam and Spa Oktogon you will move through seven rooms, each one warmer than the next which aids the body's detoxifying process. You will start in steam rooms, and move on to hot pools and hot relaxation rooms.
You are given a pestemal, peeling glove, and hammam wrap plus body peels and salt scrubs to use as you go to remove the toxins during the spa process.
It does sound pretty delightful if I am honest and this approach is very effective at creating rejuvenation.
Something to be aware of is that Tuesdays at the Hammam and Spa Oktogon are reserved exclusively for women. It costs about CHF 50 to go to and includes the whole oriental spa process.
Address: Weihergasse 3, 3005 Bern, Switzerland (Google Maps)
Gruyère Baths
The Gruyère Baths are located in the alpine region of Gruyère not far from Lake Geneva. The area offers incredible views of some of the most beautiful Swiss landscapes around.
The Gruyère Baths use mineral-rich waters heated to around 34 degrees Celsius in their whirlpools, and pools with jets, massage nozzles, and swan neck showers. They are a delight to bathe in and you feel energized and relaxed afterward.
You will also find two big swimming pools that are great for swimming in and a Nordic Zone filled with saunas, a cold water pool, a relaxation room, and showers.
Hanging out on the terrace is also a must as it has a 360-degree panoramic mountain view. You can also book treatment from the beauty center plus enjoy massage rooms, a hammam, and Turkish baths.
Address: Gros-Plan 30, 1637 Charmey, Switzerland (Google Maps)
Price: CHF 125 (with massage and fitness dish)
Solbad & Spa, Schonbuhl
The Solbad & Spa is a large natural bath complex located just outside the Swiss capital of Bern. It is the largest natural brine spa in the country and offers one of the best spa experiences in Switzerland.
The Solbad & Spa is divided into three areas – bathing, sauna, and spa. You can bathe in thermal baths, detox in the saunas, and book a multitude of treatments at the spa.
You will also find a traditional Finnish sauna at Solbad & Spa, and you can book treatments such as massages, a herbal steam bath, salt scrubs, and use the thermal pool too.
The coolest thing about Solbad & Spa is the walled circular pool with underwater music playing for an enhanced experience.
To get a day pass for this spa costs just CHF 40 which is a bargain for the revitalizing experience on offer.
Address: Mattenweg 30, 3322 Urtenen-Schönbühl, Switzerland (Google Maps)
Price: Spa event starts at CHF 58
Bödelibad, Interlaken
If you are looking for some thermal baths in Interlaken but don't want to blow the bank, then the Bödelibad is a great option. It is a mixture of a swimming pool with a thermal bath so is perhaps not the most upmarket for those looking for pure indulgence. However, if you have a rainy day in Interlaken it's a good option.
If, however, you want the full luxury day out then the Spa Nescens at the Victoria-Jungfrau Grand Hotel & Spa is a better bet.
Address: Goldey, 3800 Unterseen, Switzerland (Google Maps)
Map of Spas in Switzerland
Frequently Asked Questions
Are there hot springs in Interlaken?
Yes, there are two wellness hotels with hot springs in Interlaken. First, there is the Bödelibad, which is suitable for both couples and families. Second, the more upmarket Spa Nescens at the Victoria-Jungfrau Grand Hotel & Spa is something for those wanting a little more luxury.
Are there hot springs in the Swiss Alps?
Yes, there is a wide range of hot springs and associated spas and wellness centers throughout the Swiss Alps. From Leukerbad and Scuol to the more famous Interlaken and Zermatt, there are options for anyone visiting Switzerland.
Where are the thermal baths in Switzerland?
There are thermal baths scattered all around Switzerland. From low-lying towns like Baden, which has had baths since Roman times, to the mountain regions of the southern Alps. In many respects, you can choose where you want to go to bath in Swiss thermal baths.