Last updated: June 16th, 2023
Most people from outside of Europe head to shopping malls to go shopping, but in Zurich many of the best shops are on the street. You just have to know where to shop, and what you can find there.
So, in this detailed list of the best shopping streets in Zurich my aim is to provide you will all the information you need to find the right areas for you. Then, you can explore each one at your leisure and find some amazing hidden gems, or just your next pair of jeans.
Let's start with the biggest and most famous shopping street in Zurich…
Bahnhofstrasse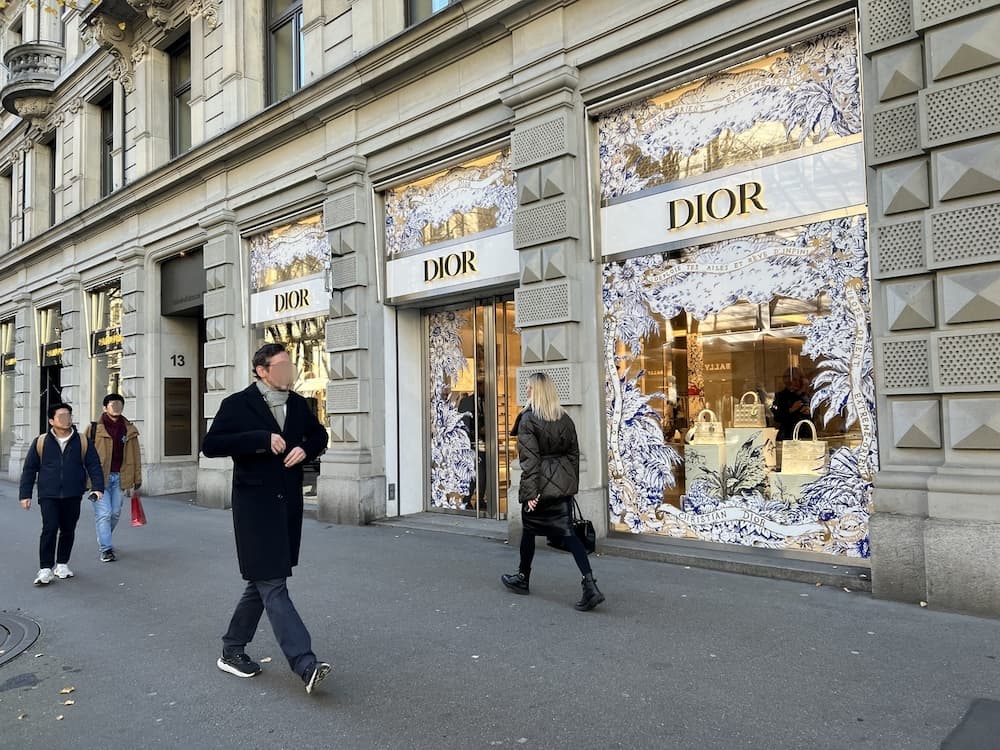 Oh, how we love to hate Bahnhofstrasse in Zurich. It is always very busy on the lower end. Chock full of shoppers or people heading to work making it impossible to walk down most of the day. And at the top end by the lake, it is empty because only the rich shop there!
However, it's definitely a great place to shop, which is why everyone is there. In the section near the train station, there are the likes of H&M, Sara, Mango, Diesel, Espirit, ECO, WE, Swatch, and many more. There are also a few big department stores like Globus and Jemoli, sports stores like Ochsner and Och Sport, Jewelry stores, mobile phone stores, shops for getting prescription glasses and almost anything else.
At the top end, most of us will only window shop because the stores are just too exclusive. However, you can take a peek and dream at boutique stores like Louis Vuitton, Cartier, Burberry, Prada, BVLGARI, Dior, Hermes and Dolce & Gabbana. Yes, for those who love luxury shopping, they are all here in Bahnhofstrasse, right in the city center!
There are also private banks hidden around here, and watch shops like Omega, Bucherer, A. Lange & Söhne, Chopard, IWC Schaffhausen, Jaeger-LeCoultre, Panerai and Gübelin. So, if you need a new Swiss watch worth thousands, then this is the place to find the perfect one for you!
Rennweg
Off the side of Bahnhofstrasse is another shopping street in Zurich worth checking out, Rennweg. It has more shopping options for those that shop til they drop. First, there is the Apple Store at the beginning on the right. Then there is Søstrene Grene for those seeking home goods. Further down in the GEOX shoe store, United Colors of Benetton, GANT, and a variety of other unique, shoe, and clothing stores you won't find on the main shopping streets.
It's also a great introduction to the backstreets of the old town on this side of the river where there are also more unique boutiques to discover, especially if you turn left at the top of Rennweg and head down to the Limmat River.
Niederdorf
Niederdorf is renowned for its nightlife, but it is actually full of great fashion brands and unique stores. Some are on the Niederdorfstrasse itself, but the real gems are hidden in the backstreets and in the alleyways.
I love to just roam around the streets on the side of Niederdorf, especially around Christmas when the lights are on. You will find craftsmen and women here, as well as art stores, a great travel bookstore, some unique fashion, handmade shoes, a shop dedicated to condoms and a whole lot more. So, for me, this area has some of the best shopping in Zurich old town.
Viadukt
Viadukt is a conversion of the old train bridge heading out of downtown Zurich that created some unique shops and spaces in curved areas underneath. I used go to Yoga here every week, but there are also some very expensive and unique shops here worth exploring.
The list of stores includes Cabinet, Kitchener+, Colorful Standard & Rains, Shy+Flo, Arcteryx, Big Mode, NN07, Fashionslave and many more. There are also some great restaurants here including Markhalle on the end where you can find some great international food and drinks that are difficult to find elsewhere.
You can also attach a quick trip to Fau Gerold's Garten or the awesome Freitag Flagship store while you are here. Viadukt is easy to reach either on foot from Hardbrücke station or the Lowenbrau tram stop.
Europaalle
Europaallee is actually a small shopping mall opposite the main station in Zurich and includes a huge outdoor shop called Transa, as well as Ochsner, Coop and a few other boutique stores.
However, there are also some other interesting shops as you walk down the outside boulevard towards Langstrasse and also around the back on Larger. For example, ChangeMaker at the end for some unique gifts, La Cucina for tea and coffee, Bean Bros Coffee, Say Chocolate, Radix Craft Beer, and the Bridge is great for food shopping and a quick bite to eat or drink.
Seefeldstrasse
Starting at Stadelhofen train station, or Bellevue if you like, make your way slowly along Seefeldstrasse for some unique fashion and boutique shopping. The shops are quite spaced out, and interspersed with some great restaurants and coffee shops, so take your time to explore what is on offer in this upmarket part of Zurich.
What is the main shopping street in Zurich?
The main shopping street in Zurich is called Bahnhofstrasse. It leads directly from the main station, Zurich HB, and heads all the way to lake Zurich at Bürkliplatz. Here, you can find almost everything you need from brands like Zara and H&M to luxury brands like Louis Vuitton and Cartier, all on one shopping street.