Last updated: June 19th, 2023
Oeschinen Lake is about as blue and beautiful as a lake can be. Nestled in the Jungfrau-Aletsch-Bietschhorn UNESCO World Heritage Site of the Bernese Alps, it is home to magical scenery, azure blue waters, hiking trails, great fishing, and lots more.
Visiting Oeschinensee is kind of a must if you are in the Bernese Oberland region of Switzerland over the summer, and we have all the details you need to explore it in the best way possible.
Stay by the lake, row boats across it, hike to peaks close by, catch fresh trout, and even enjoy a toboggan ride. There is a lot to enjoy along with the breathtaking scenery.
Where is Lake Oeschinen Located?
Oeschinen Lake is located in the Bernese Alps at the southern end of the Canton of Bern in Central Switzerland, just above the village of Kandersteg. It is actually along the road to the Lötschberg Tunnel which takes you on a train to Valais. The closest major town is Interlaken which is about a 45-minute drive away.
Lake Oeschinen is surrounded by stunning mountains and the only way to get up there is via a cable car/gondola, or by walking.
How to Get to Oeschinen Lake
Getting to Lake Oeschinen is easy and you can use either public transport or drive. You can not drive to Oeschinen Lake though, even though Google Maps says you can, and will have to use the Lake Oeschinen cable car/Oeschinensee Gondola.
By Train
Take the train to Kandersteg train station which, from Zurich HB is a 2-hour ride changing at Bern and Spiez. You can get to Kandersteg from any train station in Switzerland if you need to, but travel times will vary, of course.
Once you have arrived at Kandersteg, walk to the Oeschinensee Cable Car station which takes about 15 minutes. Buy a ticket for the cable car ride, CHF 22 one way, and 30 CHF return, and then ride up to the top cable car station, which takes about 15 minutes.
Once you reach the top, it is about a 30-minute walk to Lake Oeschinen from the cable car station. You can also take a bus for 8 CHF if you are short of time or don't fancy the walk.
Note, the cable car operates from May to October for the summer season and then from January to March for the winter. It is open from 8:30 am and runs to 5:00 pm. There is a cable car every minute so you won't have to wait long.
By Car
There is a large parking lot by the cable car station which is the perfect place to park if you are driving. Just put the cable car station into your maps and enjoy the scenic drive up the mountains.
When you arrive, follow the same instructions I described above for using cable cars.
Hiking
You can also hike up to Lake Oeschinen if you want to avoid the cable car. It is a 4.8-mile hike with very steep terrain.
You will have to go up 1800 feet of elevation, so it might be best to take the gondola ride to visit Oeschinen Lake as it saves a lot of time and effort.
Another option is to take the cable car up and hike back down, enjoying the lovely views as you go!
Accessibility
The team operating the cable car to the Oeschinensee has put some serious thought into accessibility.
There are specific parking spots by the cable car ticket office
The gondola is wheelchair accessible
There is a free electric shuttle to the lake (learn more)
Things to Do At Oeschinen Lake
Hiking
Oeschinen Lake is best known for its hiking trails and there is a range of them to suit all abilities.
The easy hike is the short hike to the lake from the cable car station which has very little elevation gain and takes just 30 minutes. The views along the hiking trail are stunning as you see the towering Alps and then eventually the turquoise blue color of Lake Oeschinen.
The Panorama Hike is a 5.4-mile loop hike that takes you from the cable car station to Lake Oeschinen, up the mountain valley via the Berghaus Unterbärgli, Oberbärglibach waterfall, around the mountains, and back to the cable car station.
It is known as one of the best hikes at Lake Oeschinen with incredible views of the lake from above. You will also walk through wildflowers, past streams, Swiss cows, and more. It truly is a beautiful hike but there are some steep sections so it is not for anyone who is unfit.
You can also extend this hike into a long hike that takes you to the Blüemlisalphütte mountain hut or the Fründenhütte mountain hut way up in the peaks.
Swimming
If you are visiting Oeschinen Lake in the summer months, then do not miss the chance to go swimming in the lake. While the water is glacial and very cold, the azure blue color is so inviting, and talk about a swim with a view.
Just imagine going for a swim in ice-blue water surrounded by mountains. It will be a swim you never forget.
Make sure you have a change of clothes with you as the water is rather cold (max 20 degrees celsius at the height of summer), so you will want to change pretty quickly. If the sun is out, a spot of sunbathing on the lake shores is not a bad idea either.
Boating
Rowing boats are available to rent on the shore of Oeschinen Lake and there is no better way of enjoying the stunning scenery than taking a boat out into the lake.
Rowing boat rentals cost about CHF 25 an hour and they are very popular when the weather is good so make sure to hire a boat early in the day before they run out.
Fishing
If you are a fan of fishing, then there isn't a more beautiful place to catch fish than Oeschinen Lake.
Oeschinen Lake is home to rainbow trout and arctic char. You can buy a fishing license from one of the restaurants close to the lake which costs CHF 32 for an adult and there are discounts for younger anglers.
You can fish from the lake shore or you can hire a fishing boat for a day CHF 80 or half a day, CHF 40.
You are allowed to keep the fish you catch for dinner too but you have to bring your own fishing equipment. Spinning, bait, and fly fishing are all allowed on the lake.
Mountain Coaster / Tobogganing
A great thing to do at Oeschinen Lake if you are with kids or like a bit of adrenaline is to go on a mountain coaster.
You will find the summer toboggan run at the top gondola station. It is a 750-meter slide that you can ride on every day during the summer so long as the weather permits it and is a great mountain coaster overall.
You can rush down the run solo or as a duo. It costs
CHF 6 for a ride
27 CHF for 5 rides
Note: Kids have to be over 6 years old to ride and get a small discount.
Activities During Winter At Oeschinen Lake
The winter season at Oeschinen Lake is of course a little different. Lake Oeschinen is frozen solid but still looks spectacular, especially with the surrounding scenery of snow-capped mountain peaks.
You can still get up to the mountain station via the cable car and there are some great winter activities to be had as well.
Sledging
Sledding at Oeschinen Lake is a ton of fun in the winter months and it is very affordable too. It costs just CHF 12 to rent a sledge for the day and you can rush down the 3.5 km sledging course down the mountain.
It starts at the top mountain station and ends at the cable car station in the valley. You will zoom down the fast run in a matter of minutes and be filled with adrenaline. It is the funniest way to get down from Lake Oeschinen in the winter.
Winter Hiking
If you know how to winter hike, hiking around Oeschinen Lake in the winter is a lovely activity to do. You can even hike across Lake Oeschinen once it is frozen solid enough.
All the hiking trails around this blue lake are open in the winter except the trail between Oeschinen Lake and Kandersteg as it is covered in skiers.
Winter hiking certainly comes with its risks and you need to stick to the trails, plan around the weather, and bring the right equipment and footwear for the hike you are intending to do.
Skiing
There is a small ski area at Lake Oeschinen which is great for kids, beginners, and more advanced skiers too. You can use the cable car to access the downhill run for advanced skiers that runs from the top station back to the bottom.
There is also the Oeschiland children's park next to the mountain station with kids' ski lifts and a magic carpet for learning.
Cross-country skiing is also excellent around Lake Oeschinen. Whatever level you are at, skiing around the spectacular scenery of the lake is wonderful.
Ice Skating
Once the lake is frozen solid it is an excellent place for ice skating. The ice is usually around 15 cm thick which is more than enough to hold your weight.
You can rent skates for just CHF 8 per day for adults and CHF 6 for kids. There is an abundance of space to skate on the lake and you really will be ice skating with a fairytale background.
Ice Fishing
Ice fishing is allowed on Oeschinen Lake between January and March when the ice is thick enough. You will have to bring your own ice drill and fishing equipment though, plus buy a fishing license.
The fishing licenses are available from the Tourist Center in Kandersteg or at the Alphüsi Food Truck. They cost CHF 32 for adults and CHF 20 for kids.
The fishing is excellent but it is a bit chilly!
Best Time to Visit Oeschinen Lake
If you have a choice of when to visit Oeschinen Lake, then I would recommend June and early September as the best months. June and early September have excellent weather and it is less busy than the holiday months of July and August.
You should have clear days to see the lake in all its glory and have access to all the summer activities and hiking trails too.
If you want to visit in winter, then January through to March is when the cable cars and slopes are open.
Best Places to Stay Near Oeschinen Lake
Lake Oeschinen is so beautiful that leaving it is not easy. Luckily, there are two hotels right along the lake shore where you can stay for a night or two.
Arva – Berghaus am Oeschinensee and Berghotel Oeschinensee offer excellent accommodation and each has a restaurant too. Imagine seeing the sunset and sunrise with beautiful Lake Oeschinen in the background.
In Nearby Kandersteg
You also have the option to stay in Kandersteg Village at the bottom of the hill below the lake. There are lots of different hotels to choose from including an affordable campsite in the summer.
Some of the top hotels in Kandersteg include Belle Epoque Hotel Victoria and Blümlisalp, plus there is lots to do in Kandersteg too. So, although you can spend the night up at the lake, there are a lot more options and activities down in Kandersteg.
Where to Eat At Oeschinen Lake
There are 4 places to eat around Oeschinen Lake, and these include the two hotels I mentioned above, Arva – Berghaus am Oeschinensee and Berghotel Oeschinensee as well as Restaurant Zur Sennhütte and Berghaus Unterbärgli which is a hike up the valley on the Panorama Trail.
All the restaurants offer excellent food and drinks with a varied menu. The views across the lake from all of them are spectacular, but it might be best to book in advance as they can get very busy.
Not all the restaurants stay open over winter but a few of them do so you always have somewhere to have lunch while at Lake Oeschinen.
Tips When Visiting Oeschinen Lake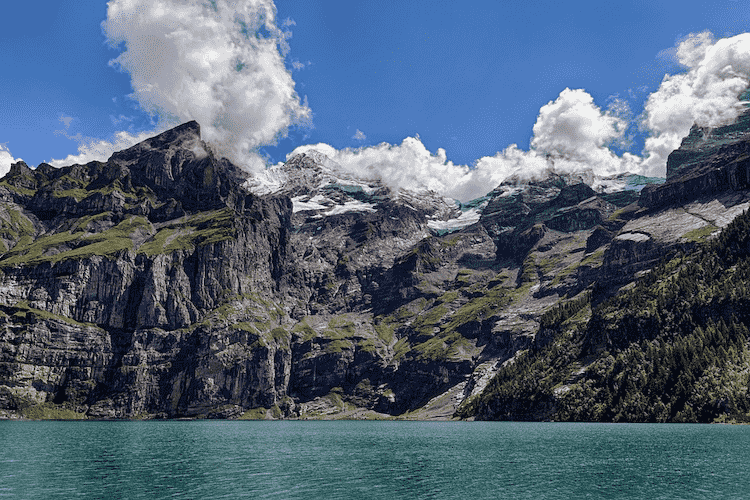 It takes about 45 minutes to an hour from the bottom gondola station to get to the lake, so arrive early to maximize your time
Arrive early and get the first cable car at 8:30 to get ahead of the crowds
Take a picnic and swimming gear in the summer for a lovely lunch
Try and pick a clear day to visit the lake as it looks its bluest in the sunshine
Take care when hiking as some of the trails are very steep
Bring your fishing gear with you as the fishing is excellent
Sledding is the most fun way to get down the mountain in winter
Only pick hiking trails you are fit enough to manage
Don't forget that the last cable car leaves at 5:30 pm
Hiking back down to Kandersteg is lovely if you have the time
There is a bus to the lake from the mountain station for less abled walkers, and anyone can jump on if there is space
History of Lake Oeschinen
Lake Oeschinen was formed around 3200 years ago when several massive landslides occurred that brought a large mass of material down from the Doldenhorn. This material blocked the valley and formed a dam that created the lake you see today.
Of course, the material is porous, so there is a small river, called Öschibach that starts underground then tumbles downhill from Lake Oeschinen and joins the Kander River in the valley below. This underground drainage is one of the reasons the level of the lake also varies so much throughout the year. This is because the amount of snow and glacier melt does not match the outflow exactly.
You can also see obvious marks of the former landslide when you are up at the lake. You have to look above the Doldenhornhütte to see them.
Frequently Asked Questions
Is Oeschinen Lake Worth Visiting?
Yes, Oeschinen Lake is certainly worth visiting in my eyes. Between the stunning mountain scenery, the stunning blue colors of the lake, and all the wonderful activities on offer, what is not to love?
Can you swim in Lake Oeschinen?
Yes, you certainly can swim in Lake Oeschinensee, however, keep in mind that it will be very cold. The lake is formed from glacier and snow-melt and will be very cold. Of course, the later in summer you go, the warmer it will be.
How long does it take to hike the Oeschinensee?
It takes around 1 hour to hike to to the Lake Oeschinensee from Kandersteg if you are moderately fit. The path is quite easy, however, you should take your time if you are not used to walking long distances or uphill for longer periods of time.
Plan Your Trip to Switzerland