Last updated: March 5th, 2023
The Swiss National day takes place on the 1st of August every year. It celebrates the signing of the Swiss Federal Charter in 1291 in early August.
It is a date that all Swiss celebrate in a variety of ways, from fireworks and bonfires to brunches and BBQs with friends. It is a national holiday that everybody gets with few exceptions.
History of Swiss National Day
At the time of the original Federal Charter, the Habsburgs were trying to secure a North-to-South route through Switzerland via the Gotthard Pass. The two cantons at the time, Uri Schwyz and Unterwalden, decided to stand together against outside aggressors. They signed an oath of allegiance on the meadows of Lake Lucerne, known as the Rütli meadow or Grütli.
This original founding Swiss document was actually lost for many centuries and only rediscovered in 1758 in the Schwyz archives. And in 1891, the 600th anniversary of that faithful day was celebrated. The Swiss government decided to celebrate the country's founding every August 1st from 1899 onwards.
Swiss National Day Traditions
Since the Swiss National Day celebrations began in 1899, the Swiss locals have found a range of ways to mark the day. The following are some of the most popular you will see around the country.
Fireworks on National Day
Firework displays are one of the most popular ways to celebrate the official national day in Switzerland. You will find fireworks in most large cities (like Zurich, Basel, Bern & Geneva), and many smaller ones as well.
People also buy a whole load of fireworks leading up to August 1st and spend hours firing them off all around the towns and cities. So, no matter where you are on the day, you will find fireworks are a big part of the celebrations.
Bonfires & Lanterns
Another historical part of the August 1st celebrations are bonfires and lanterns. No one is 100% sure why they are so popular, but the use of bonfires goes back centuries when they were one of the few ways to communicate long distances between towns.
Lanterns go without saying. They were a big part of traditional life in Switzerland before electricity, and today, they are a cool way to decorate your house or local fest, so why not!
Farmer's Brunch
Another popular way to celebrate national day in Switzerland is to attend a brunch. But not just any ordinary brunch, a farmer's brunch is the tradition, and 100s of farmers around the country offer brunches that will blow your mind.
There is even a dedicated website page for you to find your closest farmer's brunch for the next 1st August annual celebration.
1st August Famous Celebrations
Of course, there are also major celebrations that take place every year on the public holiday. Here are two that you should not miss if you get a chance.
Rütli Meadow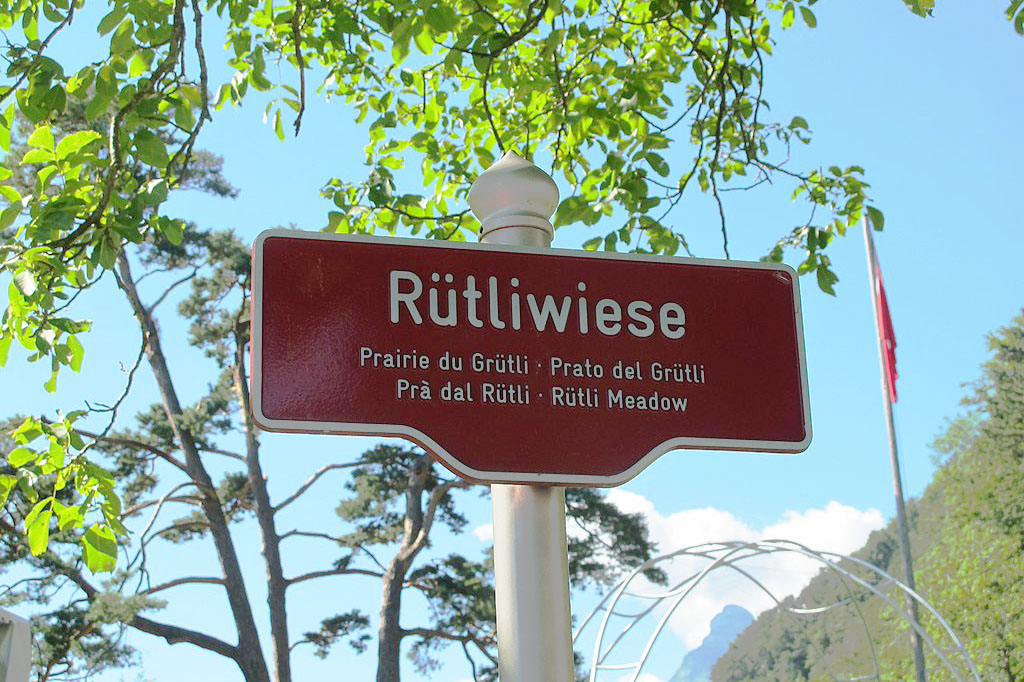 A huge celebration takes place every 1st August on the original Rütli Meadow.
In 1860 the Swiss Society for the Common Good (SSCG) actually donated the Rütli to the Swiss Confederation for future protection and they have been heavily involved in this historic piece of land ever since.
Every year, since 2011, the SSCG has helped to organise a large celebration on the Rütli involving singing of the Swiss national anthem, speeches from both the Swiss President and foreign dignatories, and much more.
Fire on the Rocks at Rhine Falls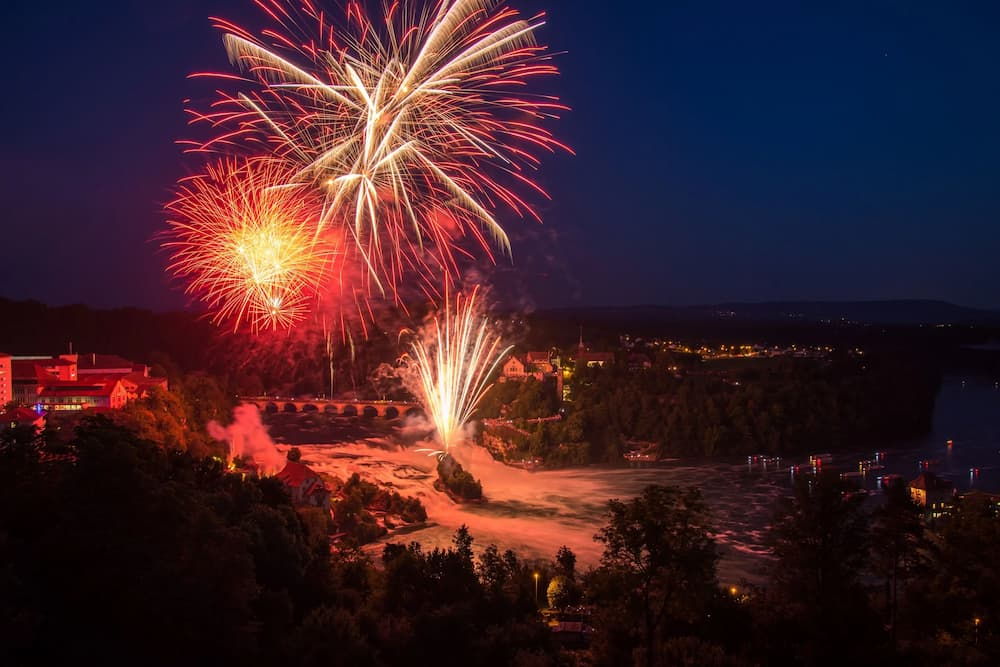 Another celebration you absolutely should not miss is the Fire on the Rocks that takes place at the Rhine Falls every Swiss national day. It involves a huge fireworks display over the Rhine Falls and it attracts over 10,000 visitors each year. So, be sure to get there early.
Is everything closed on Swiss National Day?
The majority of shops and businesses are closed on Swiss National Day. It is an official public holiday that everyone in Switzerland celebrates, so only the bare minimum of businesses open on this day.
How do the Swiss celebrate Swiss National Day?
The Swiss people celebrate Swiss National Day in a variety of ways including fireworks, bonfires, lanterns, parades, brunches and of course, BBQs.
Why do we celebrate Swiss National Day?
Swiss National Day is celebrated to commemorate the original three central cantonal alliance and signing of the Swiss Federal Charter in 1291. This is considered the founding document of modern Switzerland.