Last updated: May 9th, 2023
"Crash Landing on You" is a super popular South Korean television series that has captured the hearts of viewers worldwide. A big part of the show's visual appeal and storytelling is its use of Switzerland's breathtaking landscapes and picturesque locations. And as we all know, Switzerland is absolutely – stunning!
The breathtaking Swiss backdrops in the series, provide idyllic settings for many of CLOY's pivotal moments and are something many of you want to experience for yourself. From serene alpine lakes to jaw-dropping suspension bridges (not to mention the Swiss Alps in the background all the time!) this show has it all.
Below are all the Swiss locations where Crash Landing on You was filmed, including many that are not mentioned in other blogs on this topic. If you have some more you would like identified, just shoot me the episode and timestamp if you can, and I would love to help!
There is also a useful map of all the locations around Interlaken below, and one for Zurich further down. These should help you find all the spots!
Sigriswil Panorama Bridge
The Sigriswil Panorama Bridge plays a pivotal role in episode 4 of CLOY. This is when Jeong-hyeok sees an anxious Se-ri and asks her to take a picture of him and his fiancé (Seo-dan). This saves Se-ri who was thinking of taking her life by jumping from the rather precariously hanging bridge.
This suspension bridge, known as Sigriswil Panorama Bridge is a stunning place to visit as it hangs 180m over the Gummischlucht Gorge. It is 340m long in total and offers great views of Lake Thun and the Bernese Alps in the distance.
Getting There
You can easily get there by public transport with the following connections:
From Thun Bahnhof: Take Bus 21 or 25 to Gunten Dorf (takes 21-25 minutes)
From Interlaken Ost: Take Bus 21 to Gunten Dorf bus stop (43 minutes)
There is also parking at the end of the bridge. It costs 5 CHF to enter.
First – Schreckfeld Cable Car Station, Grindelwald
After the Sigriswil bridge scene in Episode 4, Se-ri continues taking pictures of Jeong-hyeok and Seo Dan, but this time it is a completely different location. It is along a hiking trail near the First – Schreckfeld Cable Car station, which is a mid-station of the First Gondola that climbs above the stunning Swiss town of Grindelwald. You can catch the First gondola from Grindelwald and also continue to the very top where there is another breathtaking Crash Landing on You scene!
Getting There
You can reach The First Gondola station in Grindelwald by walking from the Grindelwald train station. To get to Grindelwald you can catch a train from Interlaken Ost or drive and park in the center of town.
First Mountain, Grindelwald (aka First-Flyer)
In Episode 16 of Crash Landing on You, Se-ri actually lands a paraglider on a field on First mountain and finally meets Jeong-hyeok. This location is the final stop on the First gondola ride, above the Schreckfeld. It is also a popular take-off spot for paragliders in the area, so you are bound to see many of them circling above you on a warm, sunny day in summer. You can see some of the Jungfrau regions most impressive mountains from here including the Wetterhorn, the Eiger north face and Monch.
Note: That this location is often labelled as First-Flyer, which is not the location but the name of a popular activity that stars here along with the First Cliff Walk. If you want to fly like Se-ri here, the First Flyer is indeed the best way to do it!
Getting There
The top station of First gondola is reached again via Grindelwald, where the gondola begins.
Kleine Scheidegg
In episode 2 of Crash Landing on You, Jeong-hyeok and Se-ri both stop to gaze at the stunts of the local Swiss paragliders flying high above Kleine Scheidegg. This is a train station high above Grindelwald and about halfway to the Jungfraujoch.
Getting There
Kleine Scheidegg can be reached by train from either Grindelwald or Lauterbrunnen, with connecting trains starting in Interlaken. You can also catch the Eiger-Gletscher gondola up and walk down to Kleine Scheidegg. This is also a stop on the way up to Jungfraujoch if you are taking the whole trip. So, you can stop here on the way up and back.
Jungfraujoch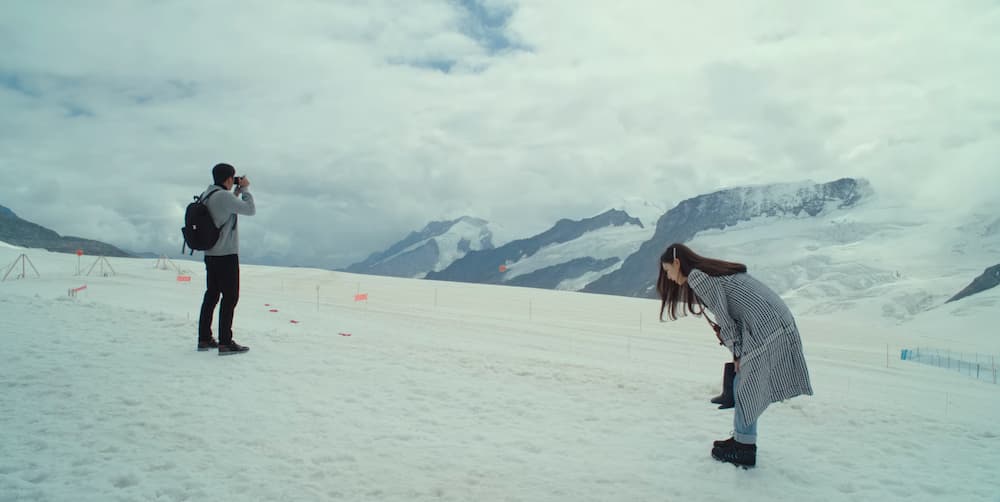 Jungfraujoch is the last stop on the train and the highest train station in Europe. It is also the place where yet again, Jeong-hyeok and Se-ri indirectly meet in Switzerland. They are on the train together traveling on one of the best train trips in Switzerland – the journey to the top of Jungfraujoch.
Getting There
To get to the top of Jungfraujoch you need to buy a ticket to the "Top of Europe" and catch the train from either Grindelwald or Lauterbrunnen. The ticket is quite expensive, but if you combine it with a full day out stopping at Kleine Scheidegg and Eigergletscher as well as at the top, it is well worth the expense.
Isletwald & The Lake Brienzer
One of the most popular scenes in CLOY with viewers was in episode 3, where Jeong-hyeok poignantly reminisces about his time playing the piano in solitude on this wooden "stage" on Lake Brienz. Se-ri also happens to hear him playing at a key moment in her life while cruising on the same lake. So Iseltwald and Lake Brienz are tied together in the show. There is also another scene where they walk along the shores of the lake in Isletwald, so there are two reasons to make your way to this tiny hamlet.
Note: Just be respectful of the locals when you are there, take your rubbish with you and try not to be loud and annoying. There are only 400 people living there.
Getting There
The simplest way to get to this tiny village on Lake Brienz is to take Bus 103 from Interlaken Ost train station. It takes around 21 minutes to do the trip. You can walk from there to the location.
Note: There is now a 5 CHF charge to walk on the stage as it has become overly popular.
Grandhotel Giessbach
The Hotel Giessbach is a romantic old-world hotel located next to the stunning Giessbach Falls above Lake Brienz. And yes, they also play a role in Crash Landing on You in Episode 9. It is here that Jeong-hyeok is apparently attending music school and he is hanging out with his school friends just prior to meeting Seo Dan. It does not play a huge role in the show, but it is worth visiting the Giessbach Falls as well as the hotel if you are also going to the Isletwald locations in the show. It is a short trip between them, and the views are jaw-dropping!
Getting There
The simplest way to move between Isletwald and Giessbach is to catch a boat on Lake Brienz from Isletwald to Giessbach See. It is then a 15 minute walk up to the hotel. You can also drive, and there is parking nearby. It is approximately 25 minutes from Isletwald.
Victoria Jungfrau Grandhotel & Spa, Interlaken
The Victoria Jungfrau Grandhotel in Interlaken does not feature heavily in Crash Landing on You, but in Episode 16 you get to see it briefly. Se-ri and Jeong-hyeok meet here during the annual piano performance. It is yet another chance for the lovers to meet not far from many of their chance encounters that were never to be.
Lake Lungern
Se-ri and Jeong-hyeok are lucky enough to stay in a cute chalet with a view of Lake Lungern during the yearly rendezvous. The house is actually a private residence, so please do not bother the people there. However, you can visit lake Lungern easily by car or train. It is a small lake with a stunning setting and is less than an hour's drive from Interlaken.
Getting There
The easiest way to get to Lake Lungern is on a train when you are heading to Interlaken from Lucerne (50 minutes). However, if you are already in Interlaken there is also a train that goes there in the opposite direction which takes around 1 hour. Just be aware that the train station is at the opposite end of the lake to where the view is, which I believe is close to Hotel Keiserstuhl. There is a great view from this end of the lake if you follow the road down from the hotel. It is also a great place for lunch or dinner and they have a lovely hotel.
CLOY Locations in Zurich
There are a variety of places in Zurich that you get to see during the show, especially as Se-ri is walking around Zurich with her suitcase and going shopping.
I live near Zurich so know the city very well. I can tell you the following is in Crash Landing on You. All of them are walkable from Zurich HB or central Zurich in general.
Lindenhof
Lindenhof is actually one of the best places to get an epic view in Zurich as you are above the Limmat River and can see the Grossmunster church in the background. The makers of CLOY seemed to have agreed.
Münsterbrücke
Se-ri can be seen walking across the Münsterbrücke in Zurich, one of the more picturesque bridges in town. You get great views of both sides of the river from here as there is the Grossmunster on one side and the Frauenmunster on the other.
Paradeplatz
Se-ri clumsily drags her suitcase from a tram at the central tram stop in the Zurich banking district called Paradeplatz. This is in the heart of the old town of Zurich and a few minutes walk from the Münsterbrücke and the next stop – the Schweizer Heimatwerk on Uraniastrasse.
Schweizer Heimatwerk
A little shopping never goes astray in Zurich and Se-ri and Seo-dan can be seen shopping for sweets in the Schweizer Heimatwerk during Episode 11. This is right along the Limmatriver so you can include it easily on a tour of the other locations mentioned above.
There is also a fun walk right next to the building (you can see the start in the first image on the left) which takes you along the Limmat River on various walkways and under some small tunnels/archways. The views are great from there too.