Staying in Basel for a while and you need ideas on places you can visit on day trips? Then you're definitely in the right place because this guide includes all the best day trips you can do from Basel!
Whether you want to stay in Switzerland or cross the border to Germany or France, we've got you covered. This guide also includes both big cities and small charming towns, as well as natural attractions that are perfect for adventurers who prefer spending their time in the great outdoors. Keep reading to learn more about all the best day trips from Basel in Switzerland!
Lucerne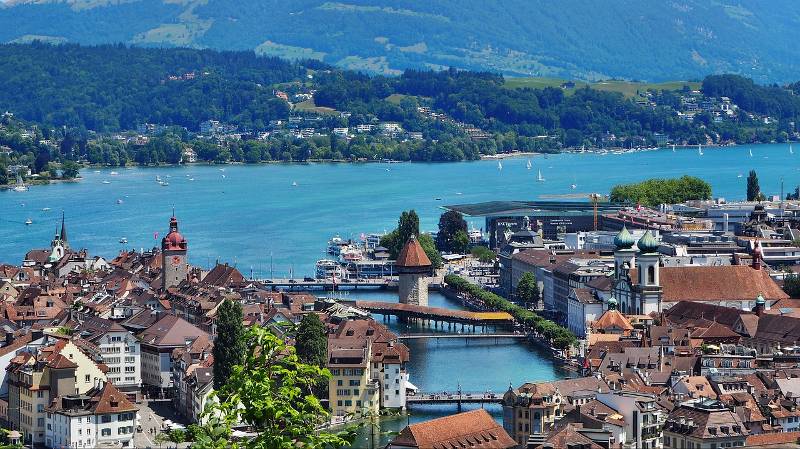 The beautiful city of Lucerne is without a doubt one of the best day trips from Basel you can make. You can take a direct train from the Basel train station and be in Lucerne in just an hour.
The city has quite a few attractions, so it's best to head there early in the morning to have enough time to see everything, especially if you want to go to a museum or two. Walk along the iconic Chapel Bridge and admire the art, see the spectacular Lion Monument, and the famous Bourbaki Panorama Lucerne.
Lucerne is home to the Swiss Museum of Transport, the Swiss Chocolate Adventure, the Lucerne Glacier Garden, and the Sammlung Rosengart art museum. Those are just a few of the most popular museums in town but know that there are many more worth visiting.
Also, try to find time for at least a short boat ride on Lake Lucerne. It's a touristy thing to do in the city, but it's a wonderful experience and offers some of the best panoramic views you can experience in the area.
Bern
Bern is about an hour away from Basel by train, and it's one of the best day trips to make if you enjoy exploring big cities. With an old town that was declared a UNESCO World Heritage Site, excellent museums, a world-famous rose garden, and beautiful panoramic views, Bern, just like Basel, has plenty to offer whether you're there for a day or a week.
Don't miss out on a chance to see the Bern Bear Pit – you'll understand better why Switzerland's capital city bears its name. And if you are interested in Bern's best museums, definitely go to the Museum of Communication, the Alpine Museum of Switzerland, the Fine Arts Museum, and the Bern Historical Museum. They're the most popular ones, but certainly not the only options you have in the city.
Zurich
If you enjoy discovering big cities, there's really no better day trip from Basel than Zurich. The largest city in Switzerland is home to countless tourist attractions, and you could easily spend a week exploring all the best sights in and around Zurich.
But if you're only there for a day, you'll want to head straight to Zurich's old town. See Bahnhofstrasse, Fraumunster, Grossmunster, St. Peter's Church, the Lindenhof, the Opera House, Urania Sternwarte, and, of course, Lake Zurich.
When it comes to museums, Zurich has something for everyone's interests and it will be hard to choose just one. Go with Kunsthaus Zurich or the National Swiss Museum if you want to learn more about the history and culture of the region.
On the other hand, visit Uhnrenmuseum Beyer to learn about the watchmaking tradition and experience something different. There's also the FIFA Museum, which is an absolute must for all lovers of football.
Swiss Alps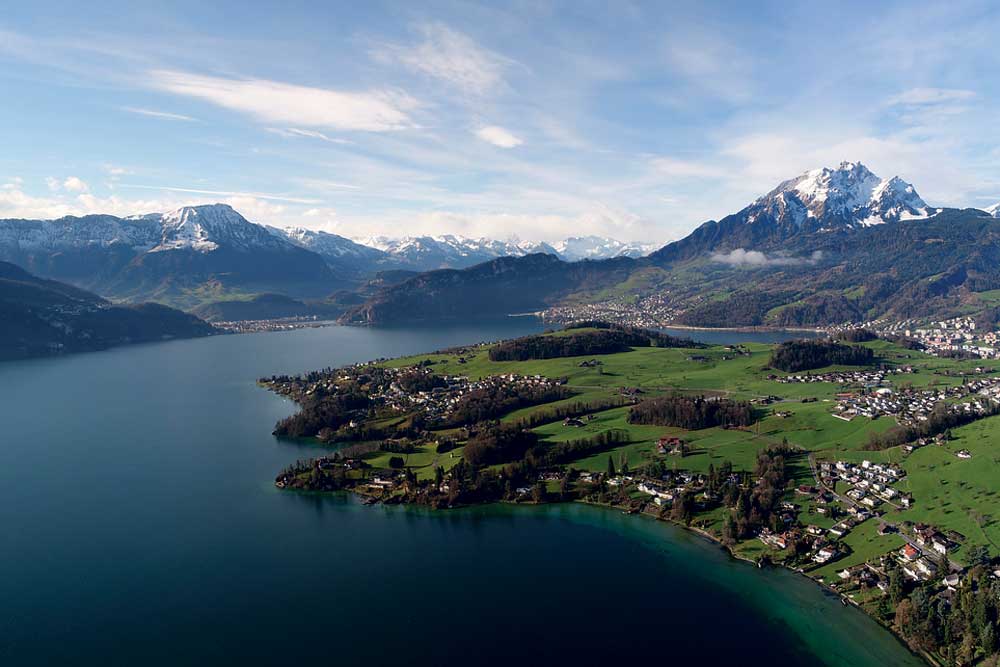 The Swiss Alps are the highlight of most trips to Switzerland and you can easily explore parts of the mountain range on day trips from Basel. You can follow popular itineraries like the Golden Round Trip, or you can create your own itinerary, based on the things you're most interested in seeing.
Mount Pilatus near Lucerne is the closest mountain of the Emmental Alps that you can easily visit on a day trip from Basel. The mountain is easily accessible by gondolas and cable cars from Alpnach, which you can reach in about an hour and a half from Basel.
Enjoy sweeping views of Lake Lucerne and the Emmental Valley from the top of Mount Pilatus, and explore some of the hiking trails in the area if you want. There's also a restaurant at the top, so you don't have to worry about food and drinks while you're there.
Geneva
Geneva is one of the largest cities in Switzerland and well worth a visit if you have plenty of time in Basel. It takes almost three hours to reach Geneva from Basel by train; it's a long journey but the train ride is quite scenic so the time passes rather quickly if you focus on the changing Swiss landscapes.
Situated on the shore of the wonderful Lake Geneva, the namesake city is known for quite a few tourist attractions. A beautiful old town, excellent museums, and some of the best luxury shopping opportunities in Switzerland are just some of the ways you can spend your time in Geneva.
Don't miss out on Jet d'Eau, the city's iconic water fountain that lights up at night. Jardin Anglais is another iconic Geneva sight – the lakeshore park offers beautiful panoramic views and is famous for its flower clocks.
Lausanne
Lausanne is a gorgeous city on the northern shore of Lake Geneva. It's a little more than two hours away from Basel by train, so you can easily visit it on a day trip. I would recommend taking one of the earliest trains possible because it's a big city with lots to see and do.
Lausanne is the headquarters of the International Olympic Committee, and it's home to an excellent Olympic Museum. Definitely visit it if you usually enjoy touring museums and you want to see something unique.
The Swiss city also boasts a hilly old town with countless historic buildings, an imposing Gothic cathedral, and quite a few beautiful parks. If you want to experience a stunning scenic view of the Lausanne panorama, head to Sauvabelin Tower, which is a 20-minute bus ride from the heart of the city.
Gruyères
Gruyères is a fairly long train ride from Basel (about two and a half hours), but it's worth the time if you want to visit a lovely medieval town. Best known for the namesake cheese that's an essential part of the Swiss Fondue, a day trip to Gruyeres is the perfect opportunity to stuff yourself with the most popular cheese in the country.
Don't miss out on the Gruyères fortress either. It offers spectacular panoramic views from its walls as well as exhibits on the history and culture of the region. On top of that, this lovely little town is also known for a museum and bar dedicated to H. R. Giger, and they're an absolute must-see if you're a fan of the Alien movies.
Interlaken
Travelers who prefer to spend their time exploring the great outdoors should head to Interlaken. The city is two hours away from Basel by train, and it's definitely worth the long trip if you're up for an exciting day full of adventures.
Interlaken is known for its abundance of hiking trails, mountain biking trails, rafting opportunities, skydiving, bungee jumping, paragliding, etc. If it's a fun adventure that can be done outdoors, you'll find somewhere to do it Interlaken.
The city is nestled between lakes Thun and Brienz, so the views are absolutely magical no matter where you look. Head to Harder Kulm either by hiking trail or funicular, for the absolute best panoramic views of Interlaken and the surrounding landscapes.
Colmar, France
Colmar is a charming French town some 40-50 minutes away from Basel by train. It's best known for its well-preserved old town with beautiful buildings and charming cobblestone alleys. The Dominican Church and St. Martin's Church are two of the most impressive architectural landmarks in the town, and well worth visiting while you're in Colmar.
The French small town is also known for its great museums, the most famous of which is the Unterlinden Museum. It is situated in the former building of a Dominican convent and boasts an extensive collection that covers the region's history. Other popular museums in town include Musée du Jouet (toy museum), Choco-Story Colmar, and The Village Hansi & its Museum.
Also, make sure to check out the part of the historic old town that's known as Little Venice. It boasts a canal that runs through the narrow town street and it's absolutely wonderful to look at.
Freiburg, Germany
Freiburg is a vibrant town in Germany best known for its medieval city center. It's about 40 minutes away from Basel by train, so a great place you can easily visit on a day trip from the Swiss city.
Freiburg is a university city so it's very popular with younger crowds. There are lots of pubs and bars in the city that cater to young adults, as well as many international restaurants. Nature lovers can also enjoy their time in Freiburg; Schlossberg is a hiking area just outside the city center, which offers panoramic views of Freiburg's old town.
In terms of tourist attractions other than the beautiful old town, the university city is known for its excellent museums and beautiful parks and gardens. The Freiburg Cathedral is truly a Gothic masterpiece and one of the best architectural landmarks in the German city.
Frequently Asked Questions
How many days do you need in Basel?
That depends on how you want to spend your time in the Swiss city. If you just want to explore the most popular tourist attractions and the best museums in Basel, you can do it in 2-3 days. But if you're up for Basel day trips and exploring central and northern Switzerland, then you can easily spend a week or more in the city.
Where can I go from Basel by train?
You can go to most cities and towns in northern and central Switzerland from Basel by train. The Swiss city is well connected not just to other Swiss cities, but also to places in Germany and France by railway.
What beautiful French town is near Basel?
Mulhouse and Colmar are two beautiful towns in France that are very close to Basel. Colmar is already covered in this guide, so let's talk about Mulhouse for a bit. It's closer to Basel than Colmar, and you can reach it in only some 20 minutes by train.
The town is small but very charming. It's got a few interesting tourist attractions, a beautiful historic center, and a few interesting museums. The National Automobile Museum is one of the most popular attractions in town, with a collection of more than 500 vehicles, including racing cars.
What is the closest German town to Basel?
Weil am Rhein is the closest German town to Basel. It's only one train stop away from the Basel Bad train station in the northern city area, and you can be there in less than five minutes.
However, it's a very small town and a commune and there's really not much there for tourists
I would recommend heading to Lorrach instead if you really want to go to Germany. The town is just 10 minutes away by train (from the Basel Bad station), and it's a little bigger with more things to do and see.