Last updated: March 14th, 2023
Are you staying in Lugano for a while and want to go on a day trip? Then you're definitely in the right place because this detailed guide includes all the best places to visit on day trips from Lugano!
The city of Lugano is situated in southern Switzerland, close to the border with Italy, so you can easily travel across the border if you want. Many beautiful cities and towns are a short train ride away from Lugano and there are plenty of places you can travel to from Lugano. Keep reading for more ideas on all the wonderful sights you can explore on day trips from the lakeshore Swiss city!
Locarno
Locarno is a small town on the northern shore of Lake Maggiore in Switzerland and a great place for a day trip from Lugano. It's about 30 minutes away by train from Lugano, and the ride itself is quite scenic.
Locarno is a small town known for picturesque lake views, beautiful parks, and a castle. Its historic center is small but charming, with narrow cobblestone alleys and a mix of modern and old architecture. Piazza Grande is in the center of the old town of Locarno, and it's easily the most beautiful and picturesque part of the town.
The medieval Visconteo Castle is also a popular tourist attraction. Check out the museum in the castle if you have the time, otherwise just head to Giardini Rusca to see the sculptures and beautiful landscaping. You can also ride the funicular to Madonna del Sasso, to enjoy some panoramic views of Lago Maggiore and the towns along its shores.
Bellinzona
Bellinzona is one of the best and easiest day trips you can make from Lugano. It's the capital city of the Ticino canton and only some 20 minutes away from Lugano by train. Bellinzona is best known for its three medieval castles, which are absolutely highlights of any visit to the city.
A day should be enough to visit all three castles and experience the spectacular panoramic views of the town and the surrounding landscapes. Castelgrande, Sasso Corbaro, and Montebello are the three wonderful castles, which bear the status of UNESCO World Heritage Sites, along with their defensive walls.
Monte Generoso
Monte Generoso is a mountain peak on the border of Switzerland and Italy, and one of the best destinations for an excursion in the great outdoors from Lugano. You can take the train from Lugano to Capolago (approximately a 15-minute ride), and from there you can ride a train on the mountain railway to Monte Generoso.
It takes about 40 minutes to arrive at the mountain from Capolago, and the journey is quite scenic. But the views from the train are nothing compared to the views from the top of the mountain, so definitely make your way to a promontory where you can admire the sight of the Alps, the lake, and many lakeshore towns.
Morcote
Morcote is a municipality in the southern area of Lake Lugano, some 10 kilometers away from Lugano city. To reach the town from Lugano you need to take a train to Melide and then a bus from Melide to Morcote, so it's best to visit it on the same day you travel to Melide.
Parco Scherrer is one of the most popular attractions in the town, with its beautiful bamboo groves, lemon trees, and picturesque lake views. Chiesa Santa Maria degli Sasso is another popular landmark; it's situated on a hilltop and offers breathtaking views of the lake and its surroundings.
Castello di Morcote is also popular with visitors in this town, and it's an easy hike from the central area near the shore.
Ascona
Ascona is a small town near Locarno, and I recommend visiting both in one day if you can swing it. It's a 30-minute train ride from Lugano to Locarno, and then you can get to Ascona by bus or you can just walk there. It takes about half an hour to walk from Locarno to Ascona, and it's worth it for the views along the way.
Ascona is best known for its Mediterranean architecture in the old town, as well as some interesting museums and historical landmarks. Because of its beautiful beaches and spectacular lake views, Ascona is a popular destination for summer vacations in Switzerland.
If you have enough time, I would recommend trying to visit the Brissago Islands. They're absolutely wonderful and can be easily reached by boat rides from Ranco sopra Ascona, which is only 10 minutes by bus from Ascona town.
Lake Como
Lake Como is a beautiful lake in northern Italy, and it's only about half an hour away from Lugano by train. There are several beautiful towns along the shore of the lake, but the namesake town of Como is by far the best place for a day trip from Lugano.
It's only about 30-40 minutes away from Lugano by train, and you're greeted by gorgeous vistas the moment you arrive at the town. The train station is at a higher altitude, and it offers a panoramic vista of the town's rooftops. You'll then descend through a park to the town center, and enjoy views of beautiful nature and interesting sculptures along the way.
Como is known for its historic old town, as well as gorgeous lake views from the shore. Walk around the lakefront promenade, explore the landmarks, and admire the beautiful views of the villages and towns on the other sides of the lake. Check out the pier that juts out in the middle of the lake, don't miss out on Duomo di Como, and if you have the time and the lines aren't too long, ride the funicular to Brunate, where you can enjoy a wonderful scenic vista of the town and the lake.
Verzasca Valley
The Verzasca Valley is one of the best destinations for people who want to spend a day exploring magnificent Swiss nature. It takes about an hour to get there from Lugano; take the train to Tenero and from there you can take a bus to the valley.
The beautiful valley is popular for hiking, mountain biking, and also bungee jumping. This is where the Contra Dam (Verzasca Dam) is situated, and where adrenaline seekers from all over the world come to recreate James Bond's iconic bungee jump from the Goldeneye movie.
Melide
Melide is a small picturesque town on the shore of Lugano lake, best known for the Swissminiatur park. This is easily the top tourist attraction in town, and it's great for travelers who want to get to know the country, but don't have enough time to travel to multiple cities and regions during their stay.
Swissminiatur Park boasts miniature replicas of the most famous landmarks in Switzerland, and they're all absolutely wonderful. In addition to this open-air museum, visitors to Melide can also enjoy its beautiful nature parks and lakeshore hiking areas. You can explore Melide in a few hours, so I would recommend you continue to Morcote when you're done, to make the most of your day.
Melide is less than 10 minutes away by train from Lugano, so you can get there in no time. It's also possible to ride a ferry from one Swiss town to the other – although this takes a lot longer, it's a more scenic journey and worth it if you want to experience more of Lake Lugano.
Monte Tamaro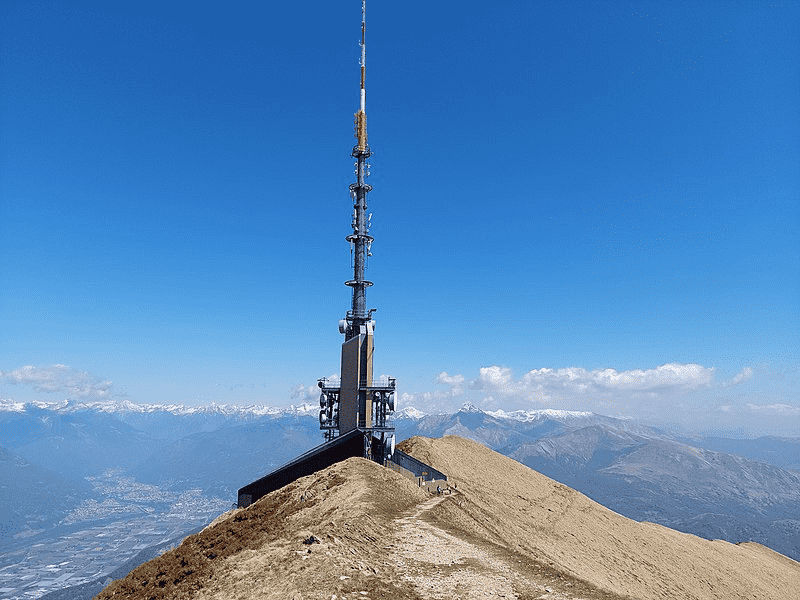 Monte Tamaro is the highest summit of the Prealps mountain range and the best destination for all avid hikers who are visiting Lugano. The mountain peak sits 1,962 meters above sea level, offering impressive panoramic views of the surrounding landscapes.
It will take you around 40 minutes to reach Rivera-Bironico from Lugano by train and bus, and here you can ride a cable car to Monte Tamaro. It won't take you all the way to the peak, but it will take you to an adventure park where you can ride a zipline and enjoy other fun activities in the summer.
It's possible to hike from the adventure park to the top of the mountain, but the path is only for experienced hikers due to steepness and large elevation gain. This area is also loved by mountain bikers since they can enjoy some fast and exciting descents down the mountain.
The mountain is also home to a great piece of Swiss architecture, the Church Santa Maria degli Angeli from Mario Botta. It's definitely worth checking out if you are in the neighborhood, as there are not many churches in the world like it.
Milan
The second largest city in Italy is only about an hour and 15 minutes away from Lugano by train, and it's easily one of the best places to visit on a day trip from the Swiss city. Milan has many famous tourist attractions, and it's known for delicious Italian food, excellent shopping, and vibrant nightlife.
Duomo di Milano is undoubtedly the most famous attraction in the city. The iconic Gothic cathedral is an impressive sight, and it dominates the Milan center. If you want to climb to the rooftop of the cathedral and walk among the spires, it's recommended to buy tickets online in advance because the lines at the ticket shop are long, and they frequently sell out.
Sforzesco Castle is also a place worth visiting while you're in town, as is Parco Sempione next to it. Head to the Navigli district to see the canals that were once essential for trade in the city, and to find the best selection of bars and restaurants in Milan.
Frequently Asked Questions
How many days are enough in Lugano?
Two days is enough time to see most tourist attractions in Lugano and even ride a cable car or two to explore the nearby mountains. Monte San Salvatore and Monte Brè are both popular mountain peaks near the city that offer spectacular panoramic views of the surrounding scenery. If you want to make several day trips from Lugano, plan to spend 3-5 days in the Swiss city. 
Which is more beautiful Locarno or Lugano?
It's a matter of personal preference, but I think Lugano is more beautiful than Locarno. Visit Lugano if you want to stay in a bigger city with more things to do and see, but opt for Locarno if you prefer the vibes of a very small town. 
Is Lake Lugano better than Lake Como?
Lake Como is bigger and more scenic than Lake Lugano, so it's not fair to call Lake Lugano better. Both lakes are beautiful and surrounded by stunning landscapes, with charming towns on their shores. But Lake Como offers more things for tourists, especially in the area around Bellagio which is regarded as its most scenic section. 
Is Lugano worth visiting?
Yes, Lugano is a beautiful Swiss town worth visiting. It boasts scenic landscapes, stunning lake views, and quite a few tourist attractions to keep visitors busy. Whether you want to travel there for a few days or you're considering heading to Lugano on a day trip, it's definitely a place worth your time.