Switzerland is famous for a lot of things, but what comes to mind? Cheese, chocolate, mountains, skiing? How about musicians? I bet that didn't pop into your head, it certainly didn't pop into mine.
With such a diverse mixture of cultures in Switzerland, it is no surprise that the blend of German, French, Italian, and Romanish would come together to create some awesome musicians.
The music in Switzerland was all folk or religiously based up to the 1600s and then slowly other genres started to creep in such as classical music. Today, name a genre and the is a Swiss musician doing well in it somewhere, but who are they?
Join me as we take a look at some of the most famous Swiss Musicians ever, from present-day DJs to old classical players, so you can find out just who they are.
DJ BoBo
DJ BoBo might just be one of the most famous Swiss musicians ever. Born in Kölliken, Switzerland back in 1968, Peter René Baumann aka DJ BoBo has become a Swiss household name.
The name suggests he is a DJ but that is not the case. DJ Bobo has a lot of musical talents and is a producer, rapper, dancer, and singer-songwriter. He doesn't just stick to one genre either, that might be a little too easy for this guy.
House, pop, Eurodance, electronica, and reggae fusion are just some of the genres he dabbles in. His hits such as Love is All Around, Chihuahua, and There is a Party have the people of Switzerland rocking and lead him to sell more than 14 million records.
Over his 25 years in the business, he has dropped over 12 albums and was the first Swiss celebrity to be the United Nations World Food Programme National Ambassador Against Hunger.
DJ Antoine
DJ Antoine is another of the most famous Swiss musicians to have ever lived. He was born in Basel on 23 June 1975 as Antoine Konrad and growing up in Basel he was inspired to create and play music.
DJ Antoine is not a singer-songwriter, hit talents lie more in the dance music world. He is a well-known house DJ who plays all across Europe and the rest of the world and he is also a producer.
Over his career, DJ Antoine released a total of 38 songs as well as a number of albums, and he is still going. His songs are particularly popular and famous in Western Europe, France, Germany, and of course, Switzerland.
DJ Antione even has a biography and it is available in over 20 different languages, and that is saying something when it comes to fame.
Beatrice Egli
Beatrice Egli is a young Swiss woman who is doing incredibly well in the music world as a singer-songwriter.
Beatrice Egli is from Pfäffikon, Switzerland and since she was born in June 1988 has always had an inkling towards music. She started singing at school when she was 9 years and old and when she reached 14, started taking professional singing lessons.
Her music career began when she started singing at traditional Swiss folk festivals and has since blossomed into something quite amazing.
Beatrice Egli won 'Deutschland Sucht den Superstar' the German music competition, and is the second Swiss person to ever win it. She then went on to release numerous records, 25 songs in total, and has sold over a million copies in Austria, Germany, and Switzerland.
She is doing incredibly well and still has a long career ahead of her!
Bastian Baker
Bastian Baker is all about creating songs that people can relate to and he does it through excellent lyrics and great riffs on his guitar.
Bastian Baker, born Bastien Kaltenbacher in 1991 along the shores of Lake Geneva in Lausanne, Switzerland has been in love with music since he was a young boy.
At school, his favorite part of the day was his guitar lessons, followed closely by singing in the choir, in which he was often a soloist. He was clearly a young talent with a passion that would take him to where he is today.
Bastian Baker is an excellent performer, singer, and songwriter. He writes his lyrics in English so that they can be shared with the world. English is also the second most spoken language in Switzerland after German.
Edwin Fischer
Edwin Fischer is recognized as the second most famous Swiss musician to have ever lived to date. Born in 1886 on the 6th of October, Edwin's time came long before the likes of DJs and producers, and his musical career was, as you might have guessed, in the classical genre.
Edwin Fisher was a very talented classical pianist as well as a fabulous conductor of orchestras. He became rather famous for his interpretations of the great composers, especially Mozart and Bach.
Whether Edwin Fisher was behind the piano or leading the orchestra, the way the music flowed through him was rather special and people from all around Europe would come to see him play.
Edwin Fisher died in 1960. His biography, which is a good read, is available in over 20 languages, which is a testament to his talent and influence on the music world.
Anna Murphy
A famous Swiss musician you might not have heard of is Anna Murphy as she rolls in quite a niche musical genre that isn't for everyone. Did you guess it? Yes, it's metal, but not just metal, it is niche metal such as Celtic metal, melodic death metal, progressive metal, and folk metal.
Anna Murphy was born in August 1989 in Lucerne. Her parents, both professional opera singers, ensured she was surrounded by music for her childhood and it would make sense that the booming sound of opera translates to niche metal, perhaps?
Anna Murphy became an excellent all-around musician. She can sing excellently, write good lyrics, plays the flute and hurdy-gurdy, and is an audio engineer to boot.
Before she became a famous musician, she worked at Obernau Soundfarm Studios in her hometown. Fame was not far away and it wasn't long until she was the lead female vocalist for Eluveitie, a Swiss folk metal band.
Luca Hänni
Luca Hänni might just be one of the most successful young musicians in Switzerland today and is both a famous musician and TV personality.
It all started for Luca Hänni in Bern. Born in October of 1994, he quickly took to music and even learned to be a drummer while in kindergarten. He then went on to teach himself both the piano and guitar and is an excellent player of both.
Things really got going when Luca won the German talent show Deutschland Sucht den Superstar. He was the first ever non-German to win and the youngest contestant ever to win too!
Luca is all about great pop music and has released numerous albums and singles, some of which have been massive hits. In fact, some of his singles got to the top of the Swiss and Austrian Albums Charts and are gold-sellers.
Stephan Eicher
Stephan Eicher is a rather unique musician and he is Swiss through and through. Born just outside Bern in Münchenbuchsee in August of 1960, Stephan Eicher always had a talent for both music and languages.
Over time, he mastered both and merged them together. He plays the guitar, writes great songs, and sings beautifully. But, he also sings in 6 languages, and even uses different languages in the same songs.
You can find Stephan Eicher's songs in Romanche, German, Swiss German, French, Italian, and even English. I'm not sure there are too many musicians out there with such language talent as Stephan Eicher.
Stephan Eicher's most famous album was Hotel*s which was released in 2001 and was a tribute to hotel Hess in the Swiss Engelberg which was his home away from home.
Ladyva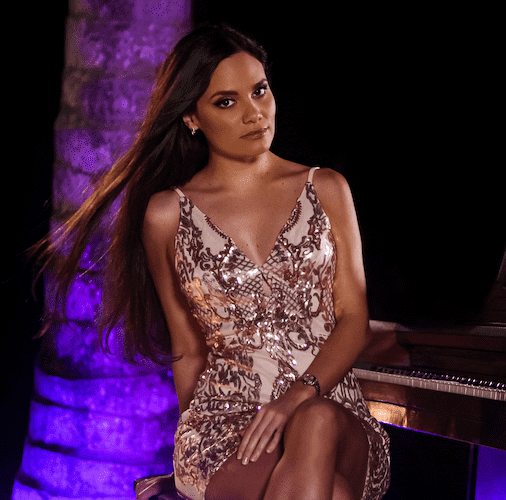 Ladyva, aka Vanessa G o Ladyva, is an incredibly talented young musician who can pretty much do it all and is one to watch for the future of Swiss music.
Vanessa Sabrina Gnaegi, which is her real name, was born in Ipsach in the Canton of Bern, Switzerland in December 1988. She always loved music but it took her a while to start learning it.
At the age of 14, she took her first piano lesson and today is an excellent pianist as well as a wonderful singer and talented composer. Can you guess her favorite genres?
This lady is all about jazz, blues, and boogie-woogie. A woman after my own heart! She is becoming impressively famous with over 40 million views on her YouTube channel.
Tina Turner
Most of us have heard of Tina Turner, an iconic singer-songwriter who topped the charts in the later 80s and early 90s.
Anna Mae Bullock (Tina's real name) was born in November of 1939 in Tennessee, USA, and is not originally Swiss – but we all knew that.
Her rise to fame was quite incredible and she became known as "The Queen of Rock and Roll" and as one of the best singers to have ever lived. Tina has won so many music awards, they are hard to count.
In April 2013, Tina became a Swiss citizen and gave up her American citizenship in 2014.