Pontresina is a stunning mountain village nestled in the eastern Alps of Switzerland. Sitting in the Engadine Valley, it is surrounded by the mountain peaks of the Swiss Alps, pine forests, and valleys, and is an amazing place to visit in both summer and winter.
Pontresina is famous for its outdoor activities but it is also a bit of a cultural center of the eastern Alps too. You will find houses that date back to the 17th century, museums, and more to explore where you aren't out in the mountains.
It is safe to say that Pontresina is worth visiting but how do you get there and what are the great things to do while you are in Pontresina? That is what we are here to find out. Join me as I run through everything you need to about visiting Pontresina.
How To Get To Pontresina
Pontresina lies in the Upper Engadine Valley and the closest airports are Zurich and Milan airport. This means getting to Pontresina requires a rental car or a train ride from either of these airports.
The drive and train ride takes you through some of the stunning scenery the Alps have to offer, so while the journey may take a while from the airport (4-5 hours), it is worth it.
By Plane & Train
If you aren't planning a road trip around Switzerland, the most efficient way to get to Pontresina is by flying to Zurich and getting on the train.
Take the train from Zurich Airport to the main train station in Zurich, Zurich HB. From here, change onto the train to Chur. From Chur, it is time to get on the RHB train which takes you into the Alps. This part of the journey has amazing views as you work your way into the mountains.
Once you arrive at Samedan, you will have to change trains again, and then it is just a nine-minute ride to Pontresina.
This might sound like a hassle but Swiss trains are incredibly efficient and the change times are very minimal. The total journey time is between 4 hours and 4.5 hours depending on the service you get on.
Coming from Milan to Pontresina takes a bit longer, around 5.5 hours, and requires 3 changes. First, ride the train from Milan Airport to Milano Centrale Station. From here, change onto the train to Tirano.
On arrival at Tirano, you will need to change train stations. It's a short walk across the piazza to the Bernina Express Station. You can then take the train direct to Pontresina from here.
The total journey will take 5.5 – 6 hours but along the way, you will get to ride the Bernina Express which is one of the most iconic alpine railways, more on that later!
By Car
Driving to Pontresina is a lot faster than taking the train. The journey time is about 3.5 hours from Milan and about 3 hours from Zurich. The drive is spectacular as you wind your way through the alps and access to Pontresina in the summer is guaranteed.
However, if you are considering driving to Pontresina in winter you will have to follow some mountain passes that can close due to bad weather. It is far more reliable to travel by train to Pontresina during the winter and it is highly recommended.
Things to do in Pontresina
There are lots of things to do in Pontresina from mountain biking to cross-country skiing, walking the numerous hiking trails, to enjoying the swimming pool at one of the great Pontresina hotels.
We simply can not cover all the amazing things you can do in this picturesque setting but we can discuss the best of them, which you will find below.
Muottas Muragl – Be Blown Away By The Panoramic Views
One of the most beautiful views you will find in Pontresina lies at Muottas Muragl, and seeing the fantastic views from Muottas Muragl is a must while you are there.
Luckily, there is a cable car or funicular that will take you up to Muottas Muragl from Punt Muragl. Just taking the funicular to Muottas Muragl is quite a journey with its amazing views and steep incline.
Once you reach the top of Muottas Muragl you will find a bunch of hiking trails that allow you to explore the surrounding area. You can even hike back down to Pontresina stopping at the hotel restaurant Munt da la Bês-cha along the way and Alp Languard before arriving at Pontresina. You will have spectacular views along the way and see the Bernina Massif.
Before going for a hike around Muottas Muragl, be sure to take in the stunning views. You can see the five lakes of the Upper Engadine Valley from Muottas Muragl and the mountain views are some of the best too!
If you are visiting Muottas Muragl in winter, you can take a toboggan ride back down instead of using the funicular. It is about 3.5 km long and is pretty rapid. Renting a toboggan is easy as they are available at the Valley Station.
Bernina Mountain Railway
If you have traveled by train from Milan to Pontresina you will have already ridden on the Bernina Express, but if you didn't it is a must while you are in Pontresina.
The Bernina Express runs from St Moritz to Tirano in Italy. It runs through the Bernina Pass and is one of the highest-altitude trains in Europe. Along the way, you will run through the Bernina Valley, across the Bernina range, and see the Bernina Massif.
The Bernina Express is actually a UNESCO World Heritage Site. It runs from Chur, Switzerland to Tirano, Italy, and to cross the Bernina range and Bernina valley, it has to cross 196 bridges, go through 55 tunnels, and over 52 viaducts.
While riding the Bernina Express, you will be blessed with some of the best mountain views on the planet, and you can enjoy the great view from the comfort of a train. From Pontresina, take the morning train to Tirano and come back in the afternoon for a great day trip!
Eat Amazing Food On Top Of The Swiss Alps At Mt Diavolezza
Sitting at the top of Mount Diavolezza are great views of the surrounding alps which include the Morteratsch Glacier, Piz Palu, and Piz Bernina (piz means peak). Just imagine standing at 2973 m/9753 ft above sea level and looking over the amazing panoramas.
At the top of Mt Diavolezza is an incredibly popular restaurant with an awesome terrace that looks over the view. It is a laid-back restaurant with a self-service buffet that serves amazing food and provides excellent service.
While on the viewing platform, you'll be able to see quite a few peaks, the Bernina Massif, ice falls, crevasses, and more.
Getting to the top of Mt Diavolezza is easy. Take the train from Pontresina to Diavolzeea station and then hop onto the cable car which takes you to the top.
This is also a departure point for high-altitude adventures into the mountains and is an excellent place for cross-country skiing and other skiing activities during ski season.
Hike On The Morteratsch Glacier Trail
The Morteratsch Glacier isn't far from Pontresina and it is home to one of the most popular hikes in the country, the Morteratsch Glacier Trail.
The Morteratsch Glacier is the biggest glacier in the eastern Alps in terms of volume and is a total of 5.85 km long.
The trail takes you along a gravel path all the way to the beginning of the glacier. It is an easy hike that is good for families too.
Along the trail, you will find markers placed that show you where the glacier once was between the 1800s to the present. It is quite amazing to see how much the glacier has receded over time, and it is still doing so!
You will have incredible views of the glacier and the surrounding area. The Ova da Morteratsch Glacial River will come into view along with Piz Bernina, Piz Albris, Piz Palu, and Mount Pers.
Ibex Paradise – Take A Walk & Spot Some Wildlife
The area around Pontresina is known for its large alpine Ibex population. An alpine Ibex looks like an alpine deer or antelope but it is actually a member of the goat family.
They are stunningly beautiful animals with long horns that can grow to be over a meter long. With more than 1,800 Alpine Ibex living around Pontresina, it is one of the best places to see one of Switzerland's most impressive wild animals.
If you are visiting in winter, they are harder to find and you may have to book a guided tour to find them, but in summer, it is a lot easier and you can find them on your own.
Between April and June, the ibex come down into the valley and there is a 1 km Ibex trail, called the Ibex promenade that you can stroll down, even with your kids. You can find it close to the Church of Santa Maria.
If you spend enough time there, you will see them. Be sure to take some great photos but don't get too close to them, as they should be left in peace.
Along the trail, you will find information boards that will educate you about the ibexes and why they are so special.
Spend A Day At Val Roseg
Sitting just 7 km away from Pontresina is the wonderful Val Roseg or Roseg Valley. The valley follows the Roseg River (Ova Da Roseg) and is surrounded by stunning mountains on every side.
The area offers some amazing hikes with incredible views of peaks and the Roseg Glacier. There is also a fantastic restaurant in the valley where you can break for lunch.
You have quite a few options for how to get up the valley. Hiking is one option, biking is another, and you can even take a horse-drawn carriage ride there. In winter, cross-country skiing is also an option!
You will also find numerous other hiking trails in the Val Roseg area that take you into the mountains. Seeing Val Roseg is, without a doubt, a must in Pontresina!
Bellavita Spa – Get Pampered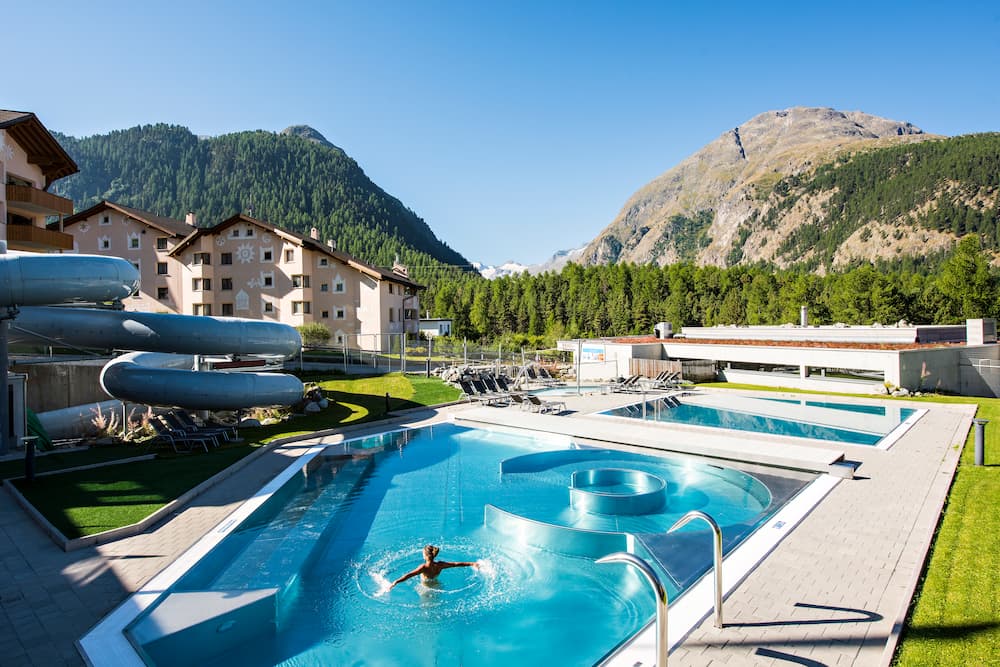 If you are looking to spend some time being pampered then head to the amazing spa resort of Bellavita.
Bellavita has a unique alpine setting featuring incredible decor and awesome spa packages. You can choose to stay at this hotel or you can book a treatment or five and spend the day there.
It is a great hotel for kids too as there is a large Bellavita pool and waterslide for them to enjoy. Prices are around $280 per night, so it is not cheap but it's not the most expensive either.
Learn About The Region At Museum Alpin
Sitting in the heart of Pontresina is the Museum Alpin. The museum is a great place to learn about the Engadine region with awesome exhibits.
You will learn about the alpine ecosystem, wildlife, and about the history of tourism and alpinism in the area. It also goes into interesting details about hunting and mining activities plus you can walk around an old Engadiner house with all its original interior.
This might not sound quite as exciting as all the other activities available but it only takes 30 mins to an hour and gives you an insight into the area.
Frequently Asked Questions
What language is spoken in Pontresina?
There are quite a few different languages spoken in Pontresina, Switzerland. The most commonly spoken language is German followed by Italian. Of course, being a popular place for visitors, people working in the tourism industry will also speak good English too.
The locals of Pontresina also speak Romansh which is a neo-Latin language close to Spanish and Italian. It sounds a lot like Spanish and is only spoken by 70,000 people on the planet, and is one of the oldest languages still in use today.
Is Pontresina worth visiting?
Pontresina is definitely worth visiting. Between being a hiking paradise in the summer that is full of stylish hotels with some of the highest peaks in the alps along with great winter sports and lots more, it is a magical place to spend some time!