Last updated: September 22nd, 2023
I recently had the chance to explore the enchanting Grindelwald Glacier Gorge, located just outside of the lovely Alpine town of Grindelwald. This natural wonder boasts 300-meter tall rock walls shaped by the immense power of the Lower Grindelwald Glacier and a number of attractions you won't want to miss.
It's a great place to explore on a less sunny day if you are looking for something to do in the Jungfrau region. It will only take an hour or two of your time and is a unique way to explore what the Alps has to offer.
Trail Distance
Approximately 1 km (one-way)
Difficulty
Easy
Visit Duration
1-2 hours
Ticket Prices
Adults: CHF 19
Children (6-16): CHF 10
Children under 6: Free
Opening Times
April 29th – mid-November
Saturday – Thursday 9:30 am – 6:00 pm
Friday 9:30 am – 10:00 pm (Night Experience)
Accessibiliity
Wheelchair & Stroller friendly
Website
outdoor.ch
Grindelwald Glacier Canyon details
Activities and Attractions
Walking Trail
One of the best ways to explore the Grindelwald Glacier Gorge is by walking along the 1km boardwalk that has been constructed to make it easy to get into the ravine. It offers breathtaking views of the rock walls and gets you up close and personal with the canyon and the other attractions.
There are some fun parts to the trail such as the 355m suspended walkway, as well as 425m of tunnels and galleries along the way. There are also some places to stop and take a break if you want to soak up the atmosphere.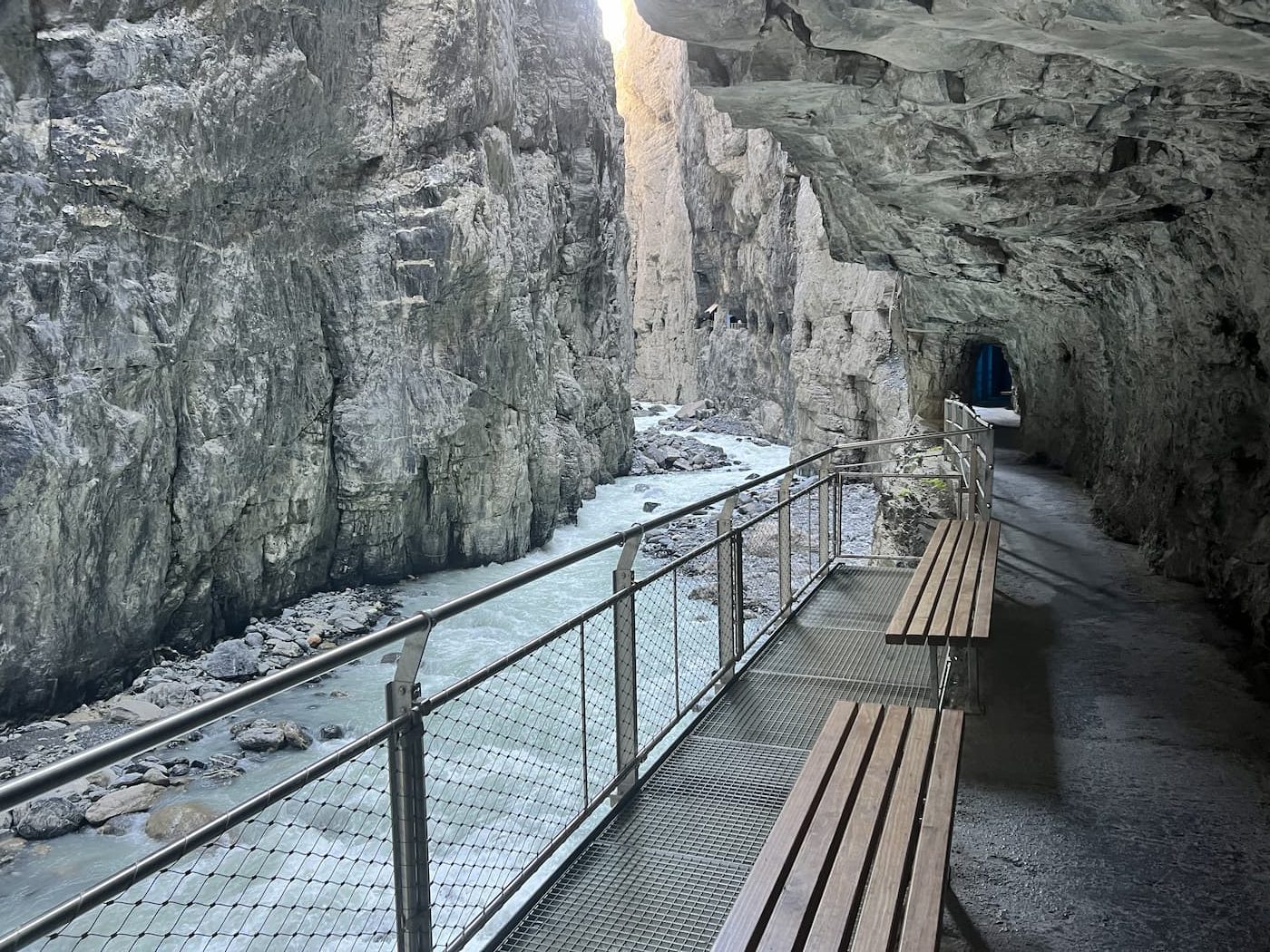 It is not the most jaw-dropping hike in Grindelwald, but it's an easy walk and fun to do with kids. And if you combine it will a canyon swing or climbing on the spider web, it will be even more memorable.
Plus, if it is super-hot outside, then it's the perfect place to be because of the cool rock walls and glacier runoff. I found it to be at least 5-10 degrees cooler than outside.
It can get quite crowded during summer and I weekends. I was there in early July and I had to dodge quite a lot of people along the way. However, keep in mind that the people do spread out, so what does look like a crowd at the beginning can thin out along the way.
Information Boards
If you are interested in geology, there are quite a few information boards along the way. You can learn all about glaciers and the canyon's formation over the centuries.
There are also some interesting facts about the canyon on one board which tells you all about the path.
And they also compare the Grindelwald Glacier over the centuries, as well as showing how long people have been fascinated with it.
Canyon Swing
For thrill-seekers, the canyon swing is an unforgettable experience. With a harness and rope, you swing down the gorge, getting a once-in-a-lifetime experience and perspective of the gorge.
Sure, it is not as crazy as a bungee jump or paragliding, but it's adrenaline-pumping nonetheless!
Spider Web
One of my favorite attractions in the gorge is the 170m² Spiderweb net, which hangs above the roaring Lütschine River. Balancing and climbing on this giant net you get to feel like a daredevil or maybe even a modern-day spider man!
It certainly is a unique way to see the canyon and not something you will find in every gorge you go into. I got the feeling that it was one of the highlights of the walk for most people. They were all crowded around taking pictures and enjoying bouncing on the net.
Sometimes you have to wait your turn, but there is usually space for 10+ people on the net. Just be careful not to have any loose items on you as they can fall through the net.
Crystal Museum
Right by the entrance is a small crystal museum with locally sourced quartz crystals on display. It is a small room with a lot of glass cabinets to see.
A lot of the crystals are quite large and impressive. It is definitely worth taking a few minutes to pop in. I did it as I was leaving and was amazed at the collection of crystals they had found.
Getting There
When I planned my trip to Grindelwald Glacier Gorge, I found out that it's easily accessible by car or public transport. The entrance is right next to the Gletscherschlucht Hotel.
By Car
If you're driving, it takes approximately 30 minutes from Interlaken. And, you can park right at the entrance to the gorge. This is the easiest way to get here for sure!
By Public Transport
For those who prefer taking the train, there's a bus available from Grindelwald railway station. And you can easily get to Grindelwald from Interlaken Ost – it takes around 35 minutes
The gorge is just a 35-minute walk from the center of Grindelwald village, but I opted for the bus ride to save time and energy. Bus 122 also leaves from the train station and takes around 15 minutes, give or take.
Best Time to Visit
The best time to visit the gorge is during summer when the weather is dry and warm, as it tends to be quite cool and wet in the gorge.
Having said that, I find that such walks are perfect for when the weather is less than ideal, as I like to save those days for the best Alpine views!
The Grindelwald Gorge is only open from May – October, so you can actually come anytime during that period.
Gorge Formation & History
The Grindelwald Glacier Gorge was entirely covered in glacial ice millions of years ago. The glacial ice water carved various rock formations and galleries which turned the area into the breathtaking sight it is today.
It is amazing to think that the Lower Grindelwald Glacier reached this far down the valley all those years ago. And even until 1973, the still existing part of the glacier was around 8.3 kilometers (5.2 mi) long. Of course, like almost all Alpine glaciers, it is continuously receding but is still visible from the Ischmeer that you can see on your way up to the Jungfraujoch at the Eismeer train station. So, if you are heading up the Jungfraujoch, stop there and take a look at what is left of the larger glacier!
Grindelwald Glacier Gorge Photos