The Lauterbrunnen Valley is famous for its many waterfalls. There are 72 waterfalls throughout the valley, some of which are more easily accessible than others. The wonderful cascades can be observed along most Lauterbrunnen hiking trails, and they're absolutely the highlight of trips to the village.
But the waterfalls aren't the only natural attractions that the countless walking paths in the Lauterbrunnen Valley will allow you to discover. Tall mountain peaks, spectacular panoramas, and iconic tourist attractions can all be discovered when hiking in the Lauterbrunnen area, and this guide will tell you everything about the best trails in the region!
Getting to Lauterbrunnen
First thing first – let's cover all the transportation options you have for getting to Lauterbrunnen from other cities in Switzerland.
By Car
The quickest and easiest way to travel to Lauterbrunnen is by car. If you're driving a vehicle through Switzerland, it shouldn't take you more than 2-3 hours to reach Lauterbrunnen. The village is 3 hours from Geneva, 2 hours from Zurich, an hour from Bern, 90 minutes from Lucerne, and just 20 minutes outside Interlaken. You will be driving on tolled roads for the most part and you will need a vignette, which costs 40 CHF and is valid for an entire calendar year. There's no option to buy daily, weekly, or monthly vignettes in Switzerland.
When you arrive in Lauterbrunnen, you can leave the car at one of the several parking lots near the northern entrance to the village. There's a parking garage right next to the main train station in Lauterbrunnen, but it's a little pricey with a 17 CHF per day fee. A slightly more affordable option is the parking lot near the Lauterbrunnen church, which has a 15 CHF per day fee, and additional discounts for longer stays. The first hour is 3 CHF, and there are discounts for every additional hour.
By Train
Traveling by train is the best option for travelers who aren't confident driving a car through Switzerland. It won't be quite as quick, but it might end up being cheaper than car rental, vignette, and parking fees, depending on how many other people you're traveling with.
It's about two and a half hours from Zurich to Lauterbrunnen train station, but it includes four train changes. First, you travel to Bern in about an hour, then you get on a train to Spiez (30 minutes), followed by a quick, 20-minute connection to Interlaken Ost, where you can finally board a train to Lauterbrunnen and be in the village in just 20 minutes.
It's also two and a half hours if you're traveling from Lucerne, with just one train change in Interlaken. The travel time from Geneva is three and a half hours, and it includes changing trains at Bern and Interlaken.
Traveling by bus is possible, but I don't recommend it because it takes a lot longer than train travel and it's not really cheaper.
Best Hikes in Lauterbrunnen
Trummelbach Falls Hike
Trummelbach Falls is a system of glacier waterfalls 3km south of Lauterbrunnen village. It's a popular tourist attraction in the region, and an absolute must if you've already made it as far as Lauterbrunnen.
The trailhead for this easy hike is at the Trümmelbachfälle bus stop, which is accessible by car and bus from the village of Lauterbrunnen. It's just 4 minutes away by car, 8 minutes by bus, and a 35-minute walk from Lauterbrunnen. So, if you like walking, you might as well walk to the waterfalls.
The Trummelbach waterfall is less than 500 meters from the bus stop, and there's a marked walking path. The cascades are actually in a cave, and to enter the cave you must buy tickets (on the spot) that are 11 CHF for adults and 4 CHF for kids. Children under the age of 4 are not allowed to enter the caves. The path is often slippery, so it's necessary to wear sturdy hiking shoes with lots of traction.
Staubbach Falls Hike
Trail Length: 600m return
Hike Time: 30-45 minutes
Altitude change: 165m up / 25 down (one way)
Start: Staubbach Hutte, Lauterbrunnen (Google Maps)
The Staubbach waterfall is perhaps the most iconic cascade in the village of Lauterbrunnen. The massive waterfall gushes down the cliffs on the western side of the village, and it can be seen from most places in town. You can even rent apartments and hotel rooms with views of the waterfall, so you can enjoy this wonderful sight every day of your stay. We actually just camped near town recently and could see the falls from our campsite. A luxury indeed!
If you just want to see the waterfall, it's enough to go for a walk through Lauterbrunnen. Follow the main road in the village and continue straight (don't follow the road downhill to the river). You can't miss it as it's the path everyone walks through town.
If you want to experience a unique view of the waterfall, you can follow a short hiking path up the cliffs, which will take you to an observation deck that's practically behind the Staubbach Fall.
This easy hike is just 600m long, with an elevation gain of 165 meters. The trail is easy to follow as it's wide and gravel most of the way up. However, the ascent can ge a bit steep, and the path can be wet and slippery as you get toward the waterfall. So, caution and adequate footwear are a requirement. The trailhead for this short hike is near the church parking lot, so it's perfect for travelers who decided to drive to Lauterbrunnen.
Mountain View Trail
Trail Length: 5.1km
Hike Time: 2 hours
Altitude Change: 492m up / 68m down
Start: Grütschalp station
End: Allmendhubel
The Murren Mountain View trail is one of the more fun hikes in the valley. It's a moderately challenging path that's suitable for families, and it can be completed in 3-5 hours. The hike begins with a cable car ride to Grütschalp, from where you can follow the marked Mountain View path.
The trail will take you to Flower Park at Allmendhubel, where you can see a vast field of countless wildflowers. It's truly a wonderful sight, and there's even a playground here where the kids can have some fun while you take in the beautiful views.
In total, it takes less than two hours to reach Allmendhubel from Grütschalp, and you've got a few options for a return trip to Lauterbrunnen. You can ride the cable cars to Murren and Stechelberg, from where it's possible to get a bus back to Lauterbrunnen. Or you can follow the same hiking trail to return to the village.
Lauterbrunnen to Stechelberg
Trail Length: 6.8km
Hike Time: Approximately 2 hours
Altitude Change: 130 up / 20m down
Start: Lauterbrunnen
End: Stechelberg
Lauterbrunnen to Stechelberg is an easy hike along the Lauterbrunnen Valley floor, which offers views of many of the valley's waterfalls. The point-to-point trail is approximately 7 kilometers long, and it's possible to hike back via the same path, or you can just take a bus back to Lauterbrunnen.
We hiked part of this trail at night as an after-dinner walk from the campsite. The trail basically follows a road down the valley most of the way. Although it is a road, it is not the main one to Stechelberg, so you won't be bothered by much traffic, only lots of other hikes during peak season, especially close to Lauterbrunnen.
Some base jumpers launch themselves from various points down this valley. And although we did not see them jump from there, we see them twisting and turning to reach the ground. They typically jump from the sheer cliffs near Trummelbach or on the other side. There are also spots near Murren.
It takes around three hours to complete this hike, but that's if you don't do any detours. It's possible to combine this hike with a trip to Trummelbachfalle, as well as climb to the base of a few different waterfalls along the way.
The hiking trail is mostly flat and the elevation gain is gradual, but there are a few steeper sections along the way. No sections of the trail are extremely challenging or dangerous, and the path is suitable for anyone, even with a pram or wheelchair.
Männlichen Panorama Trail
Trail Length: 4.5km one-way
Hike Time: 1hr 20minutes from Männlichen, 2hr from Kleine Scheidegg
Altitude change: 161meters
Start: Männlichen Gondola station (Google Maps)
The Panorama Trail from Männlichen to Kleine Scheidegg is one of the most popular walks above Lauterbrunnen. I just did it last weekend and it is stunning. You walk on a wide, easy, gravel path that slopes downhill from Männlichen to Kleine Scheidegg showering you with stunning views all the way.
Although you can do it either direction, the best way to do it is from Männlichen because that way you get to see Eiger, Monch and Jungfrau, along with other 4000-meter peaks the whole way. It really is one of the most mind-blowing walks you can do in the area. We combined it with the Royal Walk, and it only takes a couple of hours to do the two.
From Kleine Scheidegg you can get back to Lauterbrunnen by train, or if you still have some more energy, you can continue on to the Eiger Trail up at Eigergletscher station.
Mürren Panorama Trail
Murren Panorama Trail, also known as the Flower Trail, is an easy hike from Allmendhubel to the village of Murren. This hiking trail starts at the Allmendhubel playground, and it's the perfect continuation of the Mountain View Trail.
Out of all the hikes in the Lauterbrunnen Valley, this is the one that's perfectly suitable for total newbies, families with small children, and people who don't enjoy hiking but want to discover the sights around the valley.
The hike takes less than an hour to complete and the trail is 2.2 kilometers long. Most of it is a downhill hike; there are a few switchbacks along the way, but it's nothing scary or dangerous.
Schilthorn Panorama Trail
Schilthorn is the stunning mountain in the Swiss Alps where the iconic Bond movie On Her Majesty's Secret Service was filmed. Piz Gloria, the revolving restaurant at the top of the summit is the final destination of the hike, and it's worth noting that you can reach it only by cable car.
It's possible to reach Lauterbrunnen from Schilthorn in several different ways, including hiking for the most part or riding public transport for the majority of the way. It's worth noting that you can't hike from Schilthorn because the area is usually covered with snow and suitable only for ski access.
So, how do you get to Bond World without spending all of your time on trains and cable cars? Your best option is to hike from Lauterbrunnen to the village of Murren, where the cable cars for Schilthorn depart.
It will take you around three hours to cover the 6.6 kilometers of this point-to-point trail, and it's worth the effort. It's worth noting you can get discounts on most train and cable car tickets required for this trail if you have the Swiss Travel Pass.
Schynige Platte to First Trail
Trail Length: 16.2 km loop
Hike Time: 6 hours
Altitude change: 825m up/639m down
Start: Schynigge Platte (Google Maps)
End: First Gondola
Schynige Platte to First is a challenging, yet stunning hike outside of Lauterbrunnen that I did over two decades ago. It is quite a long hike, so I recommend it only for fit hikers, but boy is it worth it. The path is a typical Swiss mountain path – rough and steep in parts, and the hike is long (we split it over two days, staying overnight on the Faulhorn).
The fabulous views of the distant 4000m peaks: Eiger, Monch, Jungfrau, Wetterhorn and so on, along the way make the entire experience worth every step. Just keep in mind that this isn't your average Lauterbrunnen waterfall hike. I actually found the climb to the Faulhorn quite hard as it is at 2681 meters.
Also, it is quite far away from Lauterbrunnen, compared to many of the other hikes in this list, so don't expect to be back for dinner!
It starts in Schynigge Platte which is easily reached by train from anywhere in the area. And it ends at the top of First, where you catch the gondola down to Grindelwald again.
Obersteinberg Loop
Trail Length: 17 km loop
Hike Time: 4.5 hours
Altitude change: 1,260 m up/down
Start: Stechelberg (Google Maps)
If you want to get away from the crowds, then the Obersteinberg Loop is a stunning but challenging trail at the end of the Lauterbrunnen valley. It can be done as a hike, mountain bike ride or trail run, and starts at Gimmelwald.
The entire loop trail is approximately 17 kilometers, so this is an all-day hike from Lauterbrunnen. The trail begins at the Stechelberg bus stop, which can be reached by bus or walk from the village.
This hike was actually recommended to me on my recent visit to Lauterbrunnen by a old local lady I met at the Staubbach Falls. She said it was a beautiful Nature Park and the best places to avoid the crowds in summer.
The trail takes you to Obersteinberg and Oberhornsee, featuring some spectacular landscape views along the way. You'll walk through forests, and alpine meadows, and some more of Lauterbrunnen's famous 72 waterfalls. Schmadri Falls is one of the highlights of the trail, along with Talbach Falls and Oberhornsee.
Where to Stay in Lauterbrunnen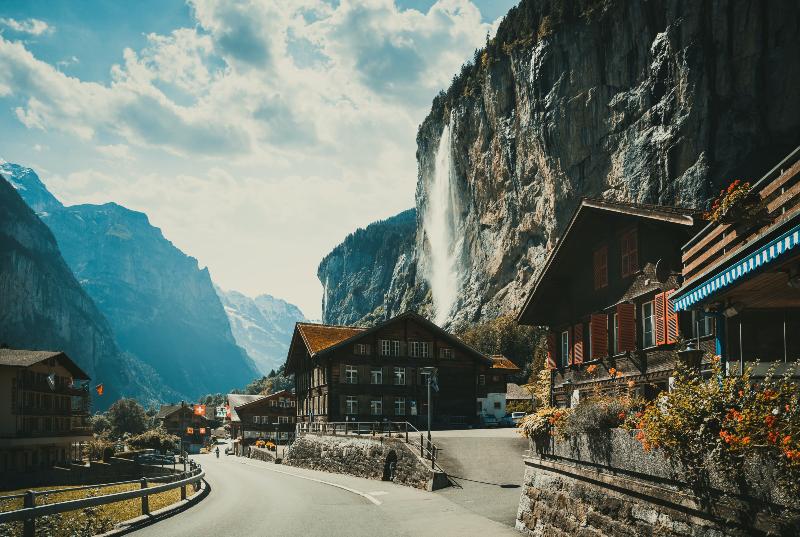 Lauterbrunnen village is small, so it doesn't matter where you stay, location-wise. All the apartments and hotels are within walking distance of one another, so it will come down to the level of service and luxury you're seeking.
If you're okay to spend a bit more on the accommodation in Lauterbrunnen, I would recommend one of the chalets that overlook the Staubbach waterfall. Waking up every morning to the views of this majestic cascade is amazing, and it will elevate your experience of the village.
There's also a campsite close to the falls. It's a good budget option for people who want to experience the fabulous views, but without spending a fortune. Lauterbrunnen's hotels are in the northern area of the village, and they're all mid-range hotels, with an average price of 150-300 CHF for a nightly stay.
Best Time to Visit Lauterbrunnen
The best to visit Lauterbrunnen for hiking is either in May /June or September/October. The days are long enough and warm but not too hot,
The crowds are smaller in these months and later in the year, the snow has melted. Most hiking trails are in great condition, and you won't have to bump elbows with fellow hikers on the trails.
July and August are the warmest and most popular months in the village, and they're a better option if you're hoping for long days with lots of sunlight and high temperatures. But expect the village and its surroundings to be quite crowded during these months because it's the high travel season.