Last updated: September 17th, 2023
Lucerne is one of the pretties cities in Switzerland with gorgeous nature and stunning historical attractions. Although there are plenty of activities in Lucerne itself, most outdoor lovers prefer to explore the countless hiking trails that are easily accessible from the city.
This gorgeous Swiss city is close to many tall mountain peaks, all of which offer spectacular panoramic views of Lake Lucerne and its surroundings. Walk through airy fir forests, climb the region's tallest mountains, and go on thrilling ridge hikes to discover the best panoramic viewpoints – that's just a basic summary of what Lucerne hiking offers!
Fronalpstock Panorama Trail
Distance: 1.6 km
Hiking Time: 30 minutes
Starting Point: Top of the Fronalpstock chairlift
The panorama trail along the Fronalpstock ridge is one of the best hikes in central Switzerland that requires minimal effort.
This is the simple version of a longer hike (see below) called the Stoos Ridge Trail. That hike is a lot longer and a little more technical. This one is flat and can be done with a pram.
The entire loop trail is just 1.6 kilometers, and it takes just 30 minutes. You can turn this into a longer and more demanding hike if you take on the steep slopes to Stoos on foot instead of riding the funicular. But I'd recommend combining this hike with the Stoos Ridge Trail, for an epic afternoon hike with spectacular views.
Getting There
From Lucerne, you need to get to Schwyz first, which can be done either in a car or by train and bus. Then you ride the world's steepest funicular from Schwyz to the lovely car-free resort town of Stoos. From there you have to take a chairlift to the top of Fronalpstock. Even if you don't walk much, the views are stunning!
Stoos Ridge Trail
Distance: 10.2 km
Hiking Time: 3 hours
Starting Point: Top of the Fronalpstock chairlift
Stoos Ridge Trail is a path from Klingenstock to Fronalpstock. It's one of the best ridge hikes in Switzerland and it includes a ride on the world's steepest funicular railway. This hike is definitely not suitable for people with a fear of heights as it really rolls along the edge of the ridge above Lake Lucerne.
The hike is approximately 10.2 kilometers in one direction and it takes about 2.5 hours to complete. The path is well-marked and easy to follow, but it includes a few steep sections and stairs.
I did this as one of my first hikes in Switzerland way back in 2002. It is so memorable I still have it clearly in my mind.
Getting There
Before you can begin hiking, you must first travel from Lucerne to Schwyz, more specifically to the lower station of the Stoos funicular. This takes just under an hour, and it includes a train ride to Goldau and then a bus ride from there to the funicular station. The funicular ride is absolutely thrilling, and a wonderful part of this entire experience. From there, you must take a chair lift from Stoos to Fronalpstock.
Rigi Panorama Trail
Distance: 7 km
Hiking Time: 1 hour 40 minutes
Starting Point: Rigi Wölfertschen-First or Rigi Scheidegg
Rigi Panorama Trail is an extremely popular one-way ridge walk starting on Mount Rigi high above Lake Lucerne. It is quite an easy walk by Swiss standards and should only take you 1.5-2 hours. It's the perfect excursion for hikers who want to spend a few hours exploring the panorama of Lake Lucerne region, but don't necessarily want to do a very challenging hike.
The hiking path follows the tracks of an old railway line, so it's virtually impossible to make a mistake and step off the route. The entire hike is 7 kilometers one way with an elevation change of 250 meters up and 80 meters down. One way, it should take 1.5-2 hours to complete, depending on which direction you do it in. In addition to some of the best panoramic views in the region, you'll notice quite a few rest stops along the way, as well as picnic areas, restaurants, and even a playground.
Getting There
The trailhead is near the Mineralbad & Spa Rigi Kaltbad, which can be easily accessed from Lucerne by train and cable car or funicular. Alternatively, you can start in Rigi Rigi Wölfertschen-First which is a stop on the gondola from the Arth-Goldau train station.
Felsenweg Bürgenstock
Distance: 5.2 km
Hiking Time: 2 hours
Starting Point: Bürgenstock Resort
The trail to Bürgenstock via Felsenweg is one of my favorite hikes near Lucerne. You get spectacular views of the lake, it also includes a ride on the famous Hammetschwand glass elevator.
The Bürgenstock Resort is the starting point of the loop trail and the total length of the trail is only about 5.2 kilometers. There's an elevation gain of approximately 200 meters and there aren't many very steep sections. It takes about two and a half hours to complete this hike, but that doesn't account for any stops you might make to enjoy the panorama of Lake Lucerne.
The trail features several restaurants and picnic areas along the way, so there are plenty of places where you can stop and take a break. Some sections of the hike are on exposed terrain, so make sure to wear SPF if you're doing this hike in warm weather!
Lake Toma – Source of the Rhine River
Distance: 8.5 km
Hiking Time: 2.5 hours
Starting Point: Oberalppass
Hiking to the source of the Rhine River is a wonderful experience, but it's manageable only for travelers who have access to a car in Lucerne. The hike starts near the Oberalp pass, which is only about an hour and 20 minutes outside the city of Lucerne. Traveling by train takes more than two and a half hours, which isn't ideal for a day trip.
On the other hand, if you like the idea of spending the night in a SAC mountain hut, you can consider doing this hike and traveling by train. It's approximately 90 minutes from the Oberalp Pass to Lake Toma and the path is not very steep. However, you will be hiking on exposed terrain for the most part, so sun protection is an absolute must, especially in the summer. It will take you a bit less time to come back as it is slightly downhill
Additionally, this is a rocky path, so it's best to wear closed footwear that offers plenty of protection. Lake Toma is a stunning sight; it's one of Switzerland's crystal clear lakes that allows you to see the peaks of the surrounding mountains reflected on its surface.
Rigi Kaltbad – Rigi Kulm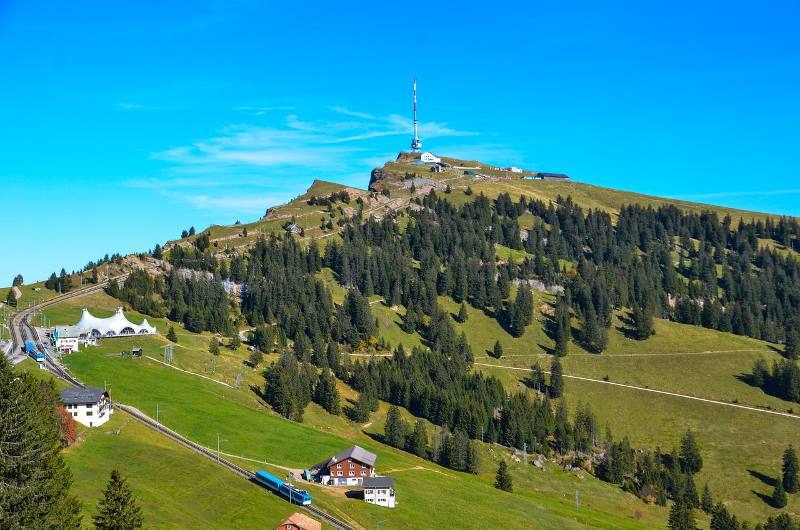 Distance: 5.5 km
Hiking Time: 1.5 hours
Starting Point: Rigi Kaltbad
The hike from Rigi Kaltbad to Rigi Kulm is a classic short but steep hike to the top of Mount Rigi. Even though the path is only some 4.5 kilometers long, it will take one and a half hours to complete this hike, and that is if you are hiking fast. It's a steep climb to Rigi Kulm, but the panoramic vistas from the top of the summit are absolutely worth the effort. I can tell you from experience, as I have done this hike many many times! You can see 360 degrees views from the top of places including – Zug, Lucerne, Lake Lucerne, Lake Zug, and more.
The trail starts (or ends) near the Mineralbad & Spa Rigi Kaltbad, which is the perfect stop after the hike. They have a spa with an amazing view.
If you want to do the full epic Rigi hike I recommend you start in Vitznau instead, it is 4-5 hours and quite the climb at over 1350m ascent! Most people do this easier version though as you can combine it with the train or gondola.
Getting There
From Lucerne, you need to get to Weggis. This can be done by either train and bus or by boat. Either journey takes approximately 40-50 minutes, but I would recommend the boat ride since it's much more panoramic. At Weggis, you can ride the gondola to the Rigi Kaltbad station.
The last 2.5 kilometers are just the descent back to Rigi Kaltbad, and in this direction, it's mostly a downhill walk. Feel free to check out Rigi's thermal baths once you complete this hike; it's the perfect end to a lovely half-day adventure, and it will allow you to relax and recharge your batteries after a hard hike.
Another option is the cogwheel train from Vitznau which is also a lot of fun.
Lake Sempach Circular Path
Lake Sempach circular path is a loop trail around the lake featuring stunning scenery and quite a few opportunities for swimming. From Lucerne, I recommend taking a train to Nottwil – it's only a 20-minute ride from the bigger city, and you can begin hiking the moment you get off the train.
Another great thing about starting the hike here is that you'll get the steepest section of the trail out of the way immediately. This is considered a moderately difficult hike, but mostly because it takes about 4 hours to complete. The terrain itself is not very challenging or steep, and for the most part, you're following a pedestrian path right next to the train tracks.
The total length of the loop trail is approximately 19 kilometers. It passes through villages and towns and features many rest stops and picnic areas, as well as a few different beaches. The Sursee beach on the northern shore is approximately an hour from Nottwil, while the Sempach beach sits on the southern shore of the lake.
Wildheupfad
Wildheupfad or the Wild Hay Trail is an interesting hike near Lucerne. It's known as the hay trail because it passes through meadows that farmers use for haymaking. The trailhead is at the upper Eggberge gondola train station, and it's much easier if you do it in this direction since it's mostly downhill. You need to reach the gondola in Flüelen, which can be done by car (30 minutes), train (an hour), and boat (2 hours 45 minutes).
The hiking trail is 7.2 kilometers, and it takes just under three hours to complete. It's a point-to-point hike, and to get back to Fluelen, you can descend with the Oberaxen gondola. The trail is not very challenging but it does mostly feature rocky terrain and some steep descents, so just be cautious.
Along the way, you'll pass near waterfalls and experience beautiful panoramic views of Lake Lucerne. A short section of this hike even passes through the forest, for some very much-needed shade. This is one of the trails suitable for families because the hike is perfectly safe for kids with previous hiking experience. Additionally, it's worth noting that children can get discounted tickets for cable car rides.
Waldstätterweg trail
Waldstätterweg is a long-distance hiking trail that's perfect for anyone looking for a proper challenge in the Lucerne region. The trail is usually split into seven stages, each of which takes an entire day to complete.
The multi-day hike takes passengers from Brunnen to Rutli, both of which are towns on the shore of Lake Lucerne. Although the two towns are on opposite shores of the lake, this trail follows the longest route from Brunnen to Rutli, stopping at Vitznau, Kussnacht, Lucerne, Alpnachstad, Bürgenstock, and Beckenried along the way. This really is the who's who of Lake Lucerne trails!
During this week-long hike, you'll experience magnificent views of the lake, walk along the foot of Mount Pilatus, and see some stunning waterfalls, and historical landmarks. It's truly a unique experience in the Lucerne region, and it's perfectly suitable for hikers who have never done a long-distance hike and want to try one. If at any point you want to give up, you can just board a train or a boat in the next town.
It's worth noting that you can pair this hike with the Swiss Path from Rutli to Brunnen, and turn this into a 9-day loop hike around the entirety of Lake Lucerne!
Map of Lucerne Hikes
Is Lucerne Good For Hiking?
Yes, the city of Lucerne is a good destination for hiking. The lake region offers countless hiking trails that range in difficulty from easy walks to grueling multi-day hikes, so there's something for everyone.
It's important to note that most trails in the region of Lake Lucerne are accessible between the months of May and October. The lake is surrounded by some tall mountain peaks, and hiking on those summits is not really possible the rest of the year because of rain, snow, and trail conditions.