Last updated: June 28th, 2023
Jungfraujoch is a mountain saddle between Eigher and Jungfrau peaks. It's famous for being home to Europe's highest train station and post office, and it's locally known as Top of Europe. This is without a doubt one of the most impressive attractions in Switzerland, and it's always a good idea to visit it.
If you're staying in Lucerne, you can easily travel to Jungfraujoch, but it will take a while. I wouldn't necessarily recommend a day trip to Jungfraujoch from Lucerne because you could spend up to 8 hours riding trains, but it's perfectly possible to do it. In any case, here's everything you need to know about visiting Top of Europe from Lucerne!
How to Get to Jungfraujoch from Lucerne
By Train
It is possible to travel by train from Lucerne to Jungfraujoch, but it takes quite a long time and I would not recommend it as a day trip. On average, the entire journey takes around 4 hours to reach the Top of Europe from the lakeshore city of Lucerne, and that's if there are zero delays, and you don't have to spend more than 5-10 minutes waiting for your connection at every stop.
First, you need to take the direct train to Interlaken. The ride is approximately an hour and 50 minutes long and you can change trains at Interlaken to get to Grindelwald. It's possible to purchase a ticket for Grindelwald Terminal at Lucerne, and the price starts at 44.20 CHF for second-class tickets. First-class tickets are even more expensive (CHF 77.60), but it's also possible to pay 50% less for the train tickets if you have the Swiss Half-Fare Card.
Then you need to travel from the car-free village to the Top of Europe. Cogwheel train tickets from Grindelwald to Jungfraujoch start at 112 CHF for one-way tickets in second class, and it's worth noting that first-class tickets are only 2.4 CHF more expensive. Passengers in possession of the Swiss Half-Fare Card are eligible for a 50% discount.
In total, that's around 156 CHF for a one-way train ticket, or 78 CHF with a half-fare card. Round-trip tickets are just double the cost of normal tickets, so if you are traveling with several other people, renting a car for the trip from Lucerne to Grindelwald could save you quite a bit of money.
Additionally, it's also possible to travel by the Eiger Express gondola instead of the cogwheel train ride, and I think that's the better option. It's certainly the faster option; the gondola is approximately 47 minutes faster than the train, and a one-way ticket is 32 CHF, while the ride from Eiger Glacier to Jungfraujoch is 75 CHF, full price. If you get the Top of Europe Pass, most trains are free, as well as a bunch of other attractions in the area.
By Car
Traveling by car is faster than traveling by train, but it's important to keep in mind that you can only get so far in the car. Grindelwald is a car-free village, so you will need to leave your personal vehicle at one of the parking lots near the entrance to the village.
It takes approximately an hour and a half to drive from Lucerne to Grindelwald in perfect conditions. A section of the drive is up a mountain pass, and it is a very scenic road trip.
Then you need to ride the cogwheel train to the highest train station in Europe. It takes at least an hour to get from Grindelwald to Junfraujoch via Eigergletcher by cable car, but an hour and a half if you're traveling only by cogwheel train.
Things to See & Do at Jungfraujoch
Admire The Breathtaking Views
Jungfraujoch is famous for stunning views of snow-capped peaks, the Aletsch Glacier, and even Lake Brienz on clear days. You're standing at an altitude of 3,454 meters above sea level, so it's not really surprising that you get to experience excellent panoramic vistas as far as the eye can see.
Ice Palace
The Top of Europe is also home to an Ice Palace that is open 365 days a year. This attraction is a must-visit if you're already at Jungfraujoch, and it's certainly one of the highlights of the entire experience.
The corridors and halls of the ice palace were created back in the 1930s by various mountain guides, but the sculptures inside it are designed and made by local artists. You'll see bears, penguins, eagles, and other creations carved from ice, which is truly a unique experience. The temperature inside the ice palace is -3 degrees Celsius, so be sure to bring a warm jacket.
Sphinx Observation Terrace
Sphinx Observation Terrace is an outdoor observation deck that's part of the Sphinx Observatory. The terrace offers incredible views of the surrounding landscapes, but it can get a bit crowded during the busy season.
Additionally, it's worth noting that this is a proper astronomical observatory and a weather monitoring station, but it's closed to the public. It's crucial in certain solar experiments and it's currently used by universities from both Belgium and Switzerland.
Alpine Sensation
Alpine Sensation is the 250-meter-long corridor that connected the Ice Palace and the Sphinx Observatory. Walk through the corridor and you'll notice 30 plaques that are honoring the miners who lost their lives during the construction of the Jungfraujoch railway.
This section of the top of Europe is supposed to be grim and chilling in every way. Even the music plays a part in instilling some fear in visitors, and the relief is evident on the faces of visitors when they finally exit this chilling corridor.
Snow Fun Park
The Snow Fun Park is the place to be at the Top of Europe if you want to really enjoy yourself. It features a zipline over the Aletsch glacier, a toboggan run, and the option to rent skis and snowboards so you can rush down the slopes of Jungfrau.
The zipline is only 20 CHF while the toboggan run costs just 15 CHF, which is pretty affordable for such a unique attraction in Switzerland. It's worth noting that those are prices for adults, and children aged 6-15 get discounts on all tickets and rentals.
Jungraujoch Guided Tour from Lucerne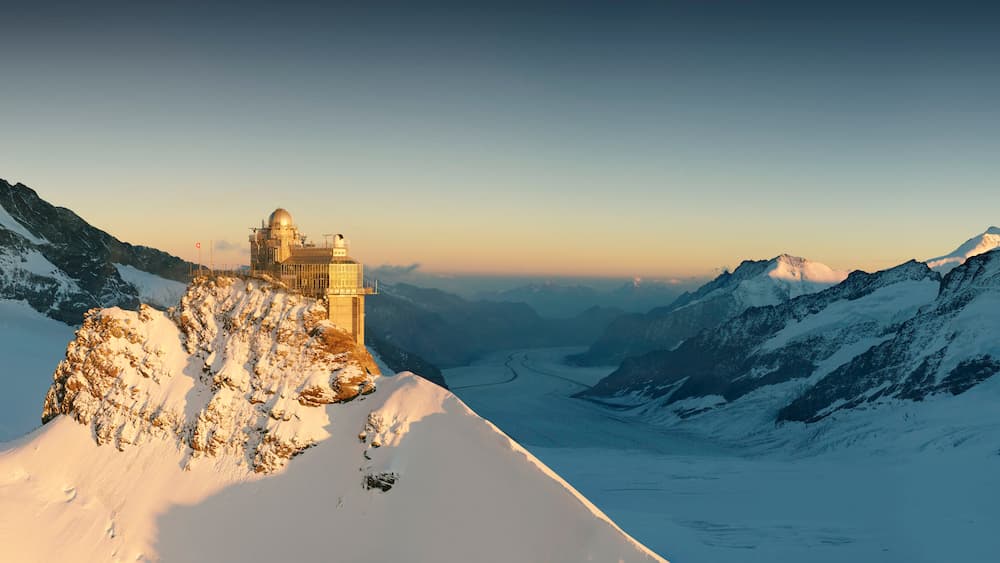 If you don't want to deal with the logistics of organizing a trip from Jungfraujoch to Lucerne yourself, it's best to just sign up for a guided tour and let the professionals take care of all the little details. All you will need to do is pay and show up at the agreed-upon location.
However, it's important to keep in mind that a guided tour will cost you significantly more than organizing the trip yourself. On average, these tours are priced at 250-300 Euros, but they can be a lot more depending on any extras that are included in the price. A two-day guided tour of Jungfraujoch from Lucerne will cost you at least 500 Euros.
Best Time to Visit Jungfraujoch
Jungfraujoch can be visited any time of the year so the best time for your visit depends on what you want to do in the area. If you want to go there just to experience being on Top of Europe and enjoy the views, a summer visit is absolutely perfect.
June is considered the off-season for Jungfraujoch visits, so it's the best month for the trip if you want to avoid crowds. However, it's important to note that the plateau is covered with snow even in the summer, so you will need to wear winter boots and jackets during the visit.
On the other hand, if you're into winter sports, then plan to visit Jungfraujoch in the winter. Just keep in mind that it gets really cold here during the winter season and it gets dark early in the day, so you might not have quite as an enjoyable time.