Lucerne and Interlaken are two of the most stunning destinations in central Switzerland. Both of these destinations are world-class and set on beautiful alpine lakes with surrounding mountains, which makes deciding between them extremely difficult
but don't worry, I'm here to help.
Join me as I run through everything you need to know to decide between Lucerne and Interlaken.
Below is a quick comparison, and after that, I will show you in more detail the things to do, day trips, transport, costs, and more
Let's dive in!
Quick Comparison
Lucerne
Interlaken
Location
Central Switzerland on Lake Lucerne
Bernese Oberland between Lake Thun & Lake Brienz
Accessibility
From Zurich: 45 minutes
From Geneva: 3 hours
From Zurich: 1 hour 45 – 2 hours
From Geneva: 2.3 – 3 hours
Population
Approximately 82,000
Approximately 25,000
Attractions
Chapel Bridge
Old Town & Musegg Wall
Jesuit Church
Museums: Wagner, Rosengart, Transport Museum
Glacier Garden
Lion Monument
Lake Lucerne Promenade
Lake Lucerne cruises
Old Town in Unterseen
Höheweg Promenade
Interlaken Castle & Monastery
Casino
Harder Kulm & Alpine Wildlife Park
Lake Brienz or Lake Thun Cruises
Day Trips
Mount Pilatus
Mount Rigi
Mount Titlis
Bürgenstock & Hammetschwand Lift
Stanserhorn
Stoos & Fronalpstock
Jungfraujoch
Grindelwald (Grindelwald First, Kleine Scheidegg)
Lauterbrunnen (Staubbach & Trümmelbach Falls)
Wengen & Mürren
Schilthorn
Schynigge Platte
Transport
Downtown Lucerne is walkable or there are buses
Boat, train or bus to nearby day trips
Interlaken is small and walkable
Buses and trains around town
Trains to mountain excursions or towns
Accommodation
More higher end options for food or accommodation
Airbnb has been restricted since 2023
More nearby options for those on a budget
Expensive in the summer when everything is booked
Wilderswil is a cheaper option
Limited compared to Lucerne due to size
Lucerne vs Interlaken – Quick comparison
Attractions
Lucerne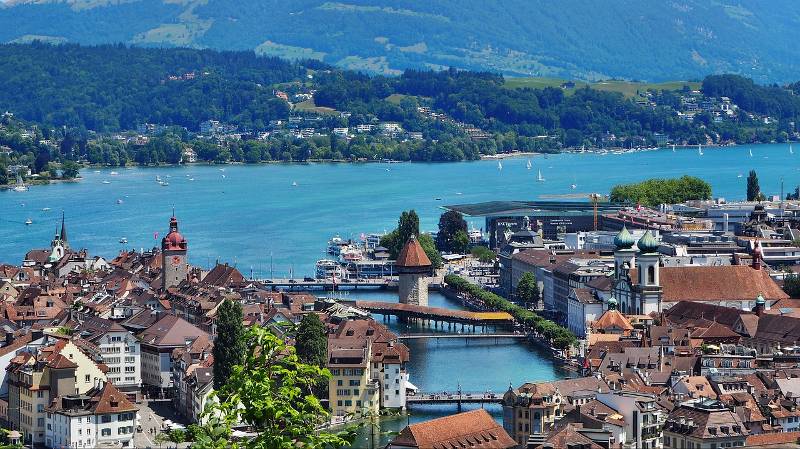 Being a city in the heart of the Alps means that Lucerne does have it all.
You can spend your time taking in cultural sights, shopping, and dining at great restaurants or in the outdoors exploring Lake Lucerne and the surrounding mountains. Here are some of the attractions not to be missed!
Chapel Bridge
The most popular attraction in Lucerne is Chapel Bridge. Dating back to the 1300s, it is the oldest wooden-covered bridge in Europe and is home to paintings on the ceiling that show you the history of Lucerne.
A stroll across it is a must and you can see views up the Reuss River and across Lake Lucerne too.
Old Town
Lucerne is home to a beautifully preserved medieval Old Town that is home to stunning architecture, lovely restaurants, fountains, and little boutique stores. It is also a car-free area so a stroll around the cobble-stoned streets is a delight.
While in the Old Town, be sure to see the Old Town Hall (Altes Rathaus) and the city's oldest chapel, St Peter's chapel.
You should also visit the Musegg Wall and other bridge, the Spreuer Bridge, further down the Reuss River.
Museums
While in the Old Town, be sure to stop in at the Sammlung Rosengart Museum. This is an art museum in a neoclassical building that holds a lot of Picasso's works from both the 19th and 20th centuries.
The smaller Wagner Museum is further along the lake from downtown Lucerne. It is not as close as the Rosengart, but if you want to combine a lakeside stroll, its worth a visit.
There is also the huge Transport Museum further along the north side of the lake. This is especially great for kids or on rainy days.
Lake Lucerne
Lake Lucerne is incredibly beautiful and if you visit during the warmer months, spending time at one of its many beaches is highly recommended.
Sunbathe on the beach, swim in the fresh alpine waters, rent a paddle board, go on a cruise, or simply take a walk around the lakeshore at sunset.
Interlaken
Also located in central Switzerland, Interlaken is similar to Lucerne in some ways but rather different in others. Sitting on the banks of the Aare River between Lake Thun and Lake Brienz, it is a stunning town with lake and mountain views with great access to nature, just like Lucerne.
However, being a town, Interlaken is a lot smaller than Lucerne and therefore does not have the same number of sights, restaurants, and hotels but it still has some great attractions.
Lake Brienz & Lake Thun
I do not know of many towns in the world that sit right between two jaw-droppingly beautiful lakes as Interlaken does. The lakes offer all kinds of opportunities from water sports to simply picnicking and swimming at the beaches if you visit during the summer.
The Old Town
Like Lucerne, Interlaken is also home to a historic city in the form of its Old Town. It is filled with old medieval Swiss architecture dating back to the 1200s and is a delight to walk around. One site not to be missed is the 13th-century Interlaken Monastery & Castle.
The Alpine Wildlife Park
If you want to see some endemic wildlife from the Swiss Alps then a short hike up to the Alpine Wildlife Park is certainly worth it. You will find the park just above the Harder-Kulm Cableway in Interlaken Ost and you will be able to see species like marmots, ibex, and more.
It is not a huge park, and there was no one there when I visited. But it is a great opportunity to see local species that are hard to spot in the wild.
Harder Kulm
To see some of the best views of Interlaken, take the Harder-Kulm Cableway up to Harder-Kulm. At the top, you can Interlaken with its lakes on either side and views into the Swiss Alps.
You'll be able to see the famous mountains of the area including Jufrau, Monch, and Eiger from the overhanging viewing platform.
Höheweg Promenade
The Höheweg Promenade connects Interlaken Ost (East) to Interlaken West and is "the street" that runs through town. It is a beautiful place to spend some time as it has great views of the surrounding mountains as well as shops, restaurants, and hotels to pop into.
Public Transport
Lucerne
Lucerne is quite a small city and is therefore very walkable so you can get around without public transport if you want to, especially in the Old Town.
Lucerne also has excellent bus and ferry links that will get you around town very efficiently if you do not want to spend all day on your feet. It also has a main train station that connects it to the rest of Switzerland.
Interlaken
Like Lucerne, Intelaken is serviced by a train station that connects you to all the major hubs around Switzerland. It is also a small town and is therefore very walkable so you can easily get around without any public transport if you want to.
If spending all day on your feet isn't your idea of fun then Interlaken has an excellent bus network that will get you around town very easily.
Food
Lucerne
Lucerne is famous for its traditional Swiss dishes such as Rosti, Bratwurst, and fondue. It is also famous for its steak since many of the local restaurants have made it a specialty over the years.
Outside of traditional Swiss dishes, you can find restaurants in Lucerne to match whatever you are looking for whether it is international cuisine or Michelin Star with a view of the sun setting over the lake.
Interlaken
Interlaken has a similar range of cuisines available as Lucerne but being smaller it doesn't quite have the same number of restaurants as Lucerne.
You will find restaurants serving up excellent traditional Swiss food such as rosti and fondue. Korean BBQ and Indian restaurants are also around town along with Italian and other world cuisines. You can also fine-dine at one of the many Michelin Star restaurants in Interlaken too.
Nightlife
Lucerne
Lucerne has a pretty fantastic nightlife for such a small city. You can find pubs, bars, and nightclubs that stay open until dawn depending on the kind of night you are looking for.
Something you shouldn't miss if you visit Lucerne in the summer is heading to the beach before sunset. You'll find the lakeshore lined with bars and there is nothing better than watching the sun go down with a cocktail in hand.
For a night filled with dancing, you will find quite a few nightclubs close to the river bank that book great DJs and stay open very late.
Interlaken
Interlaken has an excellent nightlife featuring cozy Swiss pubs, rooftop bars with mountain views, lakeside bars, and fun nightclubs that stay open late.
The Old Town is a great place to find traditional Swiss bars and nightclubs while the city center has a buzzing vibe with everything from bars to pubs and clubs. For cocktails with a view, head to the rooftop bars in Harder Kulm.
Shopping
Lucerne
Shopping in Lucerne is pretty fantastic as you have the choice of little boutique shops selling one-of-a-kind goods and souvenirs in the Old Town as well as high-end retail stores in the city center.
Lucerne is also famous for its jewelry and watch shops making it a great place to buy a Swiss watch, and there is a Swiss Army Knife store too.
Interlaken
Shopping in Interlaken is not the same as shopping in Lucerne. You have much fewer options to choose from overall, but there are still some gems to be found.
If you head to Höheweg you will find watch shops, chocolate shops, and souvenir shops as well as some retail stores.
Day Trips
Lucerne
Mount Pilatus & Mount Rigi
Lucerne's local mountain or mountains are just a short public transport ride out of town. You can find yourself at the top of Mount Pilatus or Rigi with incredible views across Lake Lucerne within 40 minutes of the city center.
From there you have access to hiking trails, mountain-top restaurants, paragliding, mineral spas, and lots more. It is a wonderful way to spend a day out of the city and reconnect with nature.
Cruising On Lake Lucerne
A very relaxing day trip from Lucerne is boarding a cruise that takes you around Lake Lucerne to all the little lakeside villages. You will see magical views across the lake and into the mountains, plus you can book a luxury cruise with a set menu and dine as you cruise.
Bürgenstock & Hammetschwand Lift
Another great day trip is to take a boat to Stansstad and hike along the Felsenweg path and up to Bürgenstock peak to ride the glass elevator. You will experience one of the best views in the area with Mt Rigi, Mt Pilatus, and Lucerne all together.
Interlaken
Interlaken is a gateway town to the Bernese alps and is known as an adventure town. It offers pretty much every adrenaline-rushing experience you could ask for in the mountains as well as epic access to some of the best alpine landscapes Switzerland has to offer.
Jungfraujoch
In just under two hours from Interlaken, you can be at the highest train station in Europe at Jungfraujoch, a ridge line connecting the two famous mountains of Monch and Jungfrau.
Getting there is an experience in itself as you literally take a train through a mountain, and the views along the way are spectacular.
At the top, you will see the Aletsch Glacier (Europe's longest glacier). You can also explore the Ice Palace, ski year-round at the Snow Fun Park, hike on the glacier, and lots more.
Enjoy Some Adventure Sports
Interlaken is renowned for its adventure sports and you can book everything from hang gliding to whitewater rafting, skydiving, paragliding, canyoning, heli-skiing, and more.
Grindelwald and/or Lauterbrunnen
Both Grindelwald and Lauterbrunnen are wonderful mountain towns to visit on a day trip. Grindelwald gives you access to First for adventures such as cliff walks, zip lines, mountain biking, and more.
Lauterbrunnen sits in a valley with 72 waterfalls and is a beautiful place to spend the day hiking and seeing some stunning waterfalls, of course.
Cost of Travel
Lucerne
You should budget about $170 US per day to visit Lucerne. This includes accommodation, food, entertainment, and drinks. But, you can also spend a lot more or a bit less depending on what level of dining and accommodation you choose.
Interlaken
Your budget for Interlaken should be around $185 US per day including everything. It is a little more expensive than Lucerne but only because of the activities, as accommodation, food, and drinks are all more affordable in Lucerne.
Best Time to Visit
Lucerne
The best time to visit Lucerne depends on what you would like to experience. The best weather with fewer crowds is in the months of June and September, this is also when it will be more affordable.
Better prices, hot weather, sunbathing on beaches, swimming in the lakes, and enjoying walking around town with blue skies above.
Lucerne is also pretty stunning in winter and you can ski in the local area – early January or early March is the best time to be there.
Interlaken
The best time to visit Interlaken depends on the activities you want to do. For good weather and summer fun, June and September are when you will have blue skies, fewer crowds, and more affordable rates.
If you want some fun in the snow, then early January and early March have good snowfall, fewer crowds on the slopes, and the prices are more affordable too.
Days to Spend in the City
Lucerne
Spending one day in Lucerne is simply not enough. The city and surrounding countryside have so much to offer and to experience it all you will want to be there for about 3 days.
This is enough time to see the city sights and enjoy a day trip or two to the mountains or the lake.
Interlaken
You can see the town of Interlaken in one day, but the stunning experiences close by to Interlaken take time to enjoy.
Interlaken is a great place to base yourself in order to explore the Jungfrau region and enjoy one of the many activities on offer around Interlaken. To make the most of this, spend at least 3 days in Interlaken.
Lucerne vs Interlaken: Which City Should You Visit?
If you are looking for more of a city visit filled with culture and architecture as well as access to nature, then Lucerne is a great choice for you.
You can discover all the sites of the town, enjoy the excellent food scene, and the awesome views across Lake Lucerne, not to mention get out onto the lakes and the local mountains.
But, if you want to spend your time doing outdoor activities in some of the most epic scenery in central Switzerland, Interlaken is hard to beat.
You won't have the same "city experience" as in Lucerne but the mountains, valleys, and lakes around Interlaken are far more dramatic and offer a lot more adventure than those in Lucerne.