Last updated: May 29th, 2023
The spring season in Switzerland might just be one of the best times to visit Switzerland. As the snow melts and the colder temperatures give way to lush greenery, breathtaking scenery, and stunning natural beauty.
You can enjoy all Switzerland has to offer with snow-capped mountains, spring flowers, forests, pleasant weather, and a lot less crowds than you'd experience in summer plus much more affordable accommodation.
Join me as I run through everything you need to know about spring in Switzerland. From what weather to expect to what to wear and all the great things to do during the spring season in Switzerland you will find it all below.
Weather
Spring in Switzerland runs from April through to mid-June and the temperatures change quite a bit between early and late spring in Switzerland. You also have to take into account altitude, as the mountain peaks will remain a bit chilly while the lowlands will see warm temperatures.
In April, temperatures will range on average from 10°C to 20°C in the lowlands whereas in the peaks of the Swiss Alps it will be between 10°C and 0°C. April is also reliably wet with rainfall hitting all parts of Switzerland.
During May, spring in Switzerland starts to heat up and it has an average temperature of 20°C. It is still a little chillier in the Swiss Alps and while there is less rain than in April, you should still expect a few showers.
June is the warmest part of spring in Switzerland as you would expect. On average, expect temperatures between 16°C to 25°C across the country. Lowlands like Ticino and Geneva can hit temperatures of 35°C and the mountains are reasonably warm with temps around 16°C.
June is also the driest month of spring in Switzerland, a few showers here and there but most days will be filled with blue skies. That being said, mountainous regions always experience some random weather so always be prepared when up in the mountains.
What to Wear
Knowing what to wear during spring in Switzerland is the key to ensuring you are comfortable and enjoy your spring vacation to the max.
The key is having enough layers to match the month you are in Switzerland and where you plan on visiting. If you are in the mountains, more layers will be needed compared to the lowlands.
The great thing about having enough layers and the right ones is that you will never be too hot or too cold.
If you are in the mountains, merino wool base layers are a must, with a fleece, down jacket, and waterproof jacket & trousers that will have you covered for any weather that rolls through. Add in some merino wool socks and waterproof hiking boots and you are always going to be comfortable.
In the lowlands of Switzerland, around Lake Geneva, for example, it is never going to be that cold. A Merino wool jumper with jeans would be enough, then carry a warmer jacket and a waterproof jacket in case the weather changes.
Switzerland is a pretty fashionable country, especially in cities like Zurich and Geneva, so bring some stylish garments that will keep you warm and dry too.
Always pack a hat, sunglasses, and swimwear when going to Switzerland in spring as the sun is strong and the alpine lakes are always inviting you for a dip.
Where to Go & What to Do
Spring Festivals
Switzerland is known for its fun spring festivals that celebrate the end of winter and the coming of spring.
In fact, no matter where you are in Switzerland during the spring, chances are there is a spring festival nearby as each region or town may have its own unique celebration to mark the arrival of spring.
Here are some of the most popular and well-known spring festivals in Switzerland:
Sechseläuten is a traditional spring festival that takes place in Zurich on the third Monday in April of every year. The streets are filled with dancers, music, processions, and beautiful flowers.
The highlight of the festival is the burning of the "Böögg," a snowman-shaped figure filled with fireworks. The faster the Böögg's head explodes, the better the upcoming summer weather is believed to be.
Fête de la Tulipe takes place in Morges, a small town on the shores of Lake Geneva. The tulip festival is about as beautiful as a spring festival with over 300 varieties of tulips and 140,000 flowers on show.
Frühlingsfest is the spring festival in Basel. The streets are filled with fun energetic shows from music performances and art exhibitions to street theater and culinary delights.
Gardens & Local Parks
Another lovely thing about visiting Switzerland in early spring to late spring is the flowers in blossom in all their lovely local parks and gardens.
No matter where you are in Switzerland, you are never far from a charming town or charming city that is inevitably going to have a stunning garden or park for you to explore.
The Geneva Botanical Gardens and Observatory might just be one of the top gardens in all of Switzerland and during spring you can see the six million flowers in bloom that call it home.
The capital city of Bern is also a delight and amongst its Old Town, a UNESCO World Heritage Site that'll wow anyone, there is the Rosengarten. Home to cherry trees in blossom during the early spring and hundreds of different roses in bloom along with stunning views of the city, it is a hard one to beat.
If you are in Interlaken, take a stroll around the stunning Alpine Garden where you will find over 750 different flowers that will be in bloom during the spring.
Panoramic Train Rides
One of the best ways of seeing Switzerland's breathtaking landscapes all in bloom during the early spring is by taking one of the many panoramic train rides Switzerland has to offer.
The Glacier Express is an iconic train ride that runs between Zermatt and St. Moritz. This train ride is an experience in itself as it cuts through deep valleys, around mountains, through stunning alpine scenery, and through picturesque Swiss villages.
The Bernina Express is another spectacular train ride that starts in Switzerland's oldest city, Chur, and goes all the way to Tirano in Italy. It is a UNESCO World Heritage route that runs through the heart of the stunning Swiss Alps and offers breathtaking views of the Bernina Pass, glaciers, and mountain lakes.
The GoldenPass Line is a scenic train route that stretches from Lucerne to Lake Geneva. It combines three different train lines that take you through the picturesque Swiss countryside, charming villages, and lush green meadows all with uninterrupted views of the Swiss Alps.
Museums
Switzerland is home to hundreds of museums and when there is the odd spring shower, hopping into a lovely museum is never a bad idea. Here are some of the top museums in Switzerland to visit.
Kunsthaus Zurich is one of Switzerland's most famous and important art museums. It is home to a huge collection of modern and contemporary art with works by famous artists such as Picasso, Monet, Van Gogh, Munch, and more.
The Swiss Museum of Transport is the most popular museum in Switzerland. Sitting next to Lake Lucerne, it is dedicated to transportation and showcases an extensive collection of vintage cars, trains, airplanes, and ships as well as interactive exhibits on the history and development of transportation.
The Museum of Art and History in Geneva is a museum not to miss. It houses a diverse collection of art, archaeology, applied arts, and decorative art as well as works from various periods from ancient Egypt to medieval, Renaissance, and contemporary.
The Olympic Museum is located at the International Olympic Committee Headquarters in Lausanne. It is dedicated to the history and spirit of the Olympic Games and features interactive exhibits, multimedia presentations, and memorabilia related to the Olympics.
Concerts
Switzerland is known for its diverse music scene and it is certainly worth seeing a concert or two when you visit in the spring. All the great cities have excellent concert halls that host a range of different musical events, here are some of the best.
The KKL Luzern, or the Lucerne Culture and Congress Centre, is known for its exceptional acoustics, and stunning architecture, and hosts orchestral concerts, chamber music performances, and other musical events.
Tonhalle Maag is a major concert hall in Zurich that hosts a wide range of classical music concerts, including symphony performances, chamber music recitals, and guest appearances by renowned soloists. It is also the home of the Tonhalle Orchestra Zurich.
Victoria Hall, located in Geneva, is a prestigious concert venue with a rich history. The hall is renowned for its neoclassical architecture, and excellent acoustics and hosts a variety of concerts, from classical to chamber music, and orchestral performances.
Stadtcasino Basel is another famous and historic concert hall and is the home of the Basel Symphony Orchestra. The hall hosts classical music concerts, opera performances, and other cultural events which are well worth attending.
Hiking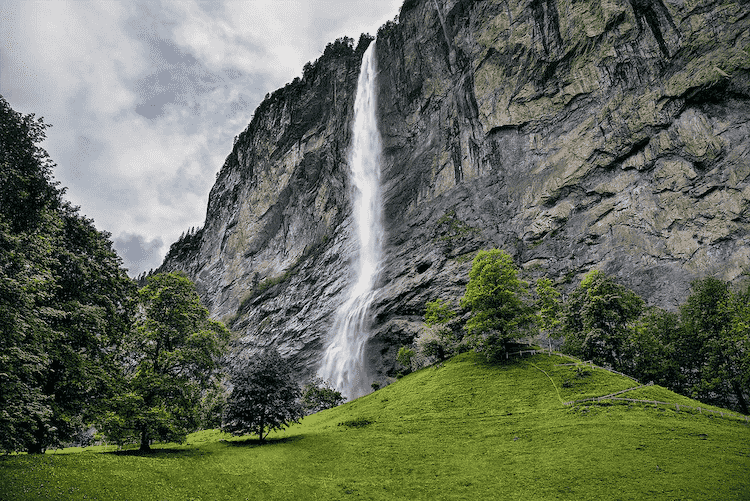 One of the best times to go hiking in Switzerland is in spring as the mountains are covered with wildflowers and lots more. Plus as spring continues, more and more high-altitude hiking trails in the mountains open up.
You are never far from a great place to hike in Switzerland but here are some of the best in my eyes.
The Lauterbrunnen Valley, aka the Valley of 72 waterfalls is incredibly beautiful and is filled with beautiful trails that will have you exploring some of the most stunning waterfalls in the country including Staubbach Falls.
The region around Lake Lucerne is also famous for its hikes. Hop on a ferry to Mount Rigi or take the gondola up to Mount Pilatus where you will find magical views stretching to the Alps and lovely trails to explore.
Other great places to hike include Engadine Valley, Valais, and the Jura Mountains.
Biking
If you are into mountain biking then Switzerland in spring is one of the greatest places to do it. There are so many trails that traverse incredible landscapes for mountain bikers to choose from that it is hard to know where to start. Here are some ideas:
Verbier is renowned for its world-class mountain biking trails as is Zermatt is not only famous for There are numerous trails to explore, ranging from easy to highly advanced.
Flims-Laax is another Swiss mountain biking paradise with a network of trails that caters to all levels of riders.
Other great areas with biking trails included the Engadine, Arosa-Lenzerheide, Davos-Klosters, and the Jura Mountains.
Water Sports
The lakes of Switzerland come alive with water sports as the water temperatures increase over spring. You can sail, kayak, stand-up paddle board, wakeboard, wake surf, windsurf, kite surf, and lots more.
Skiing
There are some parts of Switzerland where you can ski all year round and these higher-altitude ski resorts will still have snow in early spring.
If you want to take to the slopes head to Zermatt to ski the Matterhorn Glacier Paradise or Saas-Fee to hit the Mittelallalin Glacier, or the Titlis Glacier in Engelberg.
Frequently Asked Questions
What months are spring in Switzerland?
Spring in Switzerland runs from the months of mid-march through to mid of the end of June depending on where in Switzerland you are.
The mountains see spring starting a bit later as you would expect and it happens a bit earlier in the lowlands.
The best months for spring in Switzerland are May and June.
Is spring a good time to visit Switzerland?
Spring is one of the best times for visiting Switzerland and for quite a few reasons. Firstly, Switzerland is a lot less busy during the spring and this means fewer crowds.
All those must-visit attractions will be a lot quieter, as will the mountains, hiking trails, and pretty much everything else you will want to see.
Fewer tourists also mean more affordable rates. Your flights to Switzerland will be cheaper, as will your accommodation.
The beauty of Switzerland in the spring is also a huge benefit. You will hike amongst wildflowers and lush forests. All the flowers bloom in the local parks and gardens while the mountain peaks still have snow on them which adds to the breathtaking views of the amazing scenery.