Last updated: March 8th, 2023
Switzerland may not be known as a beer country like Belgium or Germany, but things have been on the move for the last decade or so. And Switzerland now has a burgeoning beer industry.
Sure, the market may have only consisted of a few breweries that have dominated the market for decades, but with the whole "IPA thing" exploding around the world, microbreweries are here to stay.
So, are you interested in learning more about Swiss Beer brands and the kinds of brews you should try in the country? Keep reading…
Major Beers in Switzerland
Let's start with the major players in Switzerland and work from there. And no, despite the fact that Heineken is one of the most popular beers in the Swiss Supermarket, we are only going to cover homegrown Swiss beer in this post!
Feldschlösschen
In German-speaking Switzerland, if you drive from Zurich to Basel, you will spot the red castle-like building of Feldschlösschen on the right-hand side of the highway. Founded in 1876, this brewery is an integral part of the Swiss beer market and you will see their beers at BBQs nationwide. Their most popular beer is Feldschlösschen Original, the light lager they have been making since time began. But they have diversified to what I consider to be some tastier beers of late with IPA, Dunkel and many more.
Calanda Bräu
Calanda Bräu is based in Chur in the east of Switzerland and has been brewing Swiss beers since 1902, although originally under another name: Rhätische Aktienbräuerei. They are like many of their Swiss competitors, actually owned by Heineken and only brew light lager style beers, along with the quintessential Radler (beer and lemonade).
Haldengut
Another of the original Swiss beer brewers in Switzerland is Haldengut, based in Winterthur, north of Zurich. They were founded in 1843, but have since been integrated into the Heineken Switzerland family of beers. Heineken has moved the brewing to the Calanda brewery in Chur since that time. They produce lighter beers like the others in this list, predominantly lagers, however, they do have a more interesting unfiltered beer called Haldengut Zwickel.
Eichhof
Eichhof brewery is based in Lucerne and has been brewing beers since 1834, so they certainly know their stuff. They have a few staples in their repertoire like lager and draft beers, but they have been branching out recently and have a lot more variety with beers like malt, dark, unfiltered, and more. You won't find most of them on shelves in the supermarket, but if you are in Lucerne, keep your eye out for their beers in local bars.
Valaisanne
It might start to sound boring, but Valaisanne has also been a big participant in the Swiss beer industry since the mid-1800s and has a range of tasty beers that you will see on Coop shelves these days.
Their beers range from their famous blonde to Valaisanne Abbaye (a Belgian-style beer), Valaisanne IPA, and a few more specialty beers you should try.
Appenzeller
Appenzell might be one of the smallest cantons in Switzerland, but the Swiss beers from the Apenzeller brewery are very well known. Their most famous beer, which I have certainly sampled with friends on many occasions is Quollfrisch, which comes in a distinctive blue can and is a light and refreshing beer that goes down well on a warm summer's night.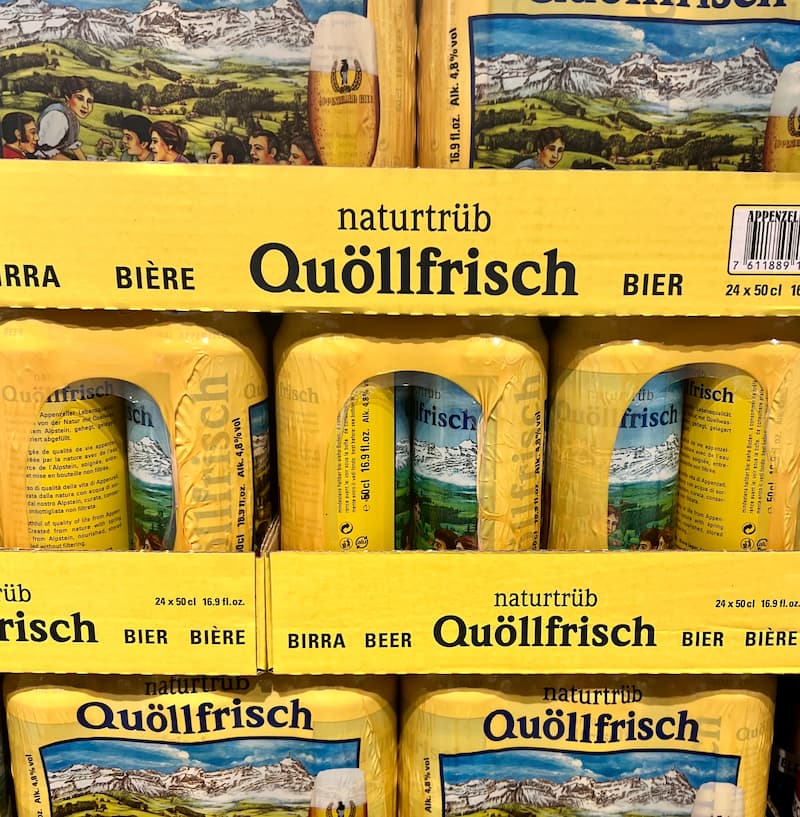 They also have a few others worth trying like their Hellbier (light), Dunkelbier (dark), and the famous German style Weizen, which is Wheat beer in English.
Microbreweries and Craft Beers in Switzerland
More local breweries have been popping up in Switzerland over the last few decades and the quality of the Swiss beers they produce is astounding. There are too many Swiss microbreweries to name, but here are a few you might see around or are worth trying if you stumble across them.
History And Culture
Beer has a long history in Switzerland, as it does in most of central and northern Europe. In fact, the first beers were drunken by the Gauls, back in Roman times. However, the first recorded beer brewing was in St Gallen at the local monastery in 754 AD.
Beer brewing boomed in Switzerland during the 1800s and there were some 500 individual breweries by the end of the century. They formed an association to stop the influx of foreign beers and protect their market. This was taken one step further during the Great Depression when the local Swiss brewers created a cartel to lock in their dominance for most of the rest of the 20th century.
As recently as the 1980s, foreign beers made up only 1% of the Swiss market. However, things were about to change rapidly. Later in the 1990s, after some of the big local brewers left the cartel it collapsed. At this stage, there were as few as 24 breweries left in Switzerland and the big guns like Heineken started buying up what was left.
Although by the end of the 20th century, foreign beers were still only 16% of the market. Today, microbreweries are taking off and although there were only a few brewers just a few decades ago, there were over 1278 in 2021. This means more choice, more flavor and more beer for anyone who visits Switzerland today!
Frequently Asked Questions
What is the most popular beer in Switzerland?
The most popular brand of beer in Switzerland is Feldschlössen followed by brands like Cardinal, Valaisanne, and Warteck.
What beers are made in Switzerland?
There are countless brands of beer made in Switzerland such as Feldschlössen, Calanda, Apenzeller, Eichhof and Valaisanne. There are now over 1270 individual breweries in the country producing an endless range of beers to try.
Are there any Swiss beers?
Yes, Switzerland has over 1270 individual breweries and many large brewers like Feldschlössen, Calanda, Valaisanne and Apenzeller.
What is the traditional beer of Switzerland?
The Swiss traditionally drink larger or light beers, including Hellbier and Weizen. However, more recently, foreign trends have been changing beer drinking habits with more Belgian styles and IPAs.