Planning to visit Iseltwald, Switzerland? Then you are definitely in the right place because this detailed guide will tell you everything you need to know about the charming lakeside village!
The pretty village of Iseltwald is situated on the southern shores of Lake Brienz, and it is easily accessible by roads and waterways. When to go, where to stay, how to get there, and what to do once you're there – everything is covered in this detailed guide to visiting Iseltwald!
How to Get to Iseltwald
Iseltwald is easily accessible by road, ferries, and buses. If you're road-tripping through Switzerland, you can easily just drive to Iseltwald and this is the quickest and most convenient way of reaching the lakeside town.
The second-best way of traveling to Istewald is via a train to Interlaken. This is by far the most convenient option if you're relying on public transportation, especially because Interlaken is connected to all the major cities in Switzerland via train. Traveling from Interlaken to Iseltwald is easy – you can ride the local bus or take a ferry. The bus takes about 20 minutes, while the ferry travels for approximately 45 minutes. Unfortunately, Iseltwald doesn't have a train station, so it's not possible to travel directly to the town by train.
If you're going to be staying in Istewald for a while, the bus service is the better option. But if you're thinking of visiting this charming village on a day trip from Interlaken, definitely take the ferry – it's a great opportunity to discover more of Lake Brienz, as well as an unforgettable experience.
Best Time to Visit Iseltwald
The best time to visit Iseltwald is between June and August, and this is when most tourists flock to the lakeside town. The summer months are perfect for exploring Lake Brienz, especially for people who want to have some fun on the water.
The downside of visiting during peak season is that you'll encounter large crowds of tourists. Also, everything tends to be a bit more expensive during the high season, so you'll need a bigger budget to properly enjoy the town.
That's why you should consider a visit in September. The kids are back in school so most crowds are gone, but the weather is still pleasant enough for an enjoyable vacation. The water temperature is also high enough that you can swim without a wetsuit – the lake has been heating up all summer, so the water will stay pleasantly warm until mid-October.
May is also not a bad month to visit if you want to avoid the crowds, but keep in mind that the lake is still pretty cold in the spring. You can swim and engage in other lakeside activities if you wear a wetsuit.
Where to Stay in Iseltwald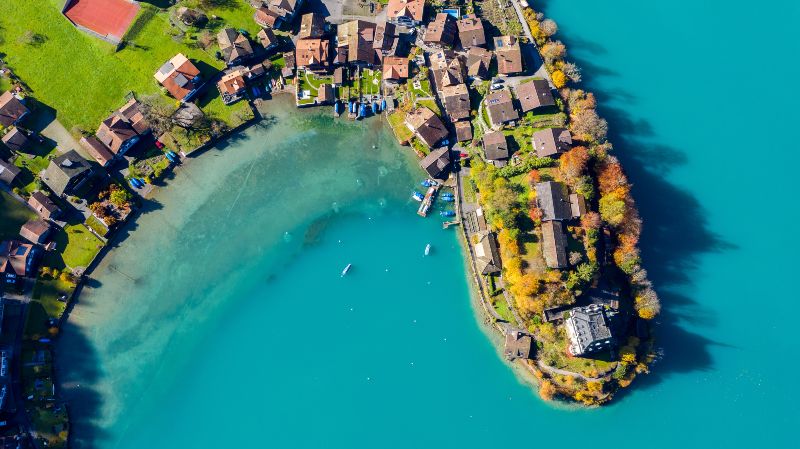 Iseltwald is a relatively small village, so it doesn't really matter where your accommodation is located. Most hotels are situated in the eastern part of the village, so you will most likely end up in that area if you're looking for a hotel room in Iseltwald.
You'll also find smaller apartments for rent, as well as a few different campsites. The village is a great place for campers and you can choose between a campsite that's a bit further back or one that is practically on the beach.
In case you're looking for budget accommodation options, the campsites are generally the best solution. There are a few hostels in the village as well, but you should keep in mind that they're not exactly affordable. Staying in a hostel makes the most sense if you're traveling alone, but if you're with at least one other person, you'll get more bang for your buck if you rent an apartment.
The cheapest accommodation options in Iseltwald start at around $100 per night but expect to pay around $200-250 for mid-range hotels.
Consider staying in Interlaken if you're on a tighter budget – it's a much bigger town with more accommodation options and much cheaper hostels. You can still explore every inch of Iseltwald on day trips!
Things to Do in Iseltwald
Lake Brienz
Lake Brienz is undoubtedly the highlight of a trip to Iseltwald, Switzerland. This lovely village is situated on the lake's southern shore and many of the attractions in the area are centered around the lake. This is one of the most beautiful lakes in the Bernese Oberland region, and Iseltwald is a town to stay in if you want to explore Lake Brienz.
You can rent sups, kayaks, and even motorboats if you want to have fun on the lake on your own. It's also possible to go on cruises from Iseltwald, and this is great for discovering the beautiful nature around this lovely village.
If you're up for something more adventurous, head to Interlaken or Bönigen for the day. You can travel by boat or bus (the bus is faster), and you'll find many more exciting ways to spend your time at Lake Brienz, whether you're into parasailing, rafting, or even bungee jumping!
Iseltwald to Giessbach
Giessbach waterfalls are a beautiful natural landmark on the shore of Lake Brienz. This is one of the most popular destinations in the area, and it's definitely worth a quick excursion from Iseltwald.
The Giessbach waterfall is 391 meters tall, and it's among the top five highest waterfalls in Switzerland. The impressive cascade rushes down 14 steps into the azure water of Lake Brienz, for a scenic sight you're unlikely to forget.
If you have a car in Switzerland, driving is the fastest way to reach the falls from Iseltwald. It will only take about 20 minutes, but it's not the most scenic route because around 3.3 kilometers pass through the Giessbach tunnel.
The longer, but more scenic way of traveling from Iseltwald to Giessbach is by boat. There's a direct boat connection from Isetlwald to Giessbach and it's by far the best way of traveling if you want to discover more of the lake and the fabulous nature that surrounds it. The boat ride is some 15-20 minutes, plus you need to walk for about 20 minutes from the pier to the waterfall.
Schloss Seeburg
The Seeburg castle is the most iconic landmark in this village. It was originally built in 1907 by the Bern merchant Gottfried Siegrist. The villa became uninhabited shortly after its completion, and in 1927 it was sold to Evangelical Diakonieverband Ländli, who converted the beautiful building into a recovery home.
Unfortunately, it is no longer possible to visit or tour the castle, as it has been turned into a rehabilitation center. Because of that, the best way to experience this castle is on a boat tour – the view of the magnificent building from the lake is absolutely incredible and it looks just as good in photographs.
Iseltwald Crash Landing Stage Dock
The Crash Landing Stage Dock in Iseltwald is a famous tourist attraction that was featured in the Netflix series Crash Landing On You. In the show, the male protagonist is seen playing dreamy piano music on this landing stage. In reality, it's a small wooden pier that extends into Lake Brienz.
The panoramic view of the pier is worth a stop even if you haven't watched a single episode of this show. It's also a pretty amazing spot for photographs – strike a pose on the wooden pier, with the turquoise lake and spectacular mountains in the background.
The scenic street of Schorren was also featured in the series, so don't miss it if you happen to be a fan of the TV show.
Strandhotel Restaurant
Strandhotel is situated directly on the lake shore, and it's a popular destination among tourists who want to wake up to spectacular lake views. The good news is that you don't have to stay at the hotel to be able to enjoy the vista – make a restaurant reservation at Strandhotel Restaurant, and enjoy delicious Swiss cuisine with a side of a breathtaking lake view!
Tables on the terrace offer the best lake views, and you can usually reserve them at no extra cost. Taste the local delicacies while gazing at the lake – it's likely the best way to end your days in Isetlwald.
Explore the Hiking Trails
Switzerland is known for its abundance of hiking trails, whether you're staying in a big city or a charming lakeside village. Iseltwald is no exception – there are plenty of hiking trails in and around the village that will allow you to discover the fabulous natural landmarks in the area.
Avid hikers and serious adventurers can attempt to hike from Iseltwald all the way to Giessbach. A (mostly) lakeside promenade connects the two towns, and it's about 6 kilometers long. It takes less than two hours to complete the trail, and it's definitely worth it if you want to discover as much of the area as possible.
The trail follows the lake for the most part and the total elevation change is a little under 300 meters. You'll also pass through mountain tunnels on the hike and even spend some time in the forest!