Last updated: March 22nd, 2023
Eating in Zurich is a real treat. Since I have been living here for many years, things have gotten even better.
From traditional Swiss food like Raclette and Fondue to international cuisines like Middle Eastern, Japanese, Thai and even Tibetan. Zurich has it all.
The only difficult choice is what are you going to eat while you are in Zurich. And where are you going to try it?
My only suggestion is that you try as many local specialties as you can. And that is what this post is all about!
Breakfast
Breakfast in Switzerland during the week is usually quick and easy. Either a croissant and coffee, a quick bowl of cereal, or the Swiss classic of Bircher Muesli.
Bircher Muesli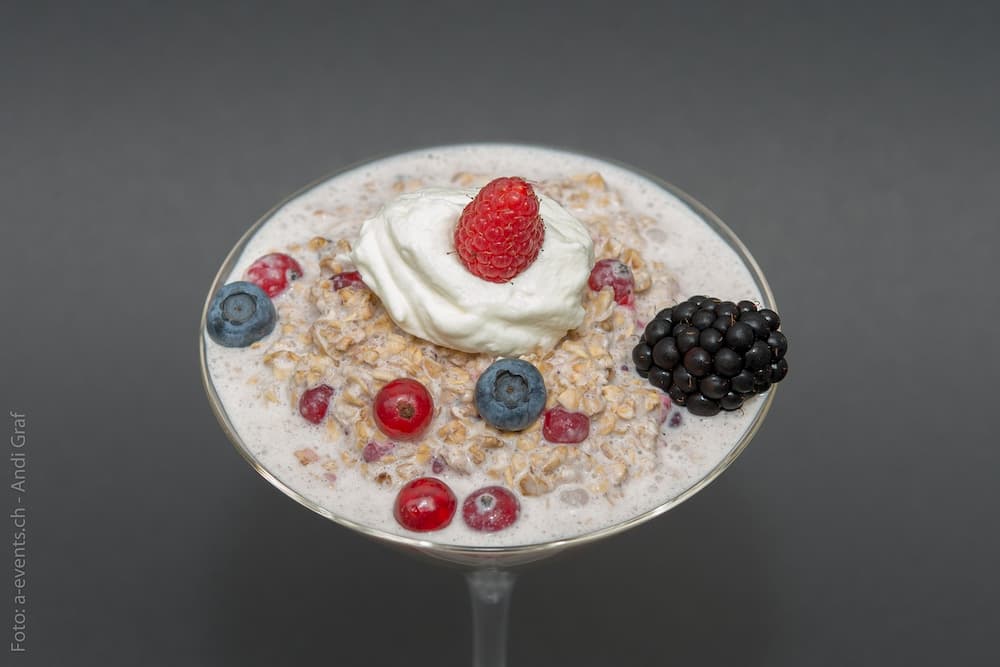 If you have not tried Bircher Muesli, then it is definitely something you should eat. You can often grab a take-out version from various places in the main station. But the best is if you can have it fresh at a breakfast place.
Here are a few places I recommend:
Gipfeli (aka Croissant)
The classic quick Swiss breakfast is the Gipfeli, which is just a croissant. You can grab one at a bakery or Coop To Go or other supermarkets on your way somewhere. Ob
Coffee
As an Australian, I have always been a little disappointed with the coffee in Switzerland. But Zurich has pulled up its socks of late with a takeaway shop called Vicafe. They know how to make coffee – anything from a flat white to an espresso. They are all over town, so you will always find one on your way somewhere.
There is also a wide range of sit-down cafes that have popped up, many with world-class coffee. First making waves in coffee trucks around town and now with a cafe you can visit is Miro. These guys know their way around a coffee bean!
From the following, I have not had a chance to try any, so let me know in the comments how they are. Here is a quick list:
Hot Chocolate
Switzerland is famous for its chocolate, as you probably know. And one great way to sample Swiss chocolate is hot.
There are quite a few places to get a great hot chocolate in Zurich, and one of the places people rave about is Café & Conditorei 1842. I had their hot chocolate quite a few years ago and it was thick, chocolatey and delicious. I assume it is still one of the best you can find in Zurich.
No matter where you go, just don't accept the run-of-the-mill Caotina hot chocolate they try to give you. It is powered and not worth ordering. You can make it at home. But the one at Cafe 1842 is home-made and epic!
If you want a little old-world vibe and lots of cake options then Cafe Felix on Bellevue is a classic. It is especially handy because it is right on the junction of many trams and not far from the lake.
Lunch
For most Zürichers lunch is eaten warm, instead of dinner. So, you have to make a decision if you want to have a big lunch or a big dinner. Either way, there are lots of options.
I won't list great lunch places here because they are usually the same as great dinner places, and I rarely eat warm lunches. Instead, I will give you a few options for a smaller lunch you can eat on the go while out and about in Zurich.
Here are some of the best restaurants and quick eats in Zurich:
Dinner
You are spoiled for choice in terms of what to eat in Zurich for dinner. Of course, you should try at least one cheesy dish while you are in town. Either raclette or cheese fondue.
Cheese Fondue
Cheese fondue is an absolute must if it's your first time in Switzerland. Just make sure you are not lactose intolerant! How does it work? You are served a bubbling pot of melted cheese and a basket of bread pieces. You then take your fondue fork put some bread on it and immerse it in the pot of cheese. As the cheese drips from your bread you quickly place it into your mouth!
Most people head to the Swiss Chuchi (Swiss Kitchen in Swiss German) for their cheese fondue. It's convenient as its right on Niederdorfstrasse in the middle of the old town. However, some locals have recommended the Fribourger Fonduestübli near the Stauffacher tram stop for a true fondue experience. And if you want to eat outdoors, then Frau Gerolds is also doing fondue in winter.
Raclette
Given that Switzerland is a cheese country, it is hardly surprising that raclette is so popular. The idea is to melt a small slab of cheese until it is oozing off the tray. Then you pour the melted cheese over steaming Swiss potatoes and add some spice or even some accompaniments like pickled onions.
So, if you want to immerse yourself in the raclette culture the best spot to try it is the Raclette Factory. Choose from a huge variety of raclette cheeses like pepper, chili, garlic, blue cheese, goat and more.
The Raclette Stube is another option in Zurich's old town. Or for something more rural, head out to the Chasalp in the forest above Zurich. It has a bit more of an authentic feel as you are really in the farmland above Zurich. So, if you have the time, I recommend it.
Zürcher Geschnetzeltes
Another Zurich dish you have to try is Zürcher Geschnetzeltes. It is a classic local dish made with small pieces of veal cooked in a creamy white wine sauce. Some options for the best restaurants for this dish include the Kronenhalle, Rosaly's and the stunning Zunfthaus zur Waag right behind the Fraumünster church in the old town.
Sweets & Chocolate
Ok, so maybe you had dessert while you were out at dinner. However, you should also sample some of Zurich's tasty treats while are you roaming the city too.
Luxemburgerli
The first thing anyone told me to have when I first arrived in Zurich was a Luxemburgerli. Named after the city, because the creator came from there, this famous Zurich macaron is an absolute must. With lots of different flavors including caramel, strawberry, chocolate, pistachio, and champagne, how can you go wrong?
You can only buy them at Confiserie Sprüngli stores, but they are all around the city. And what are they like? My best description would be little clouds of hard pastry with a smooth tasty butter between them. Grab a small box full (if you can afford it) or just sample a couple while you are in the store. And while you are there, you can also try their cakes, pastries and chocolates!
Läderach
More of a newcomer in the chocolate shop industry in Switzerland, Läderach has amazing chocolate and you can find them all around Zurich. There is one in the main station shopping center, one over the road on Bahnhofstrasse, and lots lots more.
The best thing you can do at Läderach is grab a selection of their broken chocolate shards. They make huge blocks of creative chocolate mixes and then snap off big chucks for you. You can buy them in pre-packaged bags or make your selection at the counter. Just be aware that it is not cheap. So, don't go too crazy!
Cake & Pastries
Cake and pastries are not Switzerland's strong suit if you ask me (France and Belgium are way better), but there are a few places in Zurich with lots of cake and pastry. One place that is great for its wide selection and old-world ambiance is Cafe Felix (I mentioned them earlier).
Confiserie Honold has both chocolates and pastries and with quite a few options around town, you are sure to come across them.
Café & Conditorei 1842 is a staple in the Zurich cake scene and is also conveniently located right in the middle of Niederdorfstrasse. Their hot chocolate was always renowned, although I have not tried it for years. But the cafe experience there, with all the cakes as you walk in, is worth it for sure.
Not something you would come to Zurich for specifically, but why not try some cupcakes while you are here? Michelle's Cupcakes is one of the best in town and with two locations you should be able to find one near you.
Zurich Food Markets
There are a number of great food markets in Zurich where you can grab a quick bite to eat or sit down and enjoy the market vibe. Some are there all the time, and others come and go with the seasons. Here are a few recommendations I have:
Markthalle I'm VIADUKT – located near Hardbrücke, this small indoor food market is open all year
Jemoli Food Market – In the basement of the Jemoli store on Bahnhofstrasse
Oerlikon Market – Every Saturday morning local farmers gather here
Bürkliplatz Market – Another weekly market that is worth checking out.
Frequently Asked Questions
Where do locals eat in Zurich?
Zurich locals tend to eat in a variety of local cafes and restaurants and avoid the big chains you see elsewhere. Hip and trend options are more often visited by the locals like Cafe Dahei, Hiltl, Didis Frieden, and many more.
What food is famous in Zurich?
Food that is famous in Zurich includes such classics as Zürcher Geschnetzeltes, Rösti, Zürcher Eintopf, Bircher Muesli and Luxemburgerli.
Header image courtesy of Tambako The Jaguar on Flickr