One week in Switzerland – so many things to see, so little time. If it's your first trip to Switzerland you'll want to start with the best and most famous places – Zurich, Lucerne, Top of Europe, Zermatt, etc. This detailed itinerary will help you plan every little detail of that journey, from buying plane tickets to looking for souvenirs.
What to do and see, where to stay, and how much you should plan to spend in each of the locations are all included in this itinerary. I've also covered the overall cost of the journey, the best travel passes for Switzerland, and more.
Keep in mind this is just a rough guide. Switzerland is a bigger country than you might think and you can explore it any way you like. But if you're not sure where to begin, this 7-day Switzerland itinerary is a great start!
Arrival in Zurich
The best place airport to fly to is Zurich Airport. It is the largest and busiest airport in Switzerland so is ideal for international visitors like you. You'll find the most flight connections to Zurich, and tickets will probably be more affordable than to Switzerland's smaller airports. 
Getting from the airport in Zurich to the city center is as simple as boarding a local train. Here are the details:
run every 5-10 minute
journey time is 10-15 minutes
full-price tickets are around 7 CHF
It's also possible to take a taxi from the airport to town. The ride can cost anywhere from 30-45 CHF, and it can sometimes take longer than the train because of traffic.
Day 1: Zurich
Zurich Airport to Zurich HB Train: 10-15 minutes
Accommodation: 50-100 CHF (budget), 150-300 CHF (mid-range), 400-1000+ CHF (luxury)
Average Restaurant Meal: 25 CHF
Zurich 24-Hour City Card: 24 CHF
Zurich is the largest city in Switzerland and the best place to start your trip. It has a lot to offer new visitors, so I recommend booking a guided walking tour if you're unsure where to begin with your exploration of Zurich. 
Most walking tours of Zurich cover the city's most famous landmarks and attractions, including
Bahnhofstrasse
Fraumunster
Grossmunster
St. Peter's Church
The Opera House
Lindenhof
I would – highly recommend finding a condensed tour of the city's most famous sights so you have plenty of time to discover some other hidden gems. 
One such lesser-known gem in Zurich is the Chinese Garden. I recently recommended it to a friend who was staying in Zurich for the first time, and she was stunned. While you're there, you can also see the Pavillon Le Corbusier, which is just a 5-minute stroll away. 
If you'd like to visit a museum in Zurich, you should pick just one if you're in the city for only a day. My top picks are
The Swiss National Museum
Kunsthaus Zürich
The Zoological Museum of Zurich
On the other hand, if you want to see something entirely different, consider one of the following museums:
WOW Museum – museum of illusions with lots of opportunities for weird photographs
FIFA Museum – a must for any football lovers in Zurich
Uhrenmuseum Beyer Zürich – a fascinating exhibit on the history of clocks and watches
focusTerra – a science museum with an earthquake simulator and exhibits on geology
I could go on and on about Zurich museums, but these are the best for first-time visitors. 
Zurich is the most expensive city in Switzerland, so hotels aren't cheap. Even hostels with shared bathrooms are 70-80 CHF, and you'll spend at least 150-300 CHF for a night at a mid-range hotel. It's best to stay near the train station because the inner city area will be a short walk away, plus you won't have to travel far with your luggage when you arrive in Zurich.
Luxury hotels are abundant in Zurich and the best one, in my humble opinion, is the Dolder Grand Hotel, with fabulous views of the city's rooftops.  
Lucerne is cheaper, so if you want to save money, head to Lucerne once you're done discovering the sights of Zurich. 
Day 2: Lucerne
Zurich to Lucerne: 40-50 minutes
Accommodation: 40-100 CHF (budget), 150-250 CHF (mid-range), 300+ CHF (luxury)
Average Restuarant Meal: 25-30 CHF
For me, Lucerne is the most picturesque city in Switzerland. It's known for its medieval architecture that dominates this small city and impressive natural surroundings. That's why I've allocated two days for Lucerne –
One for exploring the top sights in the city
The second one is for a day trip to one of the majestic nearby mountains 
If you stay at a hotel near the train station in Lucerne (which there are loads of) you can leave the luggage at the hotel and be ready to explore the city in 10-20 minutes. Also, you won't have to waste time traveling to the main station for day trips or heading to the next destination in Switzerland. 
Kick off your stay in Lucerne with a walking tour of the city. Book a guided tour if you want, or do a self-guided tour if you're trying to save money. Lucerne is significantly smaller than Zurich and it will be easier to see all the top sights on your own. 
Walk to the Old Town – it's only about 10 minutes from the train station, and you can cross the iconic Chapel Bridge. It's the city's most famous landmark, known for its unique artwork inside its roof. The old town of Lucerne is full of medieval buildings, and the best way to explore it is just to roam around and get lost in it. 
Then head all the way north to the Panorama Terrace, where you can experience a fabulous view of Lucerne's rooftops. The Musegg wall with its nine towers is also close to this area, so be sure to spend some time there. You can climb the stairs to the top of the city walls to enjoy an even more impressive view of Lucerne. 
Next, make sure to visit the Lion Monument. It's an iconic Lucerne landmark and a special place for many locals. This part of the city is also home to the Glacier Garden of Lucerne (a museum with exhibits on ice age glaciers) and Bourbaki Panorama Lucerne. The latter is a museum with a cylindrical painting of the Franco-Prussian War and an attraction you should try to incorporate into your Lucerne itinerary, as it only takes about 30 minutes to tour the entire museum. 
Other popular landmarks in the city are
the Jesuit Church (on the southern bank of the Reuss River)
the 19th-century Needle Dam
the Franciscan Church known for its Gothic style, paintings, and large pipe organ.
You can see all of them during a walk through the city. 
Museums In Lucerne
As for the best museums in Lucerne, you've got quite a few options. My favorite is the Sammlung Rosengart because its collection heavily focuses on the works by Picasso and has some fascinating pieces. Gameorama Spielmuseum is another unique museum in the city and it's quite nostalgic. It's a museum about games where you can play old arcades and even play board games at the museum cafe. 
Other popular museums in Lucerne are:
Natur-Museum Luzern — natural history museum known for its collection of gold wasps
Kunstmuseum Luzern — a vast art museum
Diorama of the Alps — a museum with models and landscape paintings of the Alps
Historisches Museum Luzern — a museum with an exhibit on the local history of Lucerne
Swiss Museum of Transport — a fascinating technology museum with trains, cars, airplanes, and more
Hotels In Lucerne
Hostels and budget hotels in Lucerne start at 40 CHF for a single bed in a dormitory but are around 100 CHF for a night in a double room. Some 200 CHF can get you a night at a mid-range hotel, but you'll need at least 300 CHF for a night in one of the city's upscale hotels.
Day 3: A Day Trip From Lucerne
Mount Rigi and Mount Pilatus are excellent destinations for a day trip from Lucerne. Each has its own unique attractions, so let's start with a quick comparison of the two to help you decide where to go on your day trip from Lucerne: 
| | Mount Pilatus | Mount Rigi |
| --- | --- | --- |
| Location: | Southwest of Lucerne | East of Lucerne |
| Elevation: | 2,129 meters | 1,798 meters |
| Travel Time (From Lucerne): | 1 hour 40 minutes (by boat) | 1 hour 40 minutes (by boat) |
| Cost: | 20-112 CHF | 78 CHF |
| Operating Times: | Open year-round | Open year-round |
| Services and Amenities: | Sledding, Adventure Park, Playgrounds, Hiking, Toboggan | Snowboarding, Skiing, Sledding, Spa Center, Hiking, Cheese Dairy |
Rigi vs Pilatus
Option 1: Mount Pilatus
Mount Pilatus is excellent for a round trip because you can ride on all the different types of public transport. Regional trains, boats, cogwheel railways, and cable cars are all part of the journey from Lucerne to Pilatus and back, but only if you travel between June and October.
Note; Boats don't run between Lucerne and Alpnachstad the rest of the year, so you can only travel by train. The upside is that the journey will be shorter – 40-50 minutes total. 
The mountain is a great destination for adventure seekers thanks to a variety of fun and exciting things to do. You can ride the longest summer toboggan in Switzerland (Fräkigaudi toboggan), visit the stunning observation decks at the summit, explore the numerous hiking trails, have fun at the adventure park, and even see where a dragon used to live (according to local legends.) 
Enjoying a fondue during a gondola ride to the summit is possible! So, let's see if Mount Rigi can beat the pot of melted cheese with a side of spectacular views. 
Option 2: Mount Rigi
Mount Rigi is situated on the northern shore of Lake Lucerne, overlooking the water, nearby towns, and other summits in the Bernese Alps. It's accessible by boat and cogwheel train from Lucerne, and the entire journey is wonderfully scenic. The summit features hiking trails, a cheese dairy, observation decks, picnic areas, and playgrounds for children. There's also a luxurious spa center at Rigi Kaltbad, perfect for anyone who wants to spend some time relaxing in thermal baths, with a view of the Alps. 
Rigi is a better destination if you're primarily interested in hiking or skiing in the winter. But if you want a wider variety of things to do on the mountain, Pilatus is the better choice. 
Also, Pilatus is steeper and more rocky (so more like a "mountain") if that makes any difference to you!
Lucerne City Guest Card
You should get the Lucerne City guest card for free if you stay at any accommodation in the city registered with the Lucerne Tourist Board. The card entitles you to 10-20% discounts on museum tickets, boat cruises, and train tickets to the nearby mountains. You can also get discounts at certain restaurants and free access to the public transport network in the city of Lucerne. 
Day 4: Interlaken
Lucerne to Interlaken: 1 hour 50 mintues
Accommodation: 80-150 CHF
Average Restuarant Meal: 20-30 CHF
The train ride from Lucerne to Interlaken is impressively scenic, offering views of surreal blue lakes and countless summits in the Alps that tower over them. It's just under two hours, but it will feel much shorter because of the jaw-dropping landscapes that make the time fly.
Interlaken is named after its geographical location. The name of the town means "between lakes" which refers to its position between lakes Thun and Brienz. It's one of the best destinations in Switzerland for hikers and outdoor enthusiasts because there's a huge range of things in the nearby Jungfrau region!
Grindelwald, Wengen, and Lauterbrunnen are close to Interlaken and can be visited on day trips. The same goes for Jungfraujoch, Schilthorn, Schynigge Platte, and Grindelwald First, – all impressive summits with many activities to keep you occupied. 
But before you can go on day trips from Interlaken, you should at least explore the town a bit. Walking tours of Interlaken's top sights usually take 1-3 hours, with the longer ones including a trip to Unterseen, which is the cute old town portion of Interlaken. Some will even include a ride to Harder Kulm, Interlaken's local mountain, which offers a beautiful panoramic view of the town. 
Harder Kulm is also a great destination for hiking. It's famous for its ridge hike, one of Switzerland's most deadly ridge trails. But more importantly, it gets you high enough to see epic views of the Bernese Oberland mountains – Eiger, Jungfrau and Monch.
Adventure Sports
On top of that, Interlaken is known for countless adventure sports. I can't think of any other place in Switzerland with so many different companies operating such a wide range of adventure sports, including:
paragliding
parasailing
rafting
canyoning
helicopter skydiving
And many more of course! 
Go on a scenic flight over the lakes, and then jump out of a helicopter from a height of more than 4,000 meters – how does that sound? Or, maybe do what most visitors do in Interlaken, and paraglide back into town from the nearby hills. Then run off on your next adventure!
If it sounds like something you would enjoy, Interlaken is doubtless a top Swiss destination for you.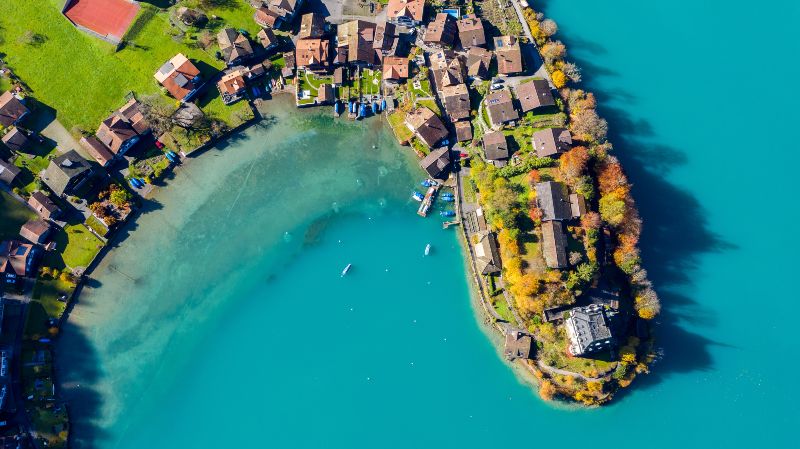 Then there are also all the towns on the shores of lakes Thun and Brienz. Thun, Iseltwald, Brienz, and Spiez all have their own attractions and landmarks and are great alternatives to a standard Interlaken itinerary.  I just did a walk from Thun to the nearby suspension bridge via a stunning panorama walk just a few months ago!
Accommodation
In terms of places to stay, Interlaken has some of the most affordable accommodations in Switzerland. Hostel beds start at 40 CHF per person, and mid-range hotels are around 120-180 CHF for two people. There are plenty of luxury hotels in town as well, with prices of 300-600+ CHF per night.
Day 5: Jungfraujoch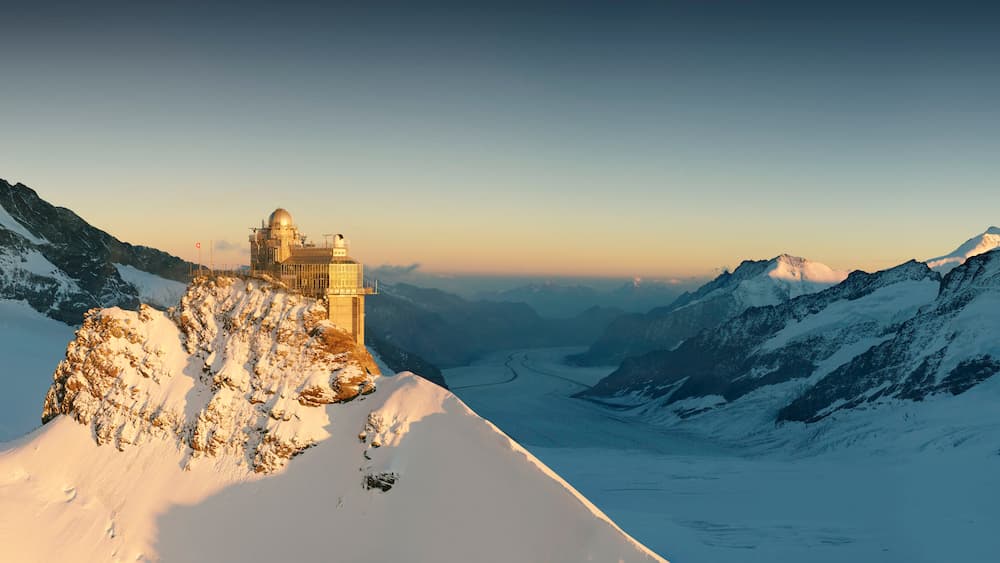 Interlaken to Jungfraujoch: Approximately 90 minutes
Seasonal Availability: Open year-round
Tickets: 187.8 CHF without discounts, 10 CHF seat reservation (not obligatory)
Jungfraujoch is a mountain saddle in the Bernese Alps and a truly special place you should absolutely visit if you have the time. It's home to the highest train station and post office in Europe, both situated within a visitor's complex known as Top of Europe.
Traveling to the Top of Europe from Interlaken is straightforward and you can read all about it in our detailed guide to Jungfraujoch. You will need most of the day for this excursion and it's best to head to the train station early in the morning because the last train from Jungfraujoch is at around 4:45 PM in the winter or 5:45 PM in the summer. My pro tip is to bring postcards, so you can mail them from Europe's highest post office.
Plan to spend 4-5 hours at Top of Europe (aka Jungfraujoch) to see everything at the top.
Walk through the Alpine Corridor,
Visit the Ice Palace
Head up to the Sphinx Observation Deck
Hike to Monschjochhutte if the weather allows it.
You can even ride a zipline or ski at the summit, although these experiences will cost you extra (20-25 CHF per experience). 
There are 3-4 different restaurants at Jungfraujoch, but you'll want to bring your own snacks if your budget for Switzerland is tight. There's also a Lindt Chocolate Shop where you can buy sweets and even see a master chocolatier creating desserts, and it's the highest Lindt shop in the world! 
If you take the last train home from Jungfruajoch, you should arrive in Interlaken before 7:30 PM (or 6:30 PM in the winter). You'll likely be back in town even earlier, especially if you catch one of the early-morning trains to Top of Europe, so you'll have plenty of time to continue exploring Interlaken. 
Use the time to do some of the things that you didn't manage to do on day 4 – maybe it's a quick trip to Harder Kulm or a tour of the Interlaken Castle. You can even go to Weissenau Nature Reserve to see the ancient ruins and chill long the river or near the lake. 
Day 6: Zermatt
Interlaken to Zermatt: 2 hours 12 minutes
Accommodation Cost: 60-150 CHF (budget), 250-300 CHF (mid-range), 800-1200 CHF (luxury)
Average Meal At Restuarant: 30 CHF
Head to the train station in Interlaken and board a one-way train to Zermatt. The journey to the car-free village is amazing, and you get to see some stunning Swiss landscapes while on the train. You'll pass through the long Lötschberg Tunnel, then climb up the Mattertal Valley for sprawling views of villages, all the while being surrounded by summits higher than 4000 meters. 
Zermatt is a car-free resort so there are loads of pedestrian walking paths throughout the town.
Regarding things to do in Zermatt, I'm honestly unsure where to begin. The Matterhorn Museum is a good place for a crash course on local history, including tales of many Alpinists who have completed the ascent on the pyramid-shaped peak. On the other hand, the museum is situated right next to the Mountaineer's Cemetery, where many of those who failed at the attempt and faced fatal consequences are buried. 
Then there are all the hiking trails most easily accessible in the summer. Some trails start at the downtown area of the resort, and you can begin hiking as soon as you get off the train. But leave your luggage at the hotel first since most trails from Zermatt include a lot of uphill walking. 
The Five Lakes Trail is one of the most famous hikes near Zermatt. It takes about two and a half hours and is moderately challenging but stunning in views and landscapes. The trailhead is at the Blauherd funicular station, and the trail is almost a loop to Sunegga, the bottom station of the same funicular. The trail's highlights are the five lakes you pass during the hike, which are
Stellisee
Grindjisee
Grunsee
Moosjisee
Leisee
In that order. 
The Gorner Gorge is another beautiful natural landmark just outside the town. It is around 20-30 minutes walk from the edge of the village. The stunning ravine is accessible from May to October and visitors can explore it by following a wooden walkway for an entrance fee of just 5 CHF. You can complete this entire excursion in about an hour, an hour and a half, so don't miss out! If you're not in the mood for the walk to the gorge, just grab an electric taxi from the village. 
Believe me, I've only scratched the surface of fun things in Zermatt. You could also cross the Furi suspension bridge (accessible by the Furi gondola), visit the Matterhorn Glacier Paradise (near the border with Italy), hike to the tiny chapel at Schwarzsee, and more. 
Accommodation
Moving on to the accommodation options in Zermatt – hostels and campsites are the cheapest, at least 60 CHF per person. Mid-range hotels are around 200-300 CHF, although on the lower end are 2-star hotels with the bare necessities. Zermatt has a huge selection of luxury hotels, the best of which are at least 500 CHF per night. 
I recommend something a little wild – don't book a hotel in Zermatt. Instead, catch the last train to Gornergrat or Rotenboden and set up camp on the shore of Riffelsee Lake for an epic conclusion of your week in Switzerland. 
Day 7: More time in Zermatt, Return to Zurich
Zermatt To Zurich: 3 hours 30 minutes
Make the most of your last day in Switzerland by exploring the attractions you didn't get to see previously, either in Zermatt or Zurich. I'm operating under the assumption that you're flying out of Zurich Airport; you can either spend most of your day in Zermatt and then take the train to Zurich, or head to the bigger city early in the morning and spend the rest of your day roaming around the city streets. 
The train ride from Zermatt to Zurich takes about three and a half hours, and an extra 10-15 minutes to get from the city center to the airport. I advise booking late-night plane tickets so you can make the most of your day while still managing the almost four-hour train ride. 
But let's go back a few paragraphs – I advised you to spend your last in Switzerland sleeping in a tent near Riffelsee. Why? Because it's the only reasonable way of witnessing the sunrise over the Matterhorn and getting an epic shot of the mountain's golden peak reflected in the lake. Yes, I've included the shot at the start of this section. 
The trains don't start running before 7 AM, well past sunrise, so camping is the only way. Then you're just half an hour away from the train station in Zermatt, and you can be on your way to Zurich in no time! Just keep in mind that nights in the mountains are very cold even in the summer, so if you're going to do this, you will need warm sleeping bags, waterproof tents, and all the best gear. 
Back To Zurich
Back in Zurich you can pay a visit to the Old Botanical Garden in the Old Town, or head to the ETH University Complex for panoramic city views. Visit one final museum, play chess with locals at Lindenhof, or head to Teddy's Souvenir Shop at Limmatquai to pick up a few final souvenirs for friends and family back home. Just enjoy your last few hours in Switzerland fully until it's time to board the train to the airport.
Tweaking Your Itinerary
Everything I've listed above is a rough guide for a week in Switzerland. Feel free to extend time in any location or skip some locations entirely. 
Panoramic Train Rides
If you're not into adventure sports or hiking, maybe skip Interlaken and do a panoramic train ride instead. The Bernina Express, the Gotthard Panorama Express, and the Glacier Express are all fabulous panoramic trains in Switzerland, which will wow you with stunning landscape views. 
You could also stay in Zurich or Lucerne for an extra day and explore more museums, or do another day trip. Another option is to begin this journey in a completely different country – why not land in Paris, stay in the city for a day, and then head to Zurich? It's only four hours by train.  Or ride the train to Basel, stay there for a day, and then travel to Zurich. You can even end your journey in Milan, just four hours from Zurich.  
An alternative itinerary for a week in Switzerland would be to start in Zurich or Geneva and then explore the towns and cities in the country's southwest, such as
Morges
Lausanne
Montreux & Vevey
Basel
Bern
Maybe include a day trip to Gruyeres, or Le Locle and Neuchatel Lake. It's an entirely different vibe, but there's plenty to discover and love about this region of Switzerland as well. Let me know how that sounds, and maybe I'll do an alternative itinerary for that route too!
Useful Information
It's worth it to buy a travel pass for Switzerland. I did the math so you don't have to, and the verdict is that the one-month Half-Fare Card is the best value for money for this itinerary. With it, the cost of (train) tickets for everything in the itinerary is approximately 451.1 CHF.
The full price of the train and mountain tickets is 662.2 CHF, and with a 6-day travel pass, the entire trip will cost you around 527.2 CHF. Remember that those prices include both Rigi and Pilatus, so the trip is cheaper if you're only making a single-day trip from Lucerne. 
It is a complicated calculation that really depends on your specific itinerary as more mountain trips cost more, and museum entrance is only included in the Swiss Travel Pass, most of the time anyway.
Download the SBB app on your phone to buy tickets and see timetables. The app is easy to use and it will help you get around Switzerland.
Currency
The official currency in Switzerland is the Swiss Franc (CHF). If you have Euros you might be able to use them in major shops and in some areas of big cities. But in general, they are not accepted in Switzerland.
Cards are widely accepted in bigger cities and popular resorts, but it's still smart to carry cash for emergencies. 
Luggage
All major train stations in Switzerland offer luggage storage services. If you arrive in a city before check-in, you can leave your luggage at the train station and go out and explore. 
Water
Don't waste money on bottled water. Tap water in Switzerland is perfectly safe for drinking, so there is absolutely no need to buy tap water at supermarkets. Bring a reusable water bottle to fill up at your accommodation so you can always have water while you're out. 
Frequently Asked Questions
Is seven days enough in Switzerland?
Yes, seven days is enough in Switzerland. You will be able to discover the city's most famous cities and landmarks, but a lot will be left undiscovered so you can always come back. 
What is the required budget for a 7-day trip to Switzerland?
The minimum required budget for a 7-day trip in Switzerland is 1100-1500 CHF. That's if you're staying at the cheapest hotels that are no more than 120 CHF per night and not eating your every meal at restaurants. A budget of 2,000-3,000 CHF will allow you to travel much more comfortably through Switzerland. 
Which season is the most ideal for a 7-day trip to Switzerland?
Summer is the ideal season for a 7-day trip in Switzerland. More specifically, the period between May and October is perfect for this itinerary.